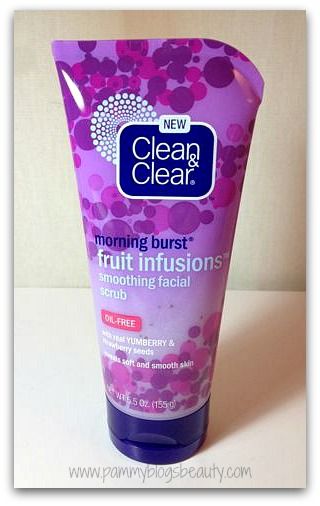 Sometimes it is just those "little things" that perk you up in the morning! Ya'll know how much I love my bath and shower products...Often it is the scent of the product that lures me. Generally, I am not a huge fan of strongly scented skincare products. Often fragrance can just irritate my skin. So, when I first smelled this
Clean & Clear Morning Burst Fruit Infusions Smoothing Facial Scrub
, I thought that the scent might be too heavy for me to enjoy. However, it turns out that I really enjoy this delicious scent! This scrub smells like berries! To be exact, strawberries and blueberries (or possibly the scent is "yumberry" although I have never smelled a Yumberry...is that a real fruit, lol, or a made up word?).
It is only recently dawning on me that I adore the Strawberry scent. I am obsessed with my Model & Co Lipgloss and my The Body Shop Strawberry body spray, both of which carry an amazing strawberry scent! So, now add this facial scrub to my Strawberry Scented product "collection"! :)
This is a great scrub for my morning shower routine. I like lightweight mild scrubs for morning use in the shower as they are a one step product. If I use a scrub at night, it is a multi-step process, remove makeup, use scrub, then wash face to remove eye makeup remover residue. So, like the "Morning Burst" name implies, this is a great product for morning use!
While Clean and Clear is generally a line geared towards younger skin, I find that there are many products that work well with my, cough, somewhat aging skin. I don't break out often. However, I do love using products that either provide exfoliation or contain anti-breakout ingredients such as benzol peroxide or salicylic acid. While this product doesn't contain anti-breakout ingredients, it does provide gentle and effective exfoliation.
The Product Itself:
This fruit infused scrub is a mild mechanical exfoliator suspended in a gel-like soap base. The scrub particles are not that dense. However, the inclusion of strawberry seeds as an exfoliant really amps up the scrubbiness of this scrub! I was pleasantly surprised with how effectively this product exfoliates my skin! My skin always feels amazingly soft after I use it! While it is effective, it is also gentle enough to use almost every day. Since my skin is on the sensitive side, I try to not over-exfoliate. So, I use this product about twice a week in the shower (if I use more often, I notice that my skin gets a bit red). Those of you who don't have sensitive skin could probably use this product every day.
This product has amazing lather! The scrub feels refreshingly scrubby without the scrub particles causing irritation to your skin. Tip: Smooth this scrub very gently over skin. Resist the urge to scrub hard. Just glide your hands over your face to distribute the producut. This scrub rinses clean and leaves you very soft. It is just a tad on the drying side. So, I think that I will actually like this product more in the warmer months when my skin switches to combo/ combo oily t-zone.
The packaging states that this
Morning Burst Fruit Infusions Facial Scrub
is infused with real Yumberry fruit extract (lol, so Yumberry really is a fruit!). It also contains vitamins and real strawberry seeds.
The Skinny:
Retails for about $6.99 at drugstores for a 5.5 oz tube. You only need a small amount of product to work up an amazing lather. So, this tube should last awhile.
Do you like to use scrubs in the morning or in the shower?
XOXO!!!