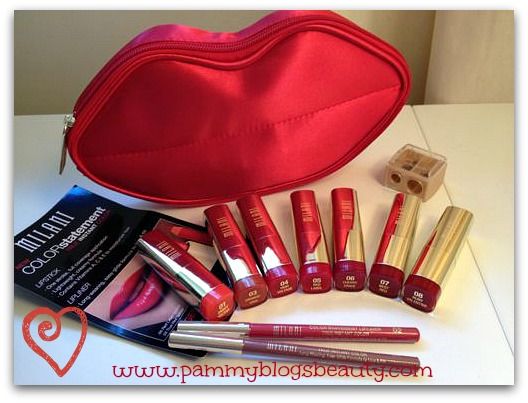 It is the next generation of lipstick and eyeliner for
Milani
!!! Introducing the fabulous new
Color Statement Lipsticks and Lipliners
!!!
I am a complete fan of Milani products. I consider Milani to be the "best kept secret" of drugstore brands! I always find the products to be of such amazing quality: we are talking serious department store quality at a drugstore price. Even with my general high expectations for Milani products, I am completely blown away by these
phenomenal
new Color Statement Lipsticks and Lipliners!!!
These lipsticks are completely saturated with color! There is no question that these new lippies are the most richly pigmented lipsticks in my entire makeup collection!!!
The new Color Statement Collection contains 30 lipsticks and 8 lipliners. The Lipsticks are divided up into 4 color families: The Reds and Oranges, the Pinks and Corals, the Plums and Berries, and the Naturals and Browns. I will be reviewing the entire collection, starting with the Reds and Oranges today! Please continue to check back in as I will be reviewing the rest of the collection as the products roll out from Milani!

Want to learn more about Milani? Check out some of my previous product reviews:
Milani's Baked Blushes
,
Milani's New Compact Foundations
,
Milani's Illuminating Powder
, and
Milani's Single Eyeshadows
.
I have found my perfect RED!!! Yes, that is right! Within this Milani Color Statement Red Collection, I found a new favorite Red Lippie! :) To find out what my favorite shade is as well as to read my first impressions (and see pictures!) of the Reds and Oranges Color Statement Lipstick and Lipliner Collection from Milani, please keep reading!
Milani's New Color Statement Lipsticks and Lipliners:
Make a statement without saying a word! True Instant Color. One stroke, full coverage application. Paraben-free. Available in Vinyl, Metallic, Cream, Shimmer, Pearl & Matte finish.
These lipsticks and lipliners are just a dream to apply. They are so smooth and rich and they lay down the most amazingly pigmented coat of color. It takes literally one smooth swipe to get complete coverage. It is like: BAM! Instant bold color.
The Reds and Oranges: Vivid High-Impact Color
What a beautiful assortment of Red and Orange shades. You are getting such a nice assortment of finishes here: Vinyl, Metallic, Cream, Pearl, and Matte. The red shades all pack the same intensity with slight variations in color shade and differences in the finish. While red is not my go-to color for everyday, it is so fun to wear red when I want to feel glamorous or when I am going out. I find red to be extremely flattering to my very fair skin. There is nothing like a pop of Red to brighten up my entire look. It makes such an impact!!! Also, I am a huge fan of Orange lipstick. I discovered that I loved to wear it last year when exploring the "Color of the Year" last year from Pantone: Tangerine Tango. Tangerine or Orange shades really go nicely with my fair complexion and blue eyes. These pretty orange shades in the new Milani lipstick collection are no exception. Very pretty indeed!
Color Statement Lipstick: The Formula:
This next generation lipstick gives the ultimate in color, texture and finish. The lightweight creamy formula contains Vitamins A, C, & E to moisturize and nourish lips.
The Packaging:
These lipsticks look so elegant! The packaging is a simple and sleek gold tube. The tube is extremely sturdy and well made. It has Milani lettering on the side. This is my favorite part of the packaging: The bottom of the tube shows the exact color!!! The color is not the actual product, it is a plastic piece that matches the exact shade of the lipstick. I just love this!!! I like to store my lipsticks upside down to reveal the shade name. I feel like I am always combing through my lipsticks trying to find the exact color that I want. It makes is to much easier when you can simply "see" the shade at a glance! Honestly, I wish that ALL lipsticks were packaged in this way. I find that I reach for lipsticks more often when I can see the color on the outer packaging.
The Shades: Swatches! Feel and Wear
These lipsticks are a red-lover's dream!
As you can see from the swatches, these lipsticks are extremely rich and pigmented! Each swatch is literally one swipe of the lipstick. You get full and complete opaque coverage from just one stroke. The product is creamy and the color adheres really well to your lips. When I wear over the Color Statement Liner, I get long-wearing results. I am very impressed! I can apply in the morning, drink coffee all morning, eat lunch...and my lip color is still going strong by the afternoon! There is some fading but overall the staying power is really fabulous!!!
My new Favorite Red Lippie?
Milani's Color Statement Lipstick in #06 Cherry Crave: It is a slightly metallic bold and cool-toned red. It is so beautiful! It makes my neutral-cool fair skin look like porcelain! Love this color! :)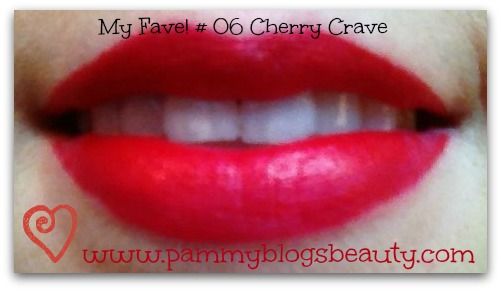 Color Statement Lipliner
:
Make a statement without saying a word. True Instant Color. Satin color in one stroke application. This next generation lipliner is a long-wearing, easy-glide formula to line & fill-in your lips. Paraben-free.
I just love how creamy and smooth these liners are! Actually, it makes me realize that most of my other lipliners in my makeup collection are actually on the dry and waxy side. I totally love the way these apply! So smooth and pigmented. Like the lipsticks, you get full coverage in one sweep!
The Skinny:
These lipsticks retail for $5.49 each (um, hello bargain!!!) and they are sold at CVS, Walgreens, Walmart,

Kmart, and Target.
What beautiful Reds and Oranges!!! There is no question that I will be reaching for these lovely lipsticks every time I want a bold pop of color on my lips! I am very excited about this new collection!!! I can't wait to try out the rest of the line! Stay tuned for more reviews of the
Color Statement Lipstick and Liner Collection from Milani
!!! :)
Are you a fan of Red Lipstick? Will you be scoping out this collection?
XOXO!!!