With Awards season upon us, Julep gets us excited with A-list inspired polishes!!! Maybe we all can't have a team of stylists dress us in fabulous gowns, jewelry, and shoes, but we can have our nails sparkle and shine just like a movie-star! This is exactly the driving force behind my blog: Bringing glamour and sparkle to everyday life! As a stay-at-home Mommy, I love any excuse to "dress up" a bit. Even if that just means a little bit of glitter polish to brighten my day! :)
A glance at the February Maven Collection as a whole: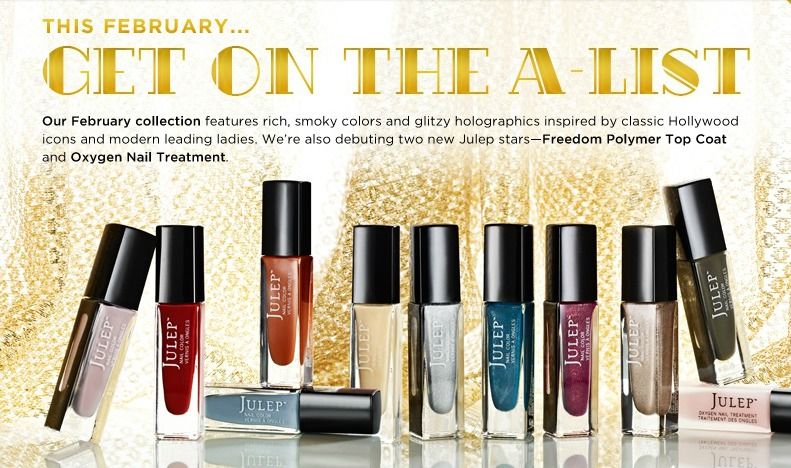 Feb Maven Sneak Peek:
I always get so excited when Julep emails a "sneak peek" of what type of product will be in the upcoming maven box! As a Julep VIP blogger, I am participating in the "Build Stronger Nails" Beauty Resolution Campaign. So, I am all about any product that might help me to achieve that goal! If you missed my first Julep Beauty Resolution blog post, here it is:
Beauty Resolution: Build Stronger Healthier Nails
. Here is the peek from Julep for February!
About the Julep Maven Monthly Box Subscription:
The
Julep Maven program is a Monthly Beauty Box subscription
. It is a beauty subscription for nail polish lovers! When you sign up for Julep, you take a style quiz. Then, Julep matches you with a Style Category. For the Monthly Box, Julep pre-selects a box for you based on your beauty style profile. You get an email with a graphic (see the picture below) representing your box. If you do not want the box for your particular style category, you can easily switch to one of their other boxes.
The Skinny:
Subscriptions are $20.00 per month (but remember you can skip a month if you need to).
You get to choose your box! They have a great assortment every month.
With Julep, you can skip a month! If you can't find a box that you like or if you just don't feel like spending the $20.00 for a particular month, then you can simply opt to skip a month.
Each box contains 2 full-sized Julep Nail Polishes plus one Julep Spa full sized product. Also, there is always one box that has 3-full sized Nail Polishes and no spa product. I have literally loved every spa product that I have gotten! Seriously, I have found some favorites at Julep!
Box Value: The value of the box far exceeds the $20.00 cost! The nail polish normally retails for $15.00 a bottle and the product prices range from $14.00-$38.00.
You can earn credits for referrals! Here is how you earn "Jules": You earn 1,000 Jules for referring a friend to Julep Maven, 300 Jules for each full priced Maven box you are billed for, 200 Jules on your Birthday, 500 Jules on your Maven anniversary, 750 Jules when you pay for the monthly upgrade box. You even get 100 points just for becoming a Maven. As you can see, there are many ways to earn!
This month, I choose the Bombshell Maven Box. To find out all the details about what is inside the Bombshell Box, please keep reading!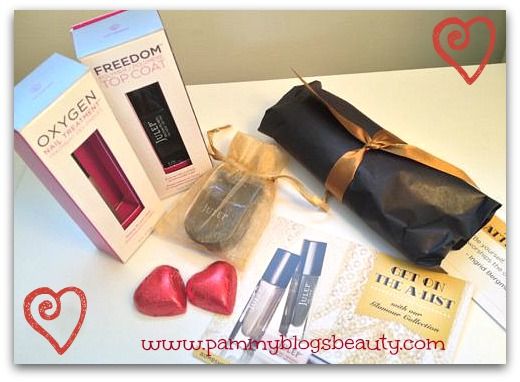 Julep Maven February 2013: Bombshell Box:
Once again, I am absolutely thrilled with my Julep Maven box!!! In typical Julep style, the box is packaged beautifully and the items inside are fabulous!!! I love the polish assortment. So pretty!!! Plus, the additional Oxygen Nail Treatment and Freedom Top Coat are totally items that I need and will use up completely. Plus, they threw in a little travel lash curler and some chocolates as gifts. Yes, the chocolate is gone already, lol! That type of thing goes right when I open the box! :)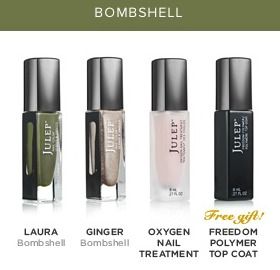 image source: Julep
Laura Nail Colour: Olive Green Creme polish. I will fully admit that this is not normally a color I would reach for. However, sometimes I just need to step out of my comfort zone, right? See, this is the beauty of a monthly box subscription! Often items like these become favorites of mine...I just needed someone to select it for me

!

Ginger Nail Colour: Sand Holographic polish: I immediately painted my nails with this after opening the box! The effect really is like sand with a hologram effect! While it is a light beige shade, there is something "black" about it. It is hard to explain, but it has a black/shadow effect. Cool! I love wearing shades like this because they

"go" with everything!

Oxygen Nail Treatment: Can't wait to try this! This is a tinted nail treatment that allows nails to "breathe" while being strengthened. Cool concept! It targets think and weak nails prone to peeling. That is my exact problem! Also, it contains plant stem cells and

UV filters. Sounds great!!!

Freedom Polymer Top Coat: This top coat promises gel-like performance. It cures in 5 minutes. You can also cure under a 60 watt bulb for 2 minutes. I am going to try the light bulb me

thod.

Eye Lash Curler: This little Julep eyelash curler is adorable! It is made of plastic and is very tiny!

This is just ideal for travel! I always have trouble packing my curler. It never seems to "fit" into my travel makeup bag.

Random facts: These limited edition nail polish shades are inspired by Award winning actresses! Love, the theme! :) Ginger was inspired by Ginger Rogers and Laura by Laura Dern.

Cute! Also,

each of Julep's limited edition shades are now marked with vintage numbers on the bottom of the bottle. Personally, I like being able to dig a polish out of my

stash

and know exactly what collection it came from and when.
Swatch labels!!! I love that Julep is now sending their polishes out with the cute swatch labels on the top. They started this last month and I am glad to see it is a permanent trend! I can now swatch immediately when I get new bottles. I love being able to glance and see the shad

e when scanning the bottles in my collection.
The Value:
I am always amazed at the value in these J

ulep Maven

boxes! For $2

0 you get over $60 worth of products!!!
Laura Nail Colo

ur: $14

Ginger Nail Colour: $14

Oxygen Nail Trea

tment: $18

Freedom Polymer Top Coat: $18

Total: $64 (plus the cost of the eye lash curler!)
This month's box is a *total standout* in my book! Month after month, Julep continues to impress me! The value of the box is undeniable. Plus, I love that they included a nail treatment and a top coat!!! As much as I love pretty polishes, your manicure just do

esn't look as good if your nails are not healthy. I will absolutely use and love all of the items in this box!!!
My fellow Julep Mavens, what style box did you opt for this month?
Are you excited about the nail treatment? I can't wait to try it!!!
Stay beautiful and don't forget to add a little "sparkle" to your daily life!
XOXO!!!