Have you seen these gorgeous
face powders from Milani
? With their rose imprinted design, they are just about the prettiest face powders in the drugstore!
As a HUGE fan of Milani's blushes, I just had to try out the illuminating face powders. Have you tried Milani's blushes? Milani's baked blushes are some of my favorite blushes in my blush collection. If you missed my review on those, be sure to check that out here:
Milani Baked Blushes
.
For this review, I tested out Milani's Illuminating Face Powder in #01 Amber Nectar.
I will fully admit that I was immediately drawn in by the lovely design...but, is the actual product just as great? Keep reading for my review, photos, and swatches!
Milani's Illuminating Face Powders: Amber Nectar
These powders are marketed as a "3-in-1" product: blush, bronzer, and highlighter.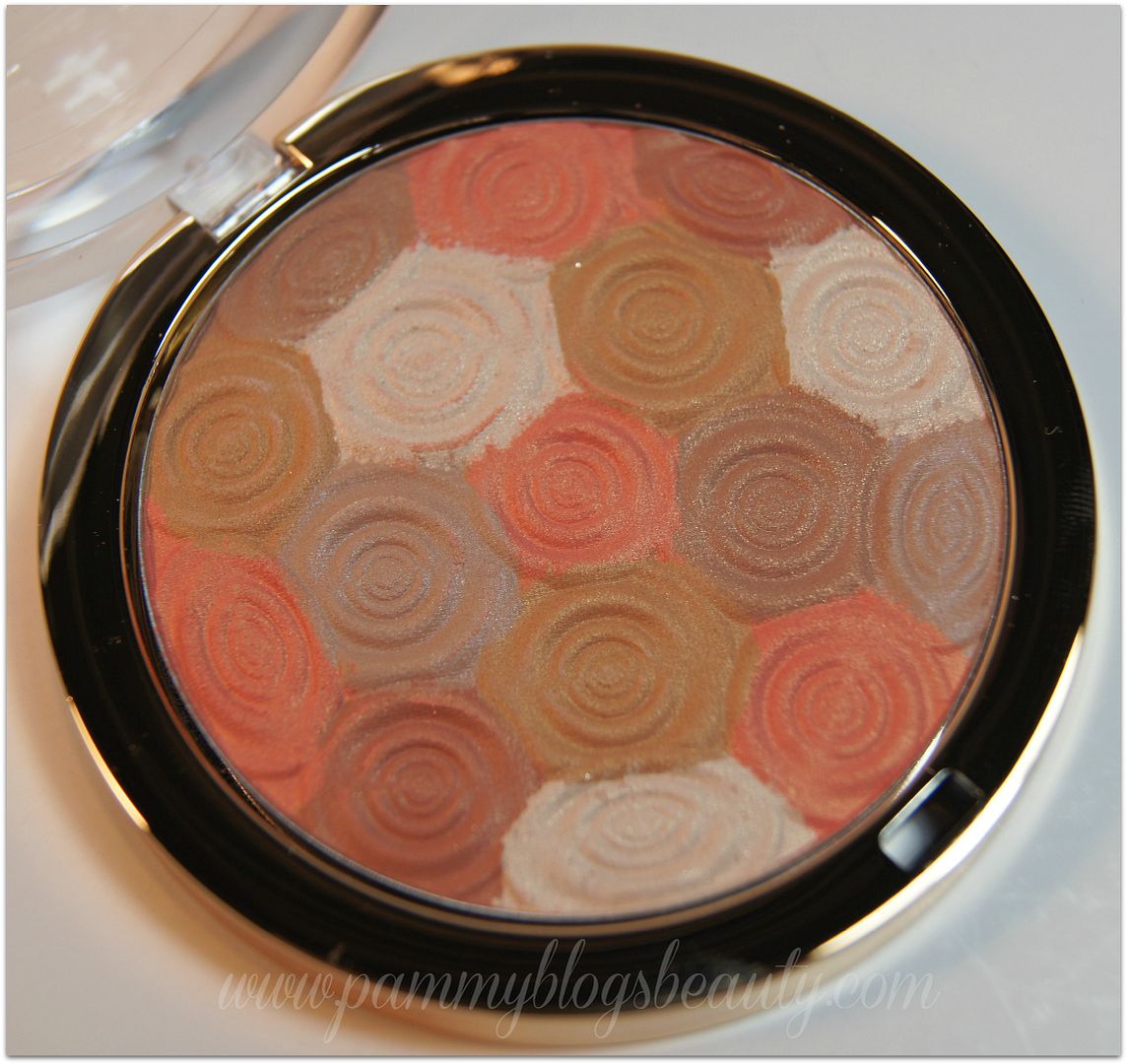 Amber Nectar:
This blush/highlighter is so flattering!!! The color is lovely and the glow is subtle. It just makes your skin look good! The peach tone really warms up my complexion and makes me look "healthy" and perked up. I am a big fan of peach blushes in general. They flatter so many skin tones!
Amber nectar contains 4 shades: a brown, a taupe, a peach, and a vanilla shade (each rose is a different shade in the pan). When you swirl your brush over these colors, the product becomes a pretty and slightly shimmery sheer peach. The sheerness makes this so wearable and natural. This really is a cross between a blush and a highlighter on me. I love wearing this when I want a very natural and glowy look. I think that if you have skin that is medium-dark, this probably would not show up as a blush (but would be better suited as a highlight)
How to use this product:
I think that your skin tone will determine how you use this product: if you are very fair, these could be a blush or an all over face powder. If your skin is darker: a highlight.
I apply using my big Sephora long handled Kabuki (Milani recommends using a kabuki with this product: it seems to pick up more color). I apply generously and buff into my cheek area.
The Verdict:
I love this pretty powder! On me,
Amber Nectar
wears as a very flattering, subtle, and glowy highlighting-blush. If you have fair skin like me (in the MAC NC 15 range), I highly recommend. Great price and amazing product! Actually, I would love to try all of the shades in this range!!! Milani is a go-to drugstore brand for me: great products for such a good price.
The Skinny:
Available in 3 shades: Amber Nectar, Hermosa Rose, and Beauty's Touch.
You can find these in drugstores: CVS, Walgreeens, etc!
$8.99 each
Have you seen these at your local drugstores? If you have tried them, I would love to hear about how you like the other shades in this range! :)
Stay Tuned for More Milani Reviews!
I am in the midst of doing more Milani product testing. This photo gives you a preview of more Milani reviews coming soon! :)
Thanks for reading! Stay beautiful!!!
XOXO!