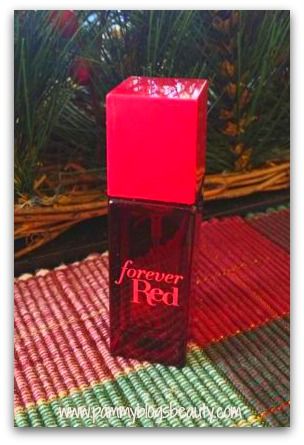 My favorite item from this month's
Influenster Cosmo Vox Box
is by far the
Bath and Body Works Forever Red
deluxe size perfume sample! I have been a bit fragrance obsessed lately. So, I am very happy to try out this new one!
I will start off by saying that I am, across the board, a huge fan of
Bath and Body Works
' fragrances. I primarily wear them in the form of body splash (often layered either with a coordinating body cream or layered over any perfume from my collection). Bath and Body scents are often on the sweet side with heavy notes of fruit and vanilla. This Forever Red fragrance is no exception. It is certainly fruity and sweet. Yet, it has depth too!
Forever Red Eau de Parfum:
Forever Red is a sweet and fruity scent with notes of pomegranate combined with some warmth and depth from vanilla rum. It also contains red osmanthus, peach, and marshmallow. When this scent opens it starts out with pomegranate, peach, and apple. When it dries down the warmth really comes out leaving you with a sensual oaky vanilla marshmallow winter scent.
At sniff, I thought this scent was overly reminiscent of many other Bath and Body Works scents. While I love many of those fragrances, this one didn't seem special enough to me...at first. However, when this scent dries down and warms up with my body chemistry the overall effect is just delicious! I find this to be a warm and intoxicating sexy youthful scent that I really love to wear! Plus, this scent really has long and powerful wear.
My sample from the Influenster box is a deluxe sample size. There is no question that I will be purchasing the full size Eau de Parfum when I run out! Knowing myself, I am going to want the coordinating body products as well.
The Skinny:
New permanent collection release!
$44.00 for 2.5 oz Eau de Parfum
I love this scent! Next time you are in the mall, be sure to scope it out. You know Bath and Body Works, they almost always seem to have a great sale going on! :)
What do you think? Does this scent intrigue you? The packaging sure looks pretty! I am such a sucker for that!
XOXO!!!