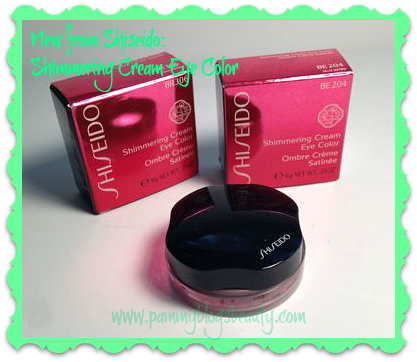 Nothing beats a good cream eye shadow! This new
Shimmering Eye Color
range from
Shieido
sure is a great line of long wearing beautiful cream eye shadows.
While great quality cream shadows are amazing, nothing is worse than a bad cream shadow! I have tried cream shadows on both ends of the continuum. There are so many cream shadows out there that just seem to crease right away and fade quickly. Others can only be worn over a primer sandwiched under a layer of powder shadow. After all of those steps, what is even the point of the cream shadow. Sorry, I digress! While I *heart* cream shadows, I have a love/hate relationship with the product category depending on each particular cream shadow that I try. A good cream eyeshadow should be able to be worn on its own, resist creasing, and can double as a layering product or eyeshadow base.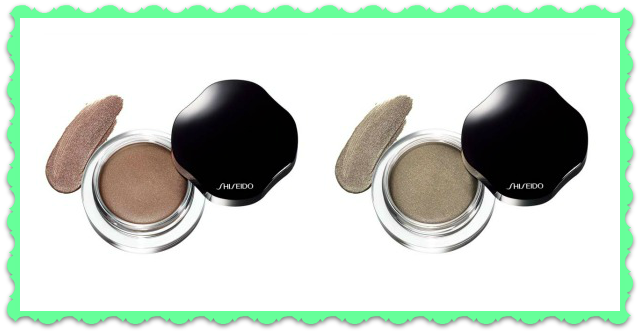 These new
Shimmering Cream Eye Colors
from
Shiseido
are a great option if you are looking for a good high-end cream eye shadow. To find out more and see pictures and swatches, please keep reading.
Shiseido's Shimmering Cream Eye Colors:
This new range of Shimmering Cream Eye Shadows was inspired by Shiseido Artistic Director Dick Page's travels around the world and photography.
The
Shimmering Cream Eye Colors:
Mist

–#901 "A soft pearly white

"

Magnolia

–#302 "A fresh bright pink"

TechnoGold

–#803"A brilliant yellow gold"

Meadow

–#204 "A warm glowing beige"

PurpleDawn

–#305"An intense violet"

Leather

#306

– "A rich, reddish brown"

Patina

–#707 "A lustrous metallic bronze"

Moss

–#708 "A vibrant bright green"

Sable

–#709 "A luxurious taupe"

Tin

–#810 "A

rich

silver"

Angel

–#711 #912 "A deep,teal

-

toned blue"

Caviar

–"A glossy, shimmering black"
The Skinny:
Shimmering Cream Eye Colors come in 12 shades (see above)
Retail for $25.00 each
Crease-free wear for up to 16 hours
Available at Shiseido.com
Features:
With light-capturing power to outshine jewels, these shadows are smooth, blendable and remain stunning all day long using a combination of unique technologies including:

Jewel Reflecting Powder
–
a shimmering powder that reflects different colors from every angle, emitting an intense radiance.

Smooth Fit Base
–
u
ses Shiseido's exclusive patent
-pending emulsification technology to quickly remove excess oil and water after application, leaving only the essential reflective pearl and moisturizing ingredients behind on lids. This exceptional adhering quality is what gives the shadow its strong resistance to creasing and fading.

Super Hydro-Wrap Vitalizing DE
–
a Shiseido-original ingredient that moisturizes and improves dryness to give eyes a fresh look all day long.
The Texture, Finish, and Wear:
I tested out these shadows in the following shades: #901 Mist, #306 Leather, #707 Patina, #708 Moss, #709 Sable, and #204 Meadow. I seem to reach for Mist and Sable the most (using Mist in inner corner and browbone and Sable on lid and through crease).
These shadows feel very creamy and slightly wet and cool going on and they set to a dewy finish. The color is generally very pigmented. However, pigmentation and finish varies per color. In particular, I found the lightest shade, #901 Mist, to be very sheer. All of the others that I tested were deeply pigmented. The shadows blend amazingly well. I apply either using my fingertips or a shadow brush.
The wear of these shadows is absolutely amazing!!! I can literally wear them all day with absolutely no creasing nor fading. They look exactly the same as I applied them when I take off my makeup at night. So awesome!!!
You can either wear these shadows on their own or use them as eyeshadow bases. I tend to just wear them on their own. Also, you do not need a primer with these.
I am absolutely in love with these shadows!
As always, thanks so much for reading!
XOXO!!!