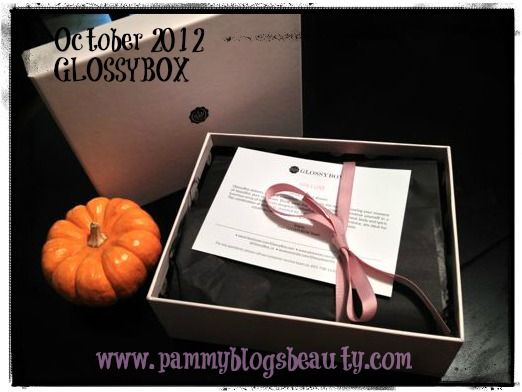 It is GLOSSYBOX time again! Yes, it is time for another GLOSSYBOX box opening! October is flying by. It seems like I just reviewed last month's GLOSSYBOX. This month's box opening post is going to be a little bit different ya'll...
Sharing my thoughts: I might cancel my subscription:
Here is why:
As usual, I am completely pleased with my GLOSSYBOX. However, I wanted to discuss my thoughts with you guys on if I should continue subscribing to GLOSSYBOX.
While I really do love my GLOSSYBOXes, I am considering canceling my subscription. I am just in a place where I have so many samples that I am using and need to use and just do not "need" to subscribe to so many sample box services. Since GLOSSYBOX is the most expensive one that I subscribe to, I might cancel it. I pay $21 per month for GLOSSYBOX. $21 a month is actually a really good deal considering how many great samples and full sized products I get in my GLOSSYBOXES. Usually the value of the items inside far exceeds the cost of the actual box by a landslide. However, when you look at the cost over time, it really adds up! We are talking $252 annually. When I look at that price I think that I would rather take that $252 and use that to pay for cosmetics that I pick out and choose myself. Sure there are plenty of items that I use and love from GLOSSYBOX...but, I am not sure if there are $252 worth of products that I love.
As a beauty blogger, I am constantly testing out skincare. GLOSSYBOX does a great job of packing a variety of items into a GLOSSBOX: hair, skincare, makeup, and body products. However, often the skincare items do not get used right away as I am already in the midst of skincare testing.
The other reason that I might cancel is that out of all of my beauty sample subscriptions, GLOSSYBOX seems to have the fewest rewards for membership. With
Birchbox
, you earn points for product feedback and membership referrals. You can use those points towards product discounts in the Birchbox online store. I love that system! The feedback for products surveys are super quick and easy. So, you feel like you are constantly earning points. I love
Julep's system
too! Granted they have re-vamped their Julep rewards with the
"Jules" program
. So, I am not sure how that will translate. But, so far, I have been very happy with Julep's boxes and use the Julep polishes and products all the time. So, I am totally getting my money's worth with each Julep Maven box that I get.
With GLOSSYBOX you can earn GLOSSYDOTS for surveys and the GLOSSYDOTS can accumulate over time to be applied towards a free GLOSSYBOX. What I am finding is that the surveys are quite long to complete and it takes forever for your points to add up! Plus, there is no GLOSSYBOX "store" on site. Also, while you can invite friends to GLOSSYBOX over email. There is no system in place to allow for referral credits through an web link.
My other thought is that if I cancel (and I am quite sure that I will), I want to take that $21 per month that I saved and use it to purchase makeup items that I pick out myself. Actually, I am considering an entire year-long blog series about building a basic core makeup collection with $20 per month. I am curious. Just for the sake of experiement to try this! I think it would be a much better use of my $21 per month!
My last reason that I might (and probably will) cancel is that I am on a tight budget! If I am going to spend $21 per month on something, I would rather pick the items out myself! Sure I pay $10 per month for Birchbox, that is an easy price to justify for samples. I pay $20 per month for Julep but the great thing with that is that I actually do choose which Julep box that I get...and if I don't like the box offerings (which has actually never happened), I could always choose to skip that month. So, my point again is that if I am going to spend that $20, I would rather spend it on something that I am picking out myself. I just made the transition to stay-at-home Mommy this year and I am still adjusting to the lack of a paycheck! ;)
So, in summary, I will likely cancel before the end of the month. However, if and when I do cancel, it might not be forever! If I find that I am really "missing" my GLOSSYBOXES or if my budget loosens up, I will likely subscribe again!
If you are curious about beauty sample subscriptions: try GLOSSYBOX!
With all of that said, if you do have $21 extra dollars to spend a month, I think that GLOSSYBOX really is a fabulous deal! If I was still working and getting a paycheck, there is no question that I would continue my subscription! If you are looking for a high-end/luxury beauty box subscription, I think that GLOSSYBOX is really the way to go. You get a lovely box filled with amazing samples! Plus, you feel like you are getting such a nice present for yourself.
If you are a nail polish lover, I totally recommend the Julep Maven program. If you are looking to spend less, but still get a great beauty sample box, then I totally recommend going with Birchbox!
So, lets jump into this month's GLOSSYBOX shall we? To find out what I got this month, keep reading after the jump!
October 2012 GLOSSYBOX: Spa Luxe
This month's theme is "Spa Luxe". The idea is to get away from your daily grind by pampering yourself with these luxe and pampering products. I think that no matter your daily schedule, a little pampering can always do your mind and spirit some good!
The first thing that I notice when I open this box is it's amazing scent! I love it when my beauty sample boxes not only look pretty, but also smell good. That is certainly the case this month!
What is inside?
Alterna Bamboo | Luxurious Shine Mist (sample size: .85 fl oz, full sized cost: $22 for 4 oz): I always love a good shine mist and this is a great one! My hair is so dull and dry from highlights. So, I rely on shine products to keep my hair looking good. I have actually received this sample in another beauty box in the past. I really love this shine mist. So, I am thrilled to get another one! Great sample!!! Plus, the small size makes it perfect for travel or for stashing in your purse.
Carol's Daughter | Shea Souffle (sample size: 4 oz, full sized cost: $20 for 8 oz): oooh!!! I am so very excited to see a sample from Carol's Daughter!!! My local mall recently added a Carol's Daughter store and I have been so intrigued to try something from them! This huge sample is such a good example of why I love GLOSSYBOX! This body butter smells sooooooo good! There is something about this product scent that brings me back to childhood. However, I can't quite place what the scent reminds me of?
Heartland Fragrances | Exfoliating Loofah Soap (Full sized bar! Cost: $8.00): Yay! for a full-sized product! This soap is the reason that the whole box smells good. I got a peppermint scent. I am not sure if I have ever mentioned how much I adore peppermint scents for body products? They are so refreshing! Especially for morning showers. This looks to be a glycerin based soap with peppermint essential oils all formed around a loofah. This will totally be put to good use! Can't wait to try this out!
MODELCO Lip Duo | Lipstick & Ultra Shine Lip Gloss (Full sized! Cost: $39.00): What a cool product! It is a dual ended lipgloss and lipstick! Honestly, you would think that you would see more of this type of product available. I always pair gloss with lipstick. It is nice to have them in one tube! Here is the catch. Not sure about this color for me. This is the downside to GLOSSYBOX. Often you will get an amazing item such as this one, but the color is just not for you. Then it feels like such a waste of a nice product. If this was pink, I would be all about it. I got a brownish shade "Dusk" lipstick and "Striptease" lipgloss. I will still be trying this out. Sometimes when you get a color that you wouldn't have purchased yourself in your GLOSSYBOX it forces you to try something new. Sometimes this works out and I end up loving the item. So...who know! ;)
edited: OMG! I am in love with this lipgloss/lipstick duo from Model Co!!! The color ended up
being a pretty nude/natural on my lips. The formula is super moisturizing and it smells amazing
(like strawberries! Normally I don't like fruity scented lip products but this is a good scent!)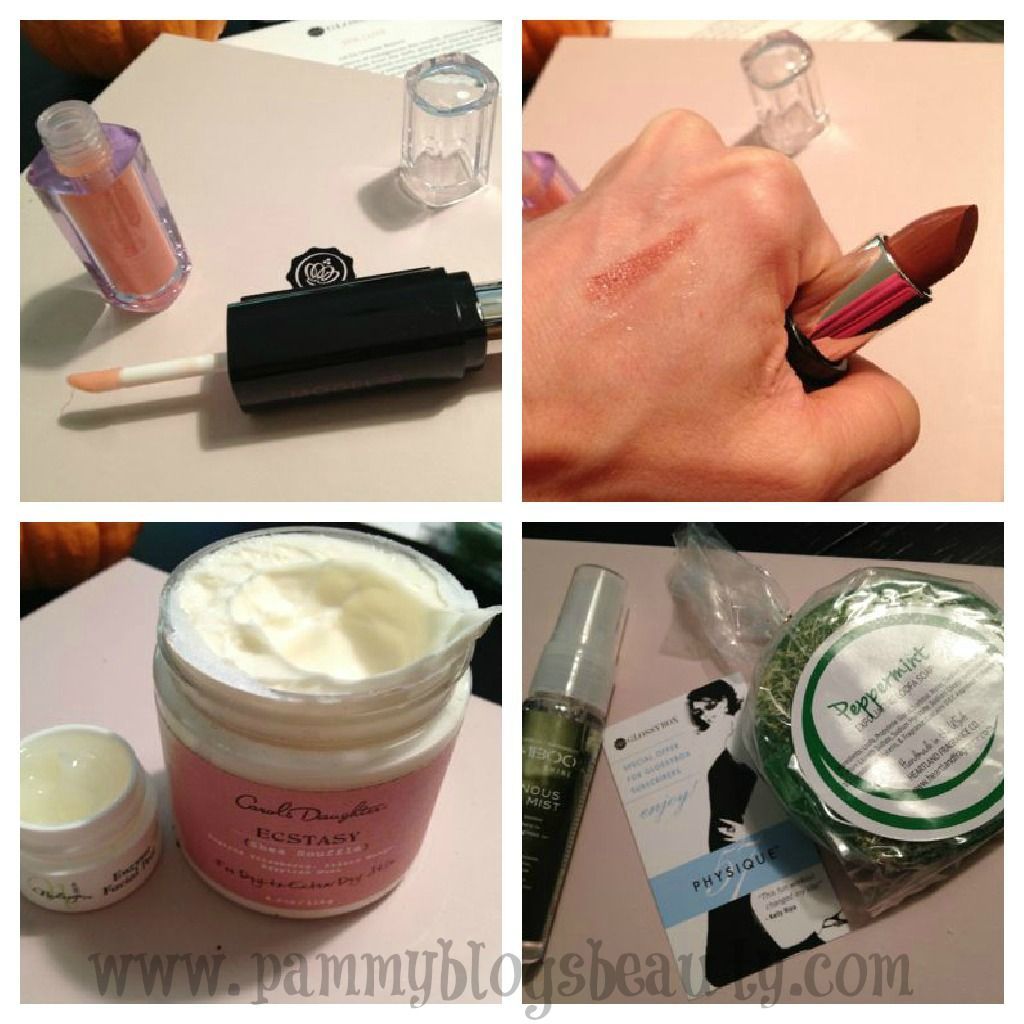 There is no question that this box is an amazing value! We are talking about over $80 worth of products for just $21.00! If you are looking to expand your product inventory and try out some new items, GLOSSYBOX is totally the way to go!
While I am kinda sad that I will likely be cancelling my subscription (I hate being on a tight budget!), I am excited to see what items I can pick out myself and purchase for that same $21 per month. No, I probably won't be saving any money if I am just deciding to purchase other items with that same $21.00...but, I will be purchasing items that I am going to directly research and choose myself. So, they will be "smart" purchases (if that makes sense?). If I do indeed cancel, you will see a follow up post soon about my exact "plan" for spending that $21! I think you guys are going to like my idea!!!
Also, if I do cancel, it might be a temporary thing. When my budget loosens up, or when I find myself in need of some samples, I will surely subscribe again. GLOSSYBOXES are such great values! I might even go full-circle and talk myself out of cancelling my subscription. We will see. The way I figure? I can always re-subscribe if I realize that I really "miss" getting the monthly box!
Thanks for reading and "listening" to my overly verbose contemplation about possibly cancelling my subscription! ;)
*UPDATE*: After much consideration, I did indeed cancel my GLOSSYBOX subscription. Thank you so much to all of you that helped me to decide!!! The way I figure? I can always re-subscribe after awhile if I really miss getting the boxes. Don't get me wrong, I really did love my GLOSSYBOXes and I do recommend this beauty subscription service. I honestly just am trying to eliminate some clutter in my life. I do so much product testing for this blog that often the beautiful skincare samples that I get from GLOSSYBOX can not be tested right away. I am starting to eliminate clutter and prepare for (hopefully) a move within the next 6 months-1 year. So, for now, GLOSSYBOX just had to go. I will miss writing my monthly review/box opening post! However, I have a fun new series planned to take its place! It is called MAC Matters: Building a Core Collection. I will be using that $21.00 that I am "saving" from not getting a GLOSSYBOX and instead using it to buy beauty community favorite MAC items! So, I am on the lookout for great MAC items. :) I figure it is a better use of my money to get one item that I might use all the time versus a box of randoms.