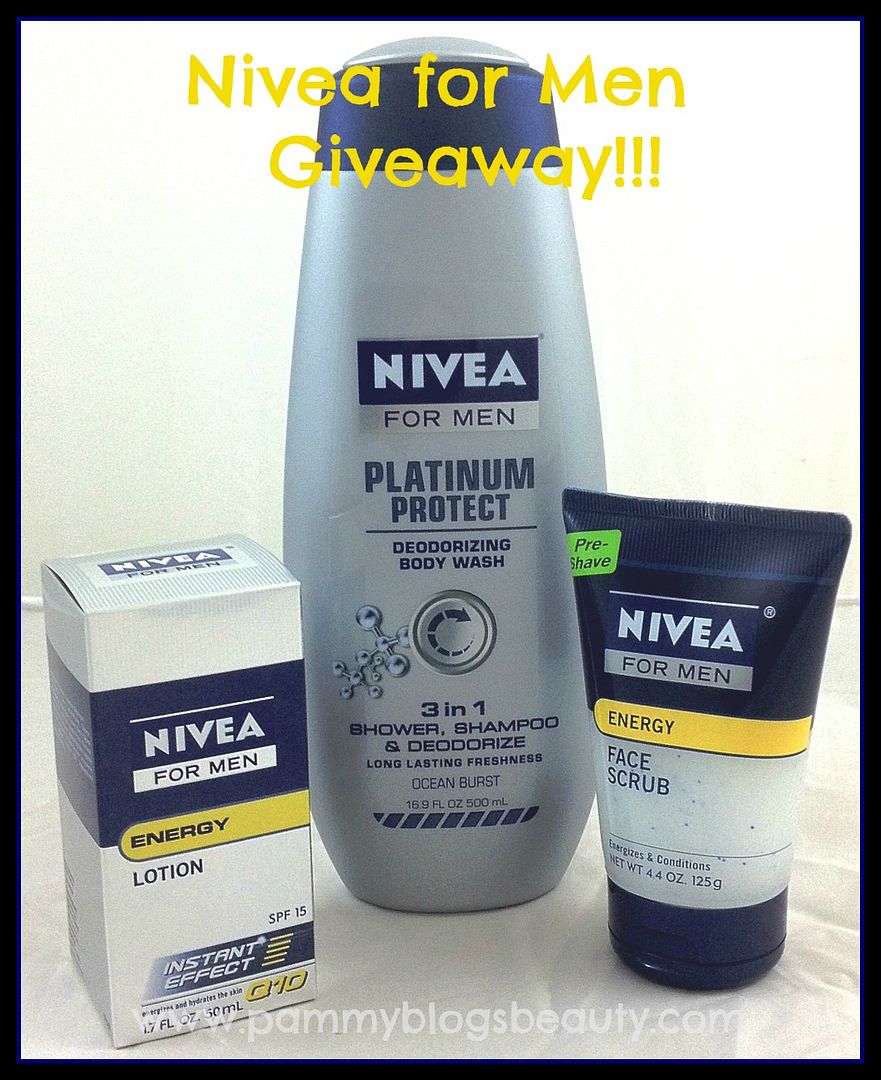 As a fan of
Nivea
skincare products, I was happy to have my husband try out and review this new Nivea skincare designed specifically for men:
NIVEA for Men
! No, my husband is not at all product obsessed like I am. However, he does like effect and good quality products. Also, he likes lines geared towards men. So, he happily tested out these products so that I could share this info with ya'll. I know that many of you probably shop for your husband's, boyfriends, or son's skincare/bath products. These might be items that you are interested in for the men in your life!
Nivea wants your man to look and feel like a winner. So, they are offering this "Winning" prize package of
NEW Nivea For Men Skincare
!
Keep reading to find out how to enter to win these new Nivea for Men products and to hear about my husbands first impressions/product reviews.
Men's Skincare by Nivea: A Man's Opinion (from Erik!):
New! NIVEA for Men Platinum Protect Deodorizing 2-in-1 Body Wash:
Citrus Explosion
This is a thick and rich pearly body wash. It is very strongly scented and it lathers well. My husband found the scent to be a bit overly potent at first but the scent dissipates after about an hour. He generally does not use "men's" body wash and is used to a more subtle scent. While the scent of this product is a bit on the strong side at first, my husband expressed that he does like the scent.
This 3 -in-1 deodorizing hair and body wash with Smart Deo Technology removes dirt and odor causing substances while the intense foaming formula provides a Platinum-level clean without drying out your skin leaving an invigorating scent.
16.9 Fl Oz bottle retails for about $3.99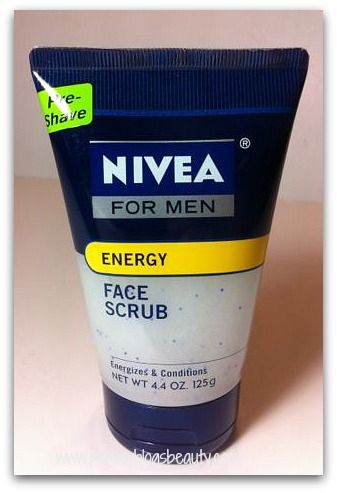 New! Nivea For Men Energy Face Scrub:
This is a gel-based facial scrub/cleanser with scrubby particles. The scrub particles are fine and are gentle on the skin. My husband found this product to be very highly concentrated. So, he only needs a very small amount (about a pea size) to cleanse and exfoliate his entire face. While this product is scented, Erik found the scent to be mild and not overpowering. He said he liked this product and will continue to enjoy using it!
Helps clear away dry, rough skin, built-up dirt and helps prevent clogged pores. Deeply cleanses and lifts off rough skin, revealing new, smooth, winning skin.
4.4 oz tube retails for about $6.99.
New! NIVEA for Men Energy Lotion:
This is a basic facial moisturizer with SPF. Erik has combo skin (normal-dry). He liked the feel of this lotion and expressed that it absorbed quickly without leaving him feel greasy. He finds that the product scent is a bit strong; but, he does not mind the scent. He thinks that the packaging is "cool" and specifically likes the pump dispenser.
The active sunscreen ingredients are Octinixate, Avobenzone, and Oxybenzone. The SPF is 15. My husband spends a lot of time outdoors cycling. So, I am thrilled that he is using a daily moisturizer that contains an SPF (he often resists my attempts at making him wear sunscreen). So, at least I know he is protected when he wears this!
1.7 fl oz tube retails for about $8.99.
Enriched with skin's own Coenzyme Q10 to help maintain skin's vitality and elasticity. This lotion revitalizes, moisturizes, and protects your skin, re-energizing it for another winning moment.
Overall, my husband's first impressions of this line are positive. While he does find the product scents to be a bit strong, he does like the scent. Plus, he is just used to using facial products that do not have any scent at all. He expressed that he will continue to use all of these products. He especially likes the facial scrub and commented that he likes it better than the last facial scrub that he purchased at Sephora (which was about 3x the price!).
The Giveaway:
One winner will get a package of Nivea Men's Skincare including the
NIVEA for Men Platinum Protect Deodorizing 2-in-1 Body Wash, NIVEA for Men Energy Face Scrub, and NIVEA for Men Energy Lotion
Giveaway Rules:
You must be 18 years old to enter or have your parents permission.
Prize is shipped directly to winner by NIVEA. Pammy Blogs Beauty is not responsible for items lost or damaged in mail/transit. Prize fulfillment is through NIVEA. Prize is not redeemable for cash.
To enter the contest, you must fill out Rafflecopter form below. The winner will be chosen randomly through Rafflecopter. In the event of technical error, Pammy Blogs Beauty reserves the right to pick the winner. Pammy Blogs Beauty will verify entries as needed and will disqualify individuals with multiple entries or who have falsified information on the form.
Only one entry per person.
Contest is void where prohibited by law.
Contest runs from October 4th 2012- October 26th 2012. Winner has 48 hours to respond to winning announcement or a new winner will be selected.
To Enter the Contest (required rules):
1. Please see the rules listed above.
2. You must be a follower/Subscriber of this blog in at least one way to enter. You have multiple ways to follow this blog: e-mail subscription, Google Friend Connect,
facebook, twitter, Pinterest, Google+, BlogLovin, and Hello Cotton.
The more ways in which you follow this blog...the more chances that you have to win!
3. Fill out Rafflecopter form below.
4. Answer question in comment form below: "What Skincare do you (or your Man) currently use?"
5. You must
Follow Pammy Blogs Beauty on Facebook
.
For extra entries:
You can follow this blog in numerous ways: Google Friend Connect, twitter, Pinterest, Google+, BlogLovin, and Hello Cotton.
Thanks for reading the review! Good luck if you decide to enter the giveaway!!!
Prize Fulfillment is through NIVEA.
Got a gift card for husband
a Rafflecopter giveaway