Get in the spirit this month with the
October Julep Maven box
! I can't wait to try these festive and somewhat vampy polishes and treats!
Julep really knocked it out of the park with the Maven box this month! I might have even squealed in delight when I first opened the box, lol! There is no question that the Julep Maven boxes have been consistently good. This box is no exception! Adorable presentation, excellent product selection, and great quality. I am absolutely thrilled with this box!
In a Nutshell: What is the Julep Maven box?
I know that many of you know the drill. For those of you who don't, here is the scoop:
The
Julep Maven program is a Monthly Beauty Box subscription
. I know there are about a million of these out there now; but, this one really stands out! The cool thing about this subscription is that you get to pick your box!!! When you sign up for Julep, you take a style quiz. Then, Julep matches you with a Style Category. For the Monthly Box, Julep pre-selects a box for you based on your beauty style profile. You get an email with a graphic (see the picture below) representing your box. My style on Julep is "Boho Glam". If I do not want the Boho Glam box for a particular month, I can easily switch to one of their other boxes. This month I choose "Bombshell". It was hard to pick as I literally wanted all of the boxes this month, lol!
Another good thing? With Julep, you can skip a month! If you can't find a box that you like or if you just don't feel like spending the $20.00 for a particular month, then you can simply opt to skip a month.
Subscriptions are $20.00 per month (but remember you can skip a month if you need to).
You get to choose your box! They have a great assortment every month.
Each box contains 2 full-sized Julep Nail Polishes plus one Julep Spa full sized product. Also, there is always one box that has 3-full sized Nail Polishes and no spa product. I have literally loved every spa product that I have gotten! Seriously, I have found some favorites at Julep!
Box Value: The value of the box far exceeds the $20.00 cost! The nail polish normally retails for $15.00 a bottle and the product prices range from $14.00-$38.00.
Ready to subscribe? Here is my referral link: Subscribe to Julep
You can earn credits for referrals!
So, lets get to this month's
Bombshell Box Opening
! Here is a peek at what is inside:
To find out more, keep reading!
The
October Julep Maven Box
: "Simply Bewitching"
How Stinkin' Cute is this box???!!! I must admit, the candy corns had me at hello. You know, these "little" touches are just what I love about Julep Maven boxes. I am sure it only cost them pennies to add the candy corns and cute orange shredded paper; yet, the effect is priceless! I just dig a good theme. I am cute like that. :)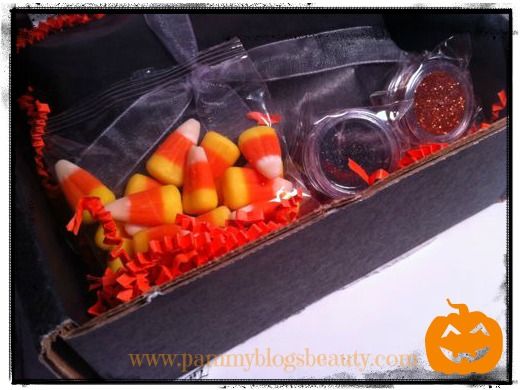 A Glittery Surprise!
What a fantastic box this month! Not only did I get the gorgeous Keira merlot creme polish and Ursula a black crackle, but also Julep's Quick Dry Polish drops *and* two beautiful glitters!!!
The Julep Maven boxes have the best "extras"! Each month you know what box you are getting because you get to choose it. The surprise factor here is that Julep always includes a little "extra"! Now, unlike other sample boxes, the extras always seem to have good value! These are not usually little foil sample extras, but are actually "big" items. In the past I have gotten nice cosmetic bags, mini grocery type totes, foot files, nail files, toe separators, and makeup items. This month the extras really wow'ed me: two beautiful glitters!
The Glitters:
I got one mini jar of Orange Glitter and one mini jar of Black Glitter. These glitters are so pretty! What a nice way to top off a Halloween manicure! These are great to add to my glitter collection as I did not have any colors like these! :) Thanks Julep for great extras this month! I would love to see some more bonus glitters in future boxes!
Inside the Box:
Besides the cute glitters, I also got these items: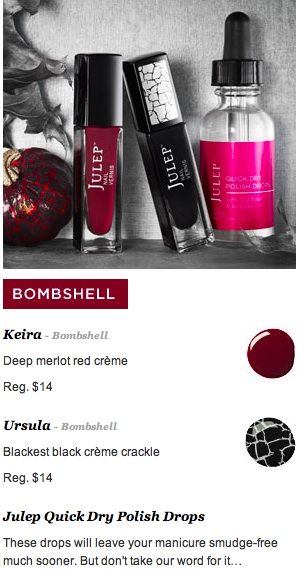 I know that some people are over the "crackle" effect polishes; but, not me! I don't wear crackle that often; but, it is the quickest and easiest way for me to get a cool nail-art-esque effect to my nails. I seem to wear crackles more in the colder months as adding a black or dark crackle over any color is a great way to darken up your manicure and transition to your seasonal colors.
This Julep Ursula black creme crackle looks stunning over the Julep Kiera merlot polish! Kiera is such a dark and rich color that the Ursula crackle effect is very subtle. This is my first time trying a Julep crackle polish. I find that it really gives a lot of texture and it creates really interesting and deep crackle designs. Overall, I really love this manicure and am sure that I will repeat it many times throughout the season! It is beautiful not only for a vampy-inspired October look, but also it is great for all of Fall/Winter! Very glam and very sophisticated.
The Quick Dry Polish drops do carry a somewhat heavy lavender scent. So, if you are not a fan of lavender, then you may not care for it. I am on the fence about lavender scents. So, while it is a nice product, I might only use occasionally because of the somewhat heavy scent.
My fellow Mavens, what box did you get this month?
Thanks for reading!
XOXO!
Referral links in post