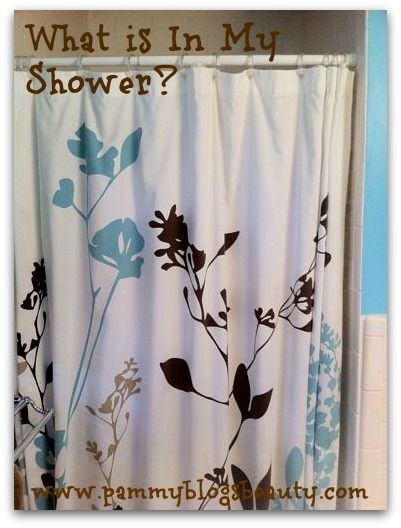 It is finally my turn for the
Beauty Spotlight Team's "What is in her...???
" series!
After much consideration about what I should show you, I have decided to let ya'll peek inside my shower to see what goodies I am using and loving! As a beauty blogger who is particularly obsessed with bath/shower products and hair products, this gives you a glimpse of what is really working for me. Nothing screams "this is a great product" better than actually seeing the product sitting right there in the shower for ease of daily use!
Bath and Shower products are "my thing" lately. As a Mommy of a 9-month old, my daily shower is my little escape into tranquility. My only moments not "on duty" as Mommy are those spent in the shower. I like to just unwind, melt into the water and steam, and and just escape into the suds!
So, ya'll will get to peek at the products in my shower right now. Note: this is just a snapshot! Meaning: While I do have some standard items that live permanently in my shower *waving to my beloved Redken All Soft Line*, I do rotate products. Sometimes I just get bored, sometimes I am just trying something new, and sometimes I am just switching things up. So, you guys are going to see the products that are in my shower right now at this very moment. I only have room for the best products that I use all the time. Sure, I test out other items that I review; but these I keep in a basket and bring them into the shower when I test them. Often these tested items end up with a long-term spot in my shower! I will note in the description which items are *always* in my shower! :)
So, are you curious yet? Lets check out what is inside my shower!
My Space (or lack there of):
I live in a small urban home that was built in the 1950's. These were the days before big bathrooms. So, I am quite limited with space in my tiny little bathroom and shower. When we had the bathroom renovated, we had some shelves put in for my products (my husband hates those racks that hang from the shower head). While I wish I had more space, a small area does force me to streamline my products! I have become a master of stacking products and getting as many items to fit as possible, lol!
There really is no real strategy to the product organization. I just try to fit the items as best as I can. Honestly, it is like doing a puzzle! Generally, I keep the larger items on the corner shelf. Also, I keep my bar soap on the corner shelf so that it doesn't get all wet.
The Recessed Shelf:
The Corner Shelf:
You may notice a "theme" here:
You see that there are MANY products in my shower here for dry and damaged hair. I usually pride myself in keeping my hair in great shape despite that fact that it is very long and heavily highlighted. Often I get asked in person what I use on my hair or will get asked for my hairdressers info. Well, recently I "strayed" from my usual highlights girl and ended up with some considerable hair damage. Well, luckily I am armed with this amazing arsenal of products that have been bringing my hair back to life. Guess what, the products are working!
The Items:
1.
Aphogee Products:
Shampoo for Damaged Hair and the 2 Minute Reconstructor: These products live in my shower. When I am out, I immediately go to Sally's Beauty Supply to repurchase. I use these about once a week to strengthen and condition my highlighted hair. While these products are great, I primarily use them because I am a huge lover of the
Aphogee's 2-Step Treatment
(see the full description of how to use this somewhat complicated product here:
Help for Extremely Damaged Hair
.) Using the Aphogee 2-step Treatment in coordination with the Aphogee Shampoo and Conditioner pre and post highlights has kept my hair in great shape over the years (recent hair debacle aside).
2.
RoC MAX Resurfacing Cleanser:
I typically keep two cleansers in my shower. One regular cleanser and one scrub-type cleanser. I especially like using this RoC MAX cleanser at night as it is a good prep for the skin before treatment products. Check out my full review of this cleanser here:
RoC MAX Cleanser
.
3.
Redken Extreme Strength Builder Plus:
The Redken Extreme line is designed for distressed and damaged hair. I don't always use this product line (as my hair is usually in pretty good condition). However, after my recent hair disaster, I am rotating this with my other conditioners and hair masks. So, I end up using it about every-other week or so. This product is helping to make a visible difference in my hair. Plus, I really love the scent!
4.
Olay Bar Soap:
As much as I love my shower gels, I am a bar soap girl at heart! I always buy Olay bar soaps and I rotate the scents. I rarely stray from Olay! These bars all smell really pretty and leave my skin feeling super soft and moisturized. I keep my bar soaps on top of one of those "soap saver" thingys in the shower to keep it from melting away too quickly.
5.
The Redken All Soft Line:
Shampoo, Conditioner, and Heavy Cream: The Redken All Soft line has been my "holy grail" hair care line for years now (like 8 years?). Nothing beats All Soft for leaving your hair smooth and moisturized! I am pretty much guaranteed to have a good-hair-day when I use these! The Shampoo and Conditioner cleanse gently and leave my hair very detangled and nourished. The Heavy Cream is a deep conditioner that I pretty much use every time I wash with All Soft. What I do is apply the regular conditioner to the upper areas of my hair and then apply Heavy Cream from about the ears down the length of my hair to the tips. Love, love, love All Soft. Here is to hoping that Redken never discontinues these. I have repurchased the All Soft line too many times to even count. I am never without these!
6.
Shower Comb:
After I apply conditioner, I slowly and gently comb through my wet hair in the shower. This step really helps to detangle my hair. The comb has very wide teeth and is gentle on my hair.
7.
Skintimate Shave Gel:
Another shower staple for me! I always use Skintimate Shave gels. The scents are just amazing! They make my entire bathroom smell so pretty. I rotate amongst the scents and particularly love the strawberry scented one. I love the texture and thickness of the shave gel. It really helps you get a good shave. Plus, Skintimate Shave Gels are inexpensive at the grocery store.
8.
Body Pouf:
I love body poufs/mesh sponges! They are perfect for foaming up your shower gel and giving your body some very light exfoliation. I replace these very frequently as I am funny about how they collect bacteria (admitting that I am a bacteria-phobe).
9.
Schick Hydro Silk Razor:
This razor gives me a super smooth shave. I am almost always in a hurry to finish my shave as it is my last step in the showering process. Even in a hurry, I never nick my legs with this razor.
10.
Pureology Precious Oil Versatile Caring Oil:
I *love* hair oils! This Versatile Caring Oil by Pureology can be used straight on wet or dry hair or you can also mix it into your regular conditioner for a conditioning boost. I love mixing it in with various conditioners as it really does give the conditioning process some "oomph"! I love this product and the smell of the Precious Oil line is just amazing (it totally reminds me of Bath and Body Work's Twilight Woods!). Be sure to check out my full review of this line: Pureology Precious Oil review.
11:
Jurlique Purely Bright Cleanser:
I am in the process testing out a variety of products from this line by Jurlique! This cleanser is creamy and soothing. I like a creamy cleanser for a morning shower. I always feel like I have less to wash off my face in the mornings (versus cleansing at night after a day of makeup). So, I usually use either really gentle cleansers or creamy cleansers in the mornings (and reserve "deeper" cleansing for the evening). I am in the midst of doing ongoing reviews and giveaways with Jurlique. So, be sure to always scroll down to the bottom of my page to check out my Jurlique giveaways! You just click to enter!
12.
Ulta 3-in-1 Beauty Smoothie in Banana Cream Dream
(not pictured/numbered in collage, couldn't find pic on polyvore. You can see it sitting on the corner shelf in my shower): What is it with me and food scented body products? LOL! Lately, if it is not pumpkin scented, it is likely banana scented or strawberry scented! The Body Shop's Banana Shampoo and Conditioner occasionally get rotated into my shower. If I did this post last month, you would have seen those products too! I use this Ulta Beauty Smoothie as a shower gel. I did not care for it as a shampoo (not hydrating enough). It foams well and smells very good! Plus, it is super inexpensive for a very large bottle. This bottle will last me forever!
13:
Pureology Precious Oil Softening Hair Masque:
Mmm...did I mention how much I love this scent. OMG, so good! Seriously, if you are a fan of BBW's Twilight Woods, you must smell this! This hair masque is one of the best that I have ever used for softening and shine. I really like how this product leaves my hair! Plus, the scent literally lingers for days. It is expensive, but worth it! Be sure to check out my full review (if you didn't already!): Pureology Precious Oil line.
So, that is it! I hope you had fun taking a peek inside my shower. Hopefully you got some ideas for products that you would like to try! If you have any suggestions for products for damaged hair, I would love to hear them!
Thanks for reading!
Some items I purchased and some I got
as samples.