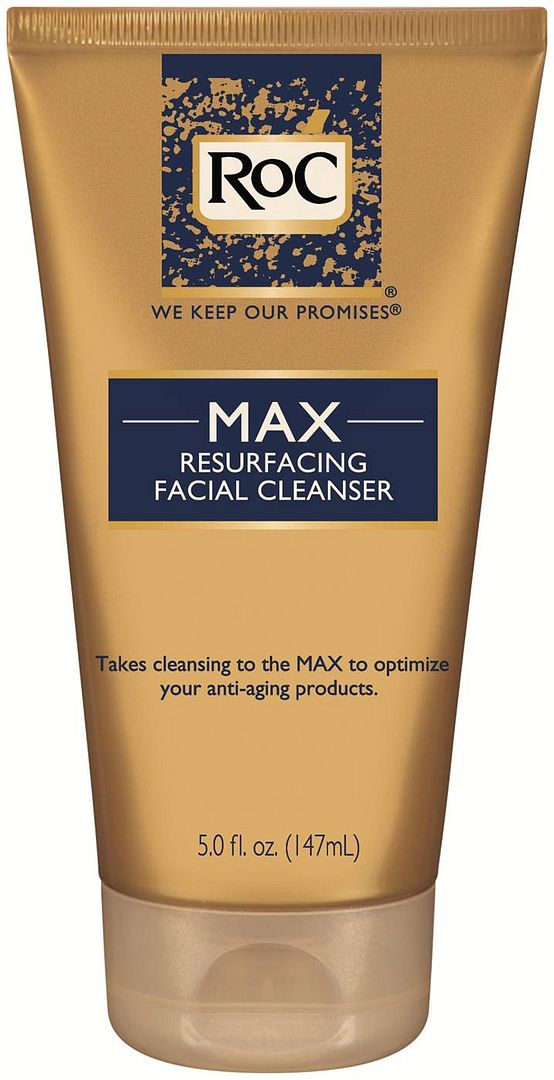 I know that I have said it before, but nothing beats a great facial scrub!!! Not only does it "feel good", but also it does great things for your skin!
Good (and gentle) exfoliation removes surface debris while it revives and brightens your complexion. This allows your skincare treatments to absorb better and be more effective. For me, the key is finding a balance. I need a scrub to be strong enough to be effective, yet still gentle enough to not irritate my sensitive skin. I have found that balance with
RoC's new MAX Resurfacing Cleanser
.
As a
RoC Ambassador
, I get to try out all the new great products from RoC. This new
MAX Cleanser
just launched in July (you may remember that I just finished hosting a giveaway for this?). Well, I finally got to try it myself and just had to share my thoughts since so many of you commented that you were interested in it.
My Skin:
In a nutshell, my skin is normal-dry (more "normal" in Summer and Normal-Dry in the cooler months). I rarely break out; but, I do have some occasional pesky congestion on my chin. My skin is super sensitive too. Many products can increase the redness in my skin or cause irritation. As you can imagine, that makes me hesitant to try new scrubs. I do not have any major signs of aging just yet. However, I am in my mid-late 30s. So, I want to try to fend off aging for as long as possible. I have just a few fine expression lines that crop up when my skin is dehydrated.
If you want to hear more about this cleanser/scrub, keep reading!
Roc's New MAX Resurfacing Facial Cleanser:
This is a 2-in-1 product: a cleanser and a scrub! This cleanser is just perfect for prepping your skin for you evening treatment products. The MAX Resurfacing Facial Cleanser is a thick and creamy (yet non-greasy) white scrub. The scrub particles are super gentle on your skin. The fresh scent of this product is just amazing! Seriously, I sniff it every time I open the cap (lol!). Mmm!!!
This cleanser/scrub was actually a little different than I expected. With the name "MAX" it sounds like a super hard-core heavy duty strong scrub. Actually, this scrub is surprisingly gentle despite it's "MAX" name. This scrub gets your skin nice and smooth without being too abrasive.
Designed to optimize the performance of the RETINOL CORREXION® MAX Wrinkle Resurfacing System, the RoC® MAX Resurfacing Cleanser preps skin to achieve the maximum results. Using beads to exfoliate away dead skin cells, the Cleanser helps prime the face for the MAX System treatment, all while making skin smoother and more radiant.
Post-Cleanser, finish your daily skincare routine with the RoC® RETINOL CORREXION® MAX Wrinkle Resurfacing System – a lightweight, two-step moisturizer that combines RoC® RETINOL with an E-PULSE® Resurfacing Serum, which functions as one powerful unit for maximum results. Together, this blend stimulates the skin's natural process to provide beautiful, younger-looking, velvety-smooth skin.
RoC® MAX Resurfacing Facial Cleanser
·

Smoothing micro-spheres exfoliate away all traces of dirt, oil and dead skin that can interfere with absorption of anti-aging ingredients
·

After just 1 use, you'll get smoother, radiant skin
·
Available at drugstores nationwide beginning July 2012 (5 oz. tube)
·
Suggested retail price: $9.99
How I use:
This cleanser is gentle enough to use frequently: I use it about 3-4 times a week. While it is designed to work with the RoC Retinol Correxion Resurfacing System, it can also be used as a stand-alone product. Currently, I can't test it with the RoC Retinol (still avoiding Retinol while nursing my baby; But, I can't wait to try them together soon!
First I remove all of my makeup with a makeup wipe or remover on a q-tip (eye area). Then, I wet my face with tepid water. Next, I apply about a dime size amount of cleanser and very lightly massage it over my face (avoiding eye area). Last, I rinse with tepid water and pat dry. My skin is left feeling soft and clean without any product residue nor irritation/redness/tightness. My skin feels super soft after using this product.
I really love this gentle scrub/cleanser! I feel that continued use has kept my skin looking clear feeling soft.
Thanks so much for reading!
XOXO!!!