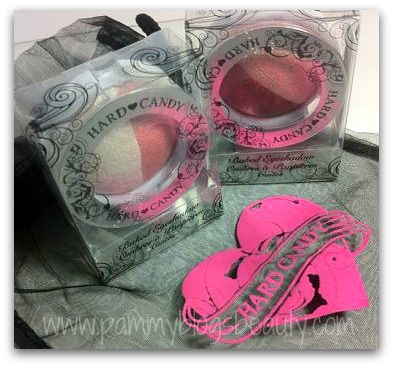 Have you seen these gorgeous
baked eye shadows from Hard Candy
? Ever since hearing Emily from
Beauty Broadcast
rave about these, I knew that I had to check them out!
I am so into "baked" makeup lately! These pretty shadow duos are no exception. I find that these baked shadows are fantastically pigmented and they have a beautiful metallic finish. Worn wet or dry, these shadows are just lovely! Is it just me, or does it seem that almost all "baked" makeup products have a metallic finish? Is that just coincidence or is it secondary to the baking process? At any rate, I seem to have a hard time resisting trying out baked products!
For this review, I tested out the
Hard Candy Kal-Eye-Descope Baked Eyeshadow Duos
in "s
Secret Rendezvous
" and "
Blind Date
". To hear more, please keep reading (swatches and full review after the jump!).
The Packaging:
I just have to mention what a fan I am of Hard Candy's packaging. It has an edgy/cool vibe that I really like. It is like a drugstore version of Urban Decay...love the Urban hipster vibe. Also, the packaging is very sturdy and of great quality (especially considering the low price point). Some cosmetics at this price really skimp on packaging; but, not Hard Candy!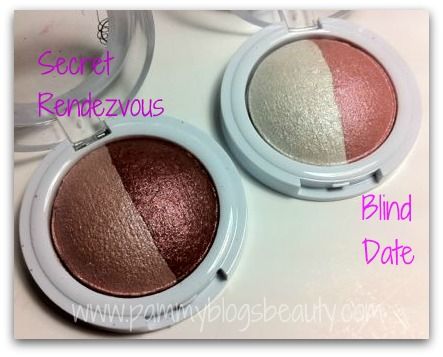 These Kal-Eye-Descope Eyeshadow Duos are great when you want to do a "quick eye" because you have just what you need: a lid and crease color. Unless I am just doing a sheer wash of color, a lid/crease look is my next most basic eye look. The colors are coordinated beautifully in these duos. The light colors are perfect for an all over wash or lid and inner corner highlight. The darker shades look lovely in the crease. The dark shade in Secret Rendezvous even looks beautiful as a liner!
These shadows all have a metallic finish with the white shadow in Blind Date also having glitter.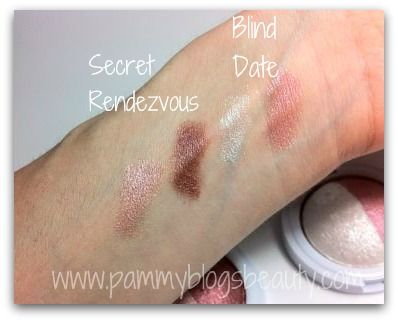 The Skinny:
Available at Walmart in 9 shades.
The Eyeshadow Duos retail for $6.00 each.
Whew! I actually wrote this post twice! Somehow I accidentally deleted the first post when doing a final edit. Does this ever happen to anyone else on blogger? I am not sure what even happened! Somehow my post text got deleted and one of my other drafts pulled into its place. So strange!!! I searched and searched for it and tried to find it. Finally I gave up and just wrote this post again. Ack, computer drama!
Sorry, I digress! Thanks for reading!!!