I am such a LUSHie at heart! What draws me to
LUSH
? The amazing scents!!! Besides the Ro's Argan scent (I love the Body Conditioner), this Vanillary Fragrance is my other LUSH fave!
I have a new LUSH-Crush: the absolutely delicious LUSH Vanillary fragrance! I think that Vanilla perfumes are perfect for Fall and Winter. The cooler air makes you want to snuggle up with a warm and decadent fragrance.
Vanilla is one of my very favorite fragrance notes. Almost all of my all-time favorites have vanilla woven in: be it a subtle vanilla or something more apparent.
LUSH's Vanillary is not the garden variety vanilla that you have smelled in a million body lotions and sprays. It is not a syrupy sweet vanilla. There is some sweetness to it. But, it is a more refined and sophisticated vanilla woven with jasmine. The overall effect is enticing, warm, and almost woodsy. There is a muskyness to this scent that I just adore. Actually, the musk notes remind me of a fragrance from long ago...but, I can't quite place it!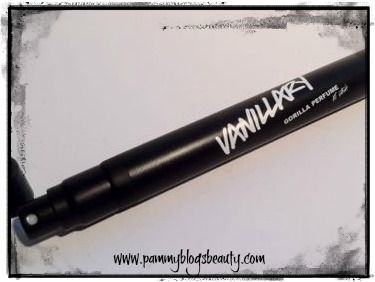 The Story Of Vanillary:

The Vanillary scent started out at LUSH as a bath bomb: Vanilla Fountain. This scent was so loved by LUSHies that the Vanillary Perfume scent was born (lets hope they do the same with Ro's Argan!).
The gourmet scent of Vanillary is made with natural vanilla absolute – the sweet stuff made from vanilla pods – and includes a touch of sandalwood and a note of burnt caramel. With a hint of floral jasmine and sweet tonka bean, Vanillary warms and develops on the skin.
While it is lovely when it opens, I find the scent to be even more lovely when it dries down and develops. It really warms up and lingers nicely. I am amazed by how many compliments I get on this scent.
Packaging:
I have the little purse size spray which is just great for travel or on-the-go. I am always lugging around body sprays to refresh throughout the day. Toting this little atomizer is much easier! Like all of LUSH's Gorilla perfumes, the packaging is plain black with white lettering: totally no-frills packaging just like other LUSH products.
I find this scent to be incredibly easy to wear and one that I am constantly reaching for. My husband is a huge fan of this scent. So, that of course encourages me to wear it even more often!
Love it so much it gets my PBB Stamp!
The Skinny:
Available at LUSH Stores worldwide and
lush.com
$9.95 solid/$14.95 3 fl. oz/$39.95 1 fl. oz
My fellow LUSHies, what are you loving from LUSH lately? Any good hauls? There is just so much that I want to try!