Have you heard about
Little Black Bag
? It is my newest "monthly box" obsession! lol! I actually think that I might be "late to the party" on this one. For awhile I held off on trying this monthly box. But, when I found myself on the search for a tiny handbag to go with an outfit for an upcoming wedding, I decided to scope out
Little Black Bag
! I mean, if I am going to buy a trendy handbag, I might as well get a few "free" items thrown in, right? (<---um, yah, that is me justifying my shopping, tee-hee!). Also, I saw that you could get a discount when you signed up on your first order (in the end, the discount swayed me!).
What exactly is Little Black Bag?
Well, it is an online shopping and trading site. Basically, you sign up for
Little Black Bag
for $49.95 per month. Items on the site are up to 70% off the retail price. Like most of these "monthly box" services, you take a style quiz and items are generated for you. You can pick out any item on the site for your monthly fee (handbags, jewelry, accessories, and makeup) *plus* Little Black Bag will give you 2 "free" items with your order. So, you get three items total for a total of . The catch? You do not know what your additional 2 items will be. You choose your first and the other two are randomly selected. Now, this is where the "fun" comes in. You have a choice here: You can either select the your Little Black Bag box as is (your 3 items, the one you selected plus the 2 generated)...OR you can trade your Little Black Bag items with other Little Black Bag users with "open bags". You submit requests and other users can either accept the trade or decline. Also, as soon as your bag opens, you will get requests from other users for the items in your bag.
I know...this sounds confusing; but, I promise it is not! It is super easy...and more than that, it is totally FUN and addictive! Yes, I found myself compulsively logging in to see what new offers I had or if anyone had accepted my trades. Honestly, I really liked the "self generated" free items that Little Black Bag selected for me. But, I still traded just for the sheer "fun factor" of it!
So, how do you complete your purchase? Basically, once you have all of the items that you want (after trading, etc). You just select for the box to be shipped. All of the trading occurs before you actually have the items in hand.
You can skip months if you want! This is a key factor when signing up for these monthly boxes. I love the option to skip months. Quite frankly, I am on a huge budget. I might not want to purchase (nor will I need) a box every month. It is easy, you simply log on to your account on the site and click a box to "skip" the month.
Like other "by the month" services, you do get to earn points or credits with referrals. I am new to this service. So, I am not quite sure how the referral points work just yet.
What did I get in my first Little Black Bag box?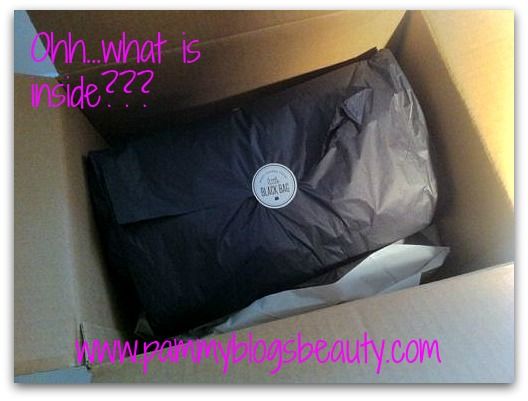 Here it is folks...my first Little Black Bag purchase:
For my first Little Black Bag purchase, I opted for a small handbag and some jewelry. The handbag was the item that I actually selected (it was so hard to choose from all of the cute bags!). The jewelry items are my "extras".
Am I happy with my purchase?
Overall, yes, I am happy with my purchase. However, the items are a bit different than I expected...
The Handbag:
First of all, I thought that I was ordering a bone/light beige handbag. The handbag is actually a light olive color. So, it is not what I expected. I really wanted a bone bag for my dress. Oh well! This little purse will still work. Also, the bag is much smaller in person than I expected. Unlike my favorite shoes/accessories/handbags shopping site
JustFab
, you can't actually view a photo of the handbag being worn on a person (I love that JustFab offers pictures like this, your really need them to see the scale of the item!). So, this is the caveat of online shopping: you can't actually inspect the items in person before buying.
As you can see, the little handbag is super cute! Sure, it isn't exactly what I expected. But, I still really like it and will keep it and use it for sure. The color is much darker and a different shade than expected; but it still meets the same need: a neutral small evening bag that is not black.
My "Free" Items: Jewelry
My additional items are both jewelry. No, these are not the items that were randomly selected for me from Little Black Bag. These are items that I acquired from trading with other users on the site. Like I mentioned, I did like the items that were preselected for me (some dangly pearl earrings and a collar necklace). However, I really wanted to try the trading experience. I can't believe how many offers I got! Most offers were for my handbag, but I got offers for my free jewelry too.

Since I have an 8-month old baby, I am kinda limited with my jewelry these days. I need sturdy items for bracelets and necklaces (that she won't break when she grabs them) and smaller earrings that don't tempt her.

The little earrings that I got are just adorable!!! The size is just perfect. They are dangly without being huge. These could easily dress up a casual outfit or be worn when you are quite dressy. I love jewelry that can be either dressed up or down and these fit that category. Totally cute!!! Love them!
The bracelet is just "okay". I do not find the quality to be that great and it runs soooo small. Luckily, I have a small wrist. So, the size is perfect for me. But, it will be too small for most people.
The value? While the earrings are super cute and the bracelet is "okay", these jewelry items do not hit me as being super-duper high quality. They are similar in quality to pieces that you could pick up pretty inexpensively at places like Target. The quality and look of the handbag is not quite worth the price of $49.95 (However, I did purchase with a 20% off discount code. So, in that case, I consider it to be a good deal). I am glad that I did not pay the full box price for this month's selections.
Do I recommend this service?
Well, it depends. If you are looking for straight-up value for your money, probably not. I think you can find better deals on cute handbags and jewelery at places like Marshalls, TJMaxx, Nordstrom Rack, Target, etc. But, not everyone lives in areas with access to great shopping. So, if you do not have great shopping in your area, then you will love having access to all the cute items on this site. Also, if you are looking for a "fun" and interactive trading online community, then "yes" I totally recommend! Trading was super fun! I am sure that sometimes you can trade up for really fabulous deals!
I may, or may not get another box from Little Black Bag. I haven't officially decided yet. If I do get another box, I will certainly review it for ya'll! Are there any other Little Black Bag subscribers reading this? Have you been happy with your boxes? I would love to hear about your experiences. So, please feel free to comment below!
Referral links in post.