It is
GLOSSYBOX Box Opening
time again! The much anticipated
September 2012 GLOSSYBOX
has finally arrived!
The arrival of Fall always inspires me to shake-up my beauty routine. The Fall weather inspires new clothes and the rotation of my closet. Not only do I rotate my wardrobe and makeup shades, but also the needs of my skin and hair changes as well with the arrival of cooler weather.
In honor of the new season, this box has a "
Fall Forward
" theme.
From the Fall fashion runways to the season's latest beauty trends, GLOSSYBOX offers a forward look into new products, formulas, and technologies, and colors of the season.
This month's box features breakthrough beauty products and
forward thinking essentials.
What is GLOSSYBOX
?
GLOSSYBOX
is another "by-the-month" Beauty Box Subscription. For $21.00 per month, you get a a lovely box of 5 deluxe beauty samples (One of which will be a full-sized item!). This beauty sample subscription is more than double the price of
Birchbox
(Birchbox continues to be my favorite beauty sample subscription in the $10 per month category). In the $20.00 beauty box category,
Julep Maven
is worth checking out too if you love nail polish.
GLOSSYBOX's referral and rewards points
When you give GLOSSYBOX feedback on your GLOSSYBOX samples or when you invite friends to GLOSSYBOX through email, you earn "Glossydots". There are no referral links available just yet. So, email is really your only way to earn points through people signing up. What do you do with these Glossydots? Well, when you collect 1,000 of them you can apply them towards getting a free Glossybox.
To see what is inside my September 2012 GLOSSYBOX, please keep reading!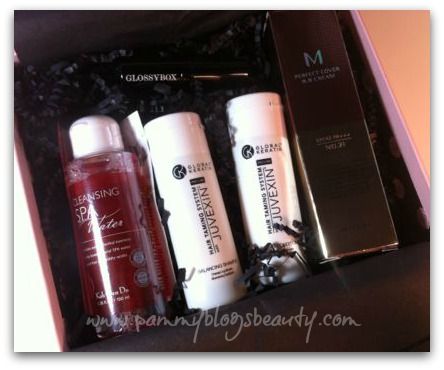 GLOSSYBOX September 2012: Fall Forward
As always with GLOSSYBOX, the box itself arrived beautifully wrapped and presented. Really, no other box seems as luxurious as a GLOSSYBOX. Before I even unwrapped this box, I knew it was packed with "big" products as the box itself is on the heavier side. Such a good sign for great deluxe and full-sized samples! The heaviness turned out to be a great indicator, the "sample" sizes in this box are very impressive!!!
Inside the Box:
GK Global Keratin Hair | Moisturizing Shampoo (Full sized cost: $20, sample size 1 oz<--I am estimating as it is not listed): I have never heard of this brand before! I always travel with deluxe sample sized shampoos from my beauty box subscriptions. So, I will for sure use this eventually! I am always very happy to get hair products in my GLOSSYBOX! I am quite curious about this brand. The bottle states that hair will be soft, manageable, and frizz-free for 5 months? Has anyone tried this brand before and gotten results like this? Would love to hear more about this!
GK Global Keratin Hair | Balancing Conditioner (Full sized cost: $20, sample size 1 oz): This is the conditioner that matches the shampoo. Glad that I got both the shampoo and conditioner as I like using "matching" products. This conditioner looks promising as it is nice and thick. This product, like the shampoo, has the 5 month claim on the back. Hmm???
Koh Gen Do | Cleansing Spa Water (Full sized product!!! Cost: $13.00): Whoo-hoo a Full Sized product! Folks, this is one of the reasons that I heart GLOSSYBOX, the "samples" are so generous! I mean, yes, we are all paying $21.00 per month; but, at least there is never any question about getting your money's worth! Another reason I love GLOSSYBOX? Being introduced to new and cool products that I have never heard of before like this one! A cleansing water? Have never heard of nor tried a product like this!!! Made with mineral-rich Japanese hot spring water, this best selling spa water is infused with six essential herbs to protect and nurture skin. In a single sweep, it gently removes makeup and skin's toughest impurities. I am so intrigued! I am always looking for a good gentle cleanser and am excited to try this out. Have any of ya'll tried a cleansing water before? At first I thought this product was a toner. But, it looks to be a one-step all-in-one product! I don't know if a cleansing water could ever fully replace washing my face the "old fashioned" way (my PM face washing is such a relaxing ritual!). However, on nights that I am very sleepy, just swiping this on with a cotton pad would get me to bed much faster! If I don't end up using this as a one-step product, I could certainly use it as a makeup remover!
Kryolan for GLOSSYBOX | Moisture Rich Lipstick in GLOSSYpink (Full Sized Product!!! Cost $14.00): Whoo-hoo for full-sized product #2! As excited as I am to get this beautiful full-sized lipstick, it arrived melted! When I opened my box, I kinda pushed the lipstick bullet back down. So, I think it has reattached to the base; but, I fear that it will come loose with continued use. The color is really very lovely and wearable natural pink. The formula seems very glossy and moisturizing.
Missha | M Perfect Cover BB Cream SPF 42 (Full sized product #3!!! Yay!!! Cost: $29.99!): Yay for a BB Cream...but, wait. Don't get too excited just yet! The big question here is: Can I wear this shade? I got the shade No. 21 which appears to be the 2nd lightest shade? I can't really tell from the website. According to some of my blogger friends, Shade #21 is the 2nd lightest with #13 being the lightest and the most logical shade for me. This is a bit of a let-down here as I usually wear the lightest shade in any given foundation range and I must have this noted somewhere on my GLOSSYBOX profile? Either way, it looks to be an "okay" match to my very fair skin (from swatching it along my jawline). I will update after I have had a chance to wear it a bit more outdoors and in other lighting. It is always hard to tell if something is a good match or not in my somewhat dark home. Sometimes I am able to "correct" a not-so-great match with powder. Now, lets talk about the feel and texture: The product feels very silky smooth and lovely. I am absolutely thrilled that I got this product *but* I do fear that the shade is wrong. I wonder, will GLOSSYBOX correct this for me? I am going to email them to see if they can send me a different shade. I will update after I have heard back. Hailing from Korea, this Blemish Balm...is a multitasking powerhouse for the face. This multi-use cream provides light coverage, smooths, protects, and moisturizes.
Wow! BB Cream shade mismatch and somewhat melty lipstick aside, what a stellar GLOSSYBOX this month! Ya'll, this is over $60.00 worth of products for $20.00. Yes, the value is clear! This month's box is also introducing me to new-to-me brands and products that I have never tried before. Plus, a beautiful (but melted) lipstick and a new BB Cream! Like I said, as far as value goes...wow! This box really is a treat for a girl-on-a-budget like me! Luxury beauty items for a great price delivered right to my door. There is no question that I continue to be happy with my GLOSSYBOX subscription! With that said, it is a bit of a downer that the BB Cream shade might not work for my skin tone and that my lipstick arrived partially melted. My hope here is that GLOSSYBOX will fix this for me. I understand that sometimes these things happen; but, I would still like to see if this can be corrected.
Fellow GLOSSYBOXERS, are you happy with your box this month? Did you get a shade of BB Cream that will work for your complexion?
XOXO!