Ahh, there is nothing like a great palette! The idea of having a set of coordinated products for eyes, cheeks, and lips really just sounds perfect! As many of ya'll know, I am doing an ongoing "Palette Princess" blog series where I chronicle my search for palettes that make you feel "Pretty as a Princess". LOL, yes...I am fully aware of how cheesy I am. Somehow, no matter how old I get, I still feel like a little girl on the inside while "playing" with my makeup! So, I figured this palette series needed a whimsical name. :)
While this
Glam Set Palette by NP Set
(available at one of my favorite stores...
Target
) was a Spring/Summer release, it is actually perfect for Fall! The shades are so totally perfect for the upcoming season!
Have you tried NP Set? If so, what do you like from this line? I would love some recommendations. I am a long-time fan of Napoleon's other brand Napoleon Perdis; but, I am just getting to know his more affordably priced NP Set line. I am having so much fun exploring this line!
To find out more about this palette and how I liked it, please keep reading!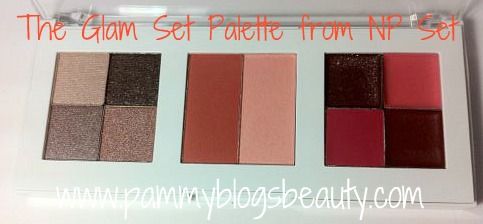 NP Set Glam Set Palette:
This palette has all you need for a gorgeous and flattering coordinated makeup look! Housed in a simple plastic case, this set contains 4 eye shadows, 2 cheek colors, and 4 lipsticks. It really is an amazing value for only $24.00 at Target!
The Eye Shadows:
Wow! These are just gorgeous!!! Any fellow taupe lover will love these cool-toned neutral shades! There is a light neutral shadow, a medium taupe, a medium brown, and a rich/deep brown. The pigmentation is very rich for these shadows. They have a satin finish and a rich and buttery texture. The overall effect is very polished. Love the assortment of taupy-neutral shades!
The Cheek Colors:
This set has two cheek colors. A deep rust/coral and a light peachy beige. While the rust color is really to deep and rich for my fair skin tone, the light peach shade is just lovely on me. These blushes are very very soft and very deeply pigmented. You will only need to slightly touch your brush to the pan to pick up a lot of powder. You will need to tap or blow off the excess before applying. I love wearing the light peach shade. It provides a nice balance with the rich eye shadow colors.
Lip Color:
These are hybrid lipgloss/lipstick shades (or like very very creamy lipsticks). You get an assortment of 4 shades ranging from peachy-nude to a deep raisin shade. The colors are somewhat sheer; but, not without pigment. I like the peachy shade the best; but, have played around with all of them depending on what look I am going for with the palette.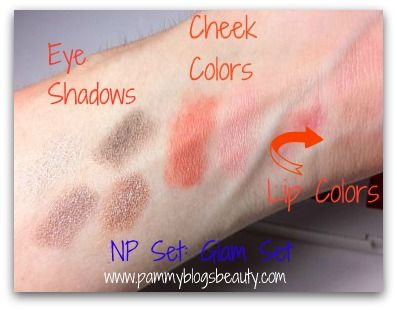 This Glam Set palette would be a great addition to anyone's collection! If you are looking for an easy to wear palette for the Fall, you should check this one out. I think it would be perfect for the office or anyone wanting a sophisticated daytime wearable look. You could always smoke out your eyes a bit more for an evening look.
Thanks so much for reading!!!