It is always fun for me to explore a "new" (not new, but new to me) skincare line. Testing out
Jurlique
products is a total pleasure for me! Think "Natural Botanicals" meet "Science" and you will get the concept behind Jurlique. I have recently teamed up with Jurlique to review products from the line and host ongoing giveaways. So, stay tuned! There will be more Jurlique reviews and giveaways posted here on an ongoing basis.
Giveaway:
If you haven't had a chance already, scroll down to the bottom of my page. You will see a
Jurlique Giveaway
posted at the bottom right hand corner. Just click to enter! It is that easy!!! There is a new Jurlique Giveaway posted there every 4 weeks or so. So, just keep periodically checking that area on my page for new Jurlique giveaways.
The current giveaway is for:
Purely Bright Radiance Serum
Purely Bright Cleanser
Purely Bright Day Cream
Clarisonic Mia
Note: I do not moderate these giveaways (that is done by Jurlique). Contest moderation and prize fulfillment is all through Jurlique.

Nature + Science = Beauty:
This is the core concept behind the Jurlique line. The company believes that nothing is better for yuor skin than ingredients already found in nature. So, they have researched the best way to extract and isolate pure ingredients from nature. They call this the Bio-Intrinsic approach. This artisanal approach, honed over generations of research and development, draws out the potent elements present in botanicals; isolates them, intensifies them and reformulates them to be even greater than the sum of their parts. By unlocking the full potential of nature, Jurlique has proven that harsh chemical formulations simply aren't required. True beauty begins in the earth.
Keep reading for my reviews of Jurlique's Herbal Recovery Eye Cream, Herbal Recovery Gel, and Soothing Day Care Lotion.
My Skin: In a Nutshell
When I mentioned to Jurlique that I have somewhat sensitive skin, these are the products that they recommended for me. I did indeed find these products to be very gentle! In a nutshell, my skin is normal to dry and sensitive. As I am in my mid-late 30's, I am interested in age prevention; but, I really do not have any major signs of aging just yet. My skin is generally pretty clear and even toned. I have dark under eye circles and some very fine expression lines (that mostly crop up when my skin is dry or dehydrated).
The Packaging:
Jurlique's packaging is honestly amongst the most pretty skincare line packaging that I have ever seen. Most products come in frosted glass jars with pumps (or in the case of the eye cream, a metal tube). I love the stout square shape of the bottles. The products just look very high end and sleek. What beautiful design. Packaging aesthetics are a big thing with me. The look of this line, as a whole, just totally appeals to me. The only downside to the packaging is that the glass is a bit heavy and you run the risk of it breaking with travel.
Jurlique Herbal Recovery Eye Cream:
This is an antioxidant eye cream designed to combat fine lines, increase hydration, firm skin, and help reduce dark circles and puffiness. This eye cream has a super light rose scent. At first, I thought that the rose scent might bother or irritate my skin (typically, I am not a fan of scented products). With continued use, I did not experience any irritation from the rose scent. Actually, I really grew to like the pretty scent.

This product looks like a cream; but, it actually feels more like a gel/serum going on. It is lightweight and non-greasy. The product absorbs quickly and leaves no greasy residue. It seems to have an instant "tightening/depuffing" effect.

My dark circles are super-duper dark. So, they did not go away with using this eye cream. Honestly, I do not expect any eye cream to significantly reduce my dark circles. They are just so dark! With that said, my eye area does look somewhat brightened from using this eye cream.

This eye cream keeps my eye area hydrated without irritating my sensitive eyes or sensitive eye area skin. So many eye creams sting and irritate my eyes; but, not this one! If you skin is very dry, this eye cream might not be rich enough for you. For the warmer months, when my skin is not as dry, this eye cream is just right. However, I might switch to something richer for the colder months.

The Skinny:
Retails for $40.00 for a .5 oz tube.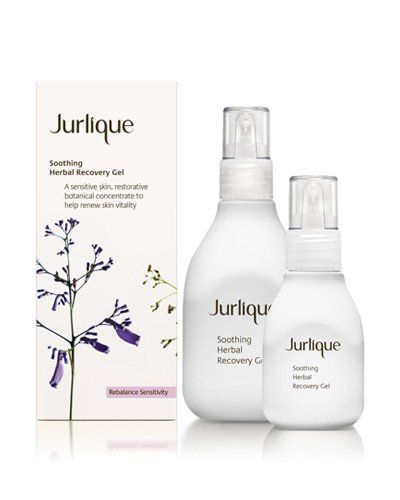 Jurlique Herbal Recovery Gel:
This is a soothing antioxidant serum designed to calm, comfort, and hydrate your skin.

I find this serum/gel to be lightly hydrating and refreshing. I like to layer it under my SPF during the day and under my moisturizer at night. This gel plus my SPF during the day is really all the moisturize I need for this time of year (when my skin is less dry). I use about 1 1/2 pumps worth in the am and pm. This gel/serum feels very "slick" and it spreads easily. It almost has a "cooling" effect to the skin. There is a very light herbal scent to the product. I can't quite place the scent; but, it is familiar.
Key Ingredients include: Vitamin E, Aloe Vera, Shea Butter, and Jojoba Seed Oil.
My skin loves this Herbal Recovery Gel! It seems to decrease redness in the skin while it soothes and hydrates. My skin seems more even toned and my pores seem less noticeable (note: this also might be the cumulative effect of both this product and the Soothing Day Care lotion reviewed below). Also, I find that this gel nicely primes your skin for makeup.
The Skinny:
Retails for $48.00 for 1.0 fl oz.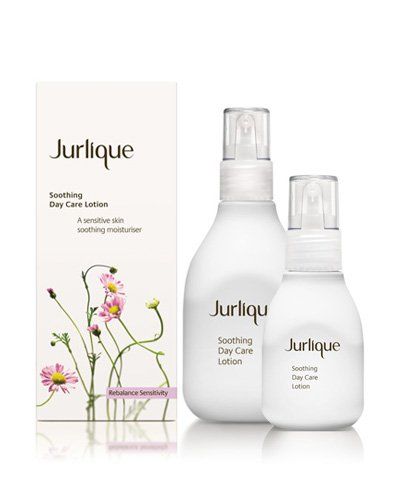 Jurlique Soothing Day Care Lotion:
This is a lightweight moisturizer designed for sensitive skin. It has a lavender scent. The scent seems a bit heavier than the scent in both the eye cream and serum mentioned above (or maybe it is just that lavender carries a stronger scent?). While I would prefer that the product was a little less scented, the lavender fragrance does not seem to irritate my skin. I use about 2 pumps of this product and apply in the evenings (can use morning and evening).

Key ingredients include: Calendula, Groomwell, Sichuan Peppercorn, Safflower Oil, and Vitamin E.
This very lightweight lotion hydrates my skin effectively without leaving it feeling greasy. I find that it is fast absorbing and it did not cause any breakouts or adverse reactions with my skin. If you are in need of intense moisture, you might not get it from this product. However, if you are looking for something that is lightly hydrating and soothing, you may really love this!
The Skinny:
Retails for $36.00 for 1.0 fl oz.
Overall, I have had great success with the Jurlique items that I have tried. I am looking forward to testing more products from this elegant natural skincare line!