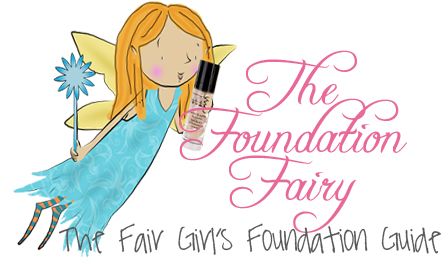 The
Foundation Fairy
is back! Yes, I have been on a mission with foundation/BB Cream testing lately!!! This time I am testing out
3 Lab's Perfect BB SPF 40
.
I am including BB Creams within my Foundation Fairy Series as, in my case, I wear BB Creams just like a foundation. Also, I am finding that in the Summer, I prefer BB Creams instead of foundations. So, you might see my Foundation Fairy posts heavy on the BB Creams for awhile with me venturing more into traditional foundations more in the Fall/Winter. With that said, I do have a foundation review coming soon for Pixi's Flawless Beauty Stick (Foundation Stick). So, check back soon for that! If you missed some of my previous Foundation Fairy posts, be sure to check those out here:
Foundation Fairy (Intro Post)
,
Clinique's Age Defense BB Cream
,
Napoleon Perdis Foundation Stick
, and
Omorovicza Complexion Perfector BB SPF 20
.
My Skin:
While I am now in my late 30s, I am looking not only for moisturization and sun protection from my foundation/BB Creams, but also I am looking for some "good for my skin" ingredients as well as proven anti-aging ingredients. That is a tall order! The good news? Many of the BB Creams on the market right now do just that. Skincare + Foundation + Moisturizer=BB Cream. My skin type is normal. But, that does fluctuate. I am normal in summer (with a tad of oil through t-zone) and normal-dry in winter.

What is a Fair Girl to do?
My other big obstacle it seems with finding foundations is finding a good color match. BB Creams often come in one universal shade or a limited shade range. Will this one work for me? Keep reading to find out!
I am super excited about the ingredients in this BB Cream by 3 LAB. Unlike some of the BB Creams on the market that "claim" to be BB Creams but really are just foundations/tinted moisturizers, this 3 LAB Perfect BB SPF 40 truly is great skincare too!!!
I love the idea that you can be providing your skin with effective anti-aging and protective ingredients just by applying a layer of this BB Cream. Skincare doesn't get any easier than that, right?
3 LAB's Perfect BB SPF 40 is a sheer and light tinted moisturizer-type BB Cream. The product is infused with well-tested 3 LAB powerhouse stem cell technology and engineered growth hormones. So, you are going way beyond just moisturizing your skin and getting a bit of a tint. You are adding ingredients to your skin that can also regnerate new skin cells. Wow!
Treats fine lines and wrinkles using anti-oxidants, vitamins and botanicals including Phytocell Tec, Nano Clair GY™ and β-white to improve and even skin tone, brightens the skin, alleviate irritation and protect the skin from harmful UV rays and oxidative stress.
I know what you are thinking: What are some of these ingredients and what the heck do they do?
Here is what I found on the 3 Lab site:
Phytocell Tec - protects longevity of skin stem cells and preserves youthful look of the skin
Nano Claire GY - The first patented liposomal encapsulated Human Growth Hormone that treats fine lines and wrinkles
β-White - biomimetic peptide that whitens skin by decreasing proteins , inhibiting melanin synthesis
E-Mortal - Hydrolyzed Pea Protein- activates skin cells and promotes collagen production
Ascorbyl Glucoside - stimulates collagen synthesis and acts like a skin whitening agent
This
BB Cream
Claims to:
Protects the skin from harmful UV rays and oxidative stress
Soothes and calms irritated skin
Regenerates cells through the use of Phytocell Tec and Nano Clair GY
Minimizes the appearance of skin discoloration evening out skin tone
Moisturizes and hydrates the skin with a lite feel
Provides great coverage for age spots and blemishes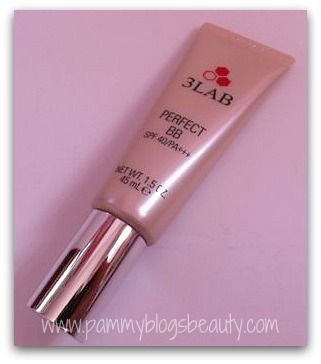 The Specifics:
I tested out 3 LAB's Perfect BB SPF 40 in the shade #01. It comes in 3 shades: light, medium, and dark. This foundation retails for about $95 for 1.5 oz. It is available at places like
Nordstrom's
and
3Lab's website
.
The Packaging:
Perfect BB SPF 40 comes in a tube with a pump top. I really, really like that it comes with a pump!!! Also, it comes with a little roller applicator. However, I applied mine with my trusty Sigma F80 Flat Top Kabuki (that I am obsessed with!). It applies wonderfully with the F80.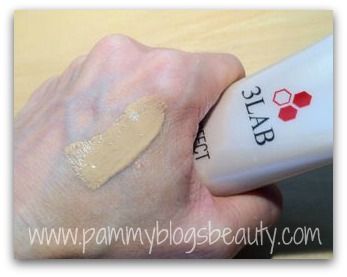 The Coverage, Shade, and Wear:
All of these fabulous skincare claims aside, how does this product wear?
On me, the color is just a bit too dark. But, with that said, I can make this shade work (sorta) for me by adding some powder through the t-zone to even out the color a little bit. But, really, I think that the color match is just not quite right. I think if you have a light-medium skintone (darker than an NC 15) this shade will work nicely for you. Also, I found this foundation to be just a bit too yellow for me as well.
The coverage is sheer-medium. So, really, just like a tinted moisturizer. I do not need any major coverage. So, a sheer coverage product really does the trick for me. I only needed to add additional concealer to my very dark under-eye circle area.
The finish? It leaves you a bit dewy and the product does seem to moisturize a bit. In the winter months, when my skin is drier, I would probably need an additional moisturizer. The wear? This product wears all day on me with no problems. However, I do suggest setting it with a powder through the t-zone if you tend to get oily there.
The Verdict:
While I love the skincare ingredients, the wear, and finish of this product, the color match is just not great for my super fair and somewhat cool-toned skin. I really, really wish that the color worked for me as this is a fabulous product! Looks like I will be passing this tube on to either my Mom or my Best Friend, both of whom have yellow undertones.

If you have fair-medium skin and yellow undertones, this might just be the perfect BB Cream for you!