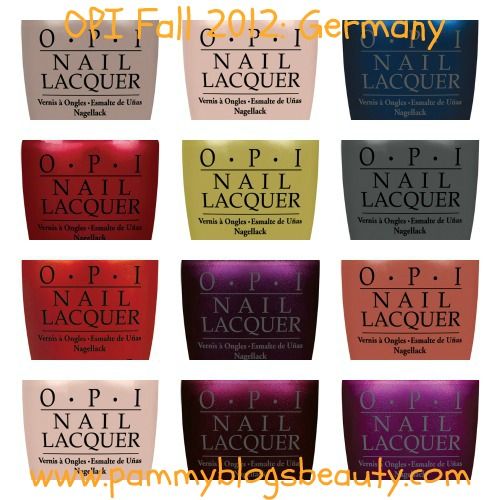 I know that it is hard to think of Fall when it is 100 degrees outside! Here in GA, it is "Back to School" time already. So, even in the sweltering Summer Heat, minds are turned already towards Fall.
On of my biggest makeup "shifts" during change-of-season, is nail color. Going from Summer Brights to Darker Fall shades is actually really exciting for me. While I am not quite ready to switch to Fall colors *just yet*, I will be soon! Seeing the images of this collection is getting me really excited!
OPI
launches its Fall Collection "
Germany
" in August! The collection includes a range of 12 lacquers inspired by the destination. $8.50. There are also two new Designer Series shades – DS Luxurious and DS Indulgence. $12.50; available in September.
Nicole by OPI
releases five, Target-exclusive metallic shades in rich jewel tones for fall. $7.04; Target or target.com; available in August. I did not include images of these in this post as I will have a full review of these (including NOTDs) coming soon!!! :)
OPI
embraces runway trends with the Germany Collection for Fall/Winter 2012. Drawing inspiration from Berlin, an exciting new fashion hub that blends classic looks with the avant-garde, the collection's twelve shades offer a mixture of vibrant color, urban-chic neutrals, and reds in variations from light to dark.
"Designers showcased rich colors and striking textures for fall," explains Suzi Weiss-Fischmann, OPI Executive VP & Artistic Director.

"The Germany Collection beautifully complements these looks, with standout shades in various hues of red and burgundy – the season's 'new black.' Sapphire, black olive and lime yellow are married with creamy neutrals in honey, taupe and nude rose."
"The overall feel of the Germany Collection is elegance with an edge," adds Suzi. "The varied palette of colors adds another accent to the list of special touches – think beadwork, paneling, fur and embroidery – that walked the runways during New York Fashion Week. Wearing these shades on fingers and toes is a great way to accessorize a range of looks for the season."
Germany by OPI
includes the following shades:
Don't Pretzel My Buttons
A haute honey-beige that can always make you smile.
My Very First Knockwurst
…and what a magical rosy-nude rendezvous it was!
Berlin There Done That
A traveling taupe that's seen it all. (Yep, that too).
Don't Talk Bach to Me
There's nothing mellow about this sassy lime-yellow!
Nein! Nein! Nein! OK Fine!
A bodacious black-olive? We say "Ja! Ja! Ja!"
Unfor-greta-bly Blue
Everyone's favorite Fräulein loves this über shiny blue.
Every Month is Oktoberfest
Prost! Here's to the prettiest plum in the Biergarten.
Suzi & the 7
Düsseldorfs
The most beautiful bright purple of all.
Deutsch You Want Me Baby?
A self-assured shade of shimmering red-orange.
Danke-Shiny Red
You "Bitte" try on this ravishing ruby before it's too late!
German-icure by OPI
The best burgundy shimmer in the business.
Schnapps Out of It!
Shake off the blues with a shot of fall's must-have mauve!
Germany Collection
nail lacquer shades contain no DBP, Toluene, or Formaldehyde, and each includes OPI's exclusive ProWide™ Brush for the ultimate in application.
Germany by OPI
will be available August 8, 2012, at
Professional Salons, including Beauty Brands, Beauty First, Chatters, Dillard's, JCPenney, Pure Beauty, Regis, Trade Secret, and ULTA, for $8.50 ($9.95 CAN) suggested retail for each Nail Lacquer.
Thanks so much for reading!