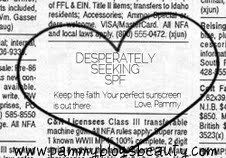 Pammy Blogs Beauty
is
Desperately Seeking SPF
! My ongoing search for great sun protection continues with this everyday moisturizer from
Lubriderm
!
Sun protection is crucial! We all know that Skin Cancer is a killer. The good news? We can take measures to prevent skin cancer by avoiding the direct sun and wearing sun protection. But, what many people forget is that sun protection needs to be worn every day! It can be easy to "forget" sunscreen. So, if it is in your daily body moisturizer, you are always protected.
While this blog is primarily "light and fluffy" in nature as my posts are usually overly verbose and gushy descriptions of the products that I am obsessed with, the one topic that I do get very serious about on PBB is sun protection. I have already lost my dear friend JoAnn to Melanoma and my Dad battles with constant removal of Carcinomas. So, Skin Cancer has already impacted my life in a very deep and personal way. JoAnn's courage through her Cancer battle taught me about the perseverance of spirit and the importance of being near the people that you love. Her hope for the future: to increase awareness of the dangers of the sun and for people to wear SPF protection every day!
Now on to the product review!!!
Lubriderm Daily Moisture Lotion with SPF 15
.
Lubriderm is a brand that I have trusted for years. They have a huge selection of lotions to choose from. Right now, this Daily Moisture Lotion with SPF 15 is my daily go-to body lotion for all my body parts that get exposed to the sun.
All body parts exposed to the sun? Whatever do I mean? Here is what I do, I apply this
Lubriderm Daily Moisture Lotion with SPF 15
to my neck, upper chest, arms, and legs. All other areas tend to get one of my scented lotions. LOL, I am funny like this! I am really trying to use up some of my lovely-scented Bath and Body products (Lately I am obsessed with Bath and Body Work's Pink Chiffon and Forever Sunshine). So, this way I get to use a lotion with SPF *and* get to use the lotions that carry a scent too! So, if you have a lotion that you really hate to part with, you can still use it! Just use a lotion with SPF where your skin hits the sun!
The Skinny:
Available nationwide at drugstores.
13.5 fl oz pump bottle retails for approximately $6.99
Lotion has a light and fresh scent and a non-greasy feel.
Broad-Spectrum UVA/UVB protection: SPF 15
Active Ingredients: Avobenzone 2%, Octisalate 4%, Octocrylene 3 %, and Oxybenzone 2.2%
If you always find yourself needing sunscreen but not having it on-hand, try switching to an everyday moisturizer like this one from Lubriderm! That way you can always be protected!!! The non-greasy feel of the
Lubriderm Daily Moisture
lotion makes it perfect for daily use for all over your body!
Thanks so much for reading ya'll! Don't forget your sunscreen! I feel that I owe it to my friend JoAnn to beg everyone to wear sunscreen...and to wear it daily! It could literally save your life.