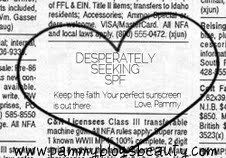 "Desperately Seeking SPF"! lol, those of you my age will appreciate my wink to the 80's and my Material Girl love. ;)
There is no question that a good SPF is worth the splurge. If you have to "save up" for a beauty item, SPF is a great place to invest your money. When you find a sunscreen that works, it is worth the price! With that said, you might luck out and find one that is inexpensive too! I mean, daily use multiplied over time with an expensive product gets very pricey indeed. Also, the drugstores have some great formulations as well these days.
So far, my favorite sunscreen is a high-end,
Skin Medica's TNS Ultimate Daily Moisturizer plus SPF 20
. I adore it, but it is $85, ouch! Also, Skin Medica has reformulated (and renamed) this version over the years and it is gradually getting more expensive. I love it and literally save up for it. But, it would be nice to find something cheaper or something more widely available that I could either get at the drugstore or my local Sephora or Ulta. I previously reviewed this sunscreen (and detailed some of my other favorites) here:
Sunscreen for Sensitive Skin
. Be sure to check that out! When I am not testing other SPFs, Skin Medica is the brand that I always return to!
With all that said, it is time to kick-off my Sunscreen Review Series: Desperately Seeking SPF! lol! All joking aside, sunscreen is serious business! While I love my Skin Medica TNS SPF, I would love to find what else works for me! High-end or drugstore, it really doesn't matter. I just want a sunscreen that has effective sun protection, doesn't irritate my sensitive skin, and that wears great! Added antioxidants are always a bonus too!
Not only does daily use of a good SPF do wonders as far as age prevention, but also it can literally save your life. I am a fair skinned girl who lives in the South and loves summer days at the beach or the pool. Good sunscreen is a necessity. Skin Cancer runs in my family (My Dad is at the dermatologist almost weekly now having cancer removed) and I have lost a dear friend to Melanoma. Skin Cancer prevention through sun protection is a subject that I take very seriously! Shade is best, but if you must be exposed, a good SPF is essential!
I picky about sunscreens because I have very sensitive skin. I need a sunscreen that has effective sun protection and gentle ingredients. Plus, since I wear facial sunscreens daily, I need sunscreen that wears well under makeup. This is a tall order, I know. But great sunscreens are out there!
So join me in my search! I am looking for an everyday "low" SPF (SPF 15-30), higher SPF for outdoor activities and the pool/beach (SPF 30 and higher), and body SPFs. I know you readers always have great suggestions. So, I would love to hear them!!! What sunscreens do you like? Keep checking back in as I am planning for "Desperately Seeking SPF" to be a long-running and ongoing series over the next couple years. It takes a long time to test out skincare. So, I am going to target monthly-every other month SPF posts. Stay tuned! I am certain that the perfect sunscreen is out there!
XOXO!