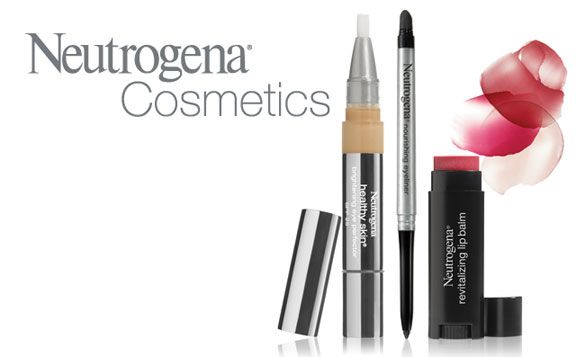 Neutrogena has long been one of my favorite skincare and makeup lines. So, I was super excited when
BzzAgent
started a
Neutrogena Cosmetics
campaign with some great new products!!! I like Neutrogena's approach to enhancing natural beauty through good skincare and cosmetics that let your natural beauty shine through. During the Spring and Summer months, I like to really lighten up my makeup and go for an uber-natural look. What good timing!
Here are the items that I got to test out from Neutrogena: the
Healthy Skin Brightening Eye Perfector
(a multi-tasking concealer), the
Nourishing Eyeliner
(retractable eyeliner), and the
Revitalizing Lip Balms
(tinted lip balms). What a great assortment! I think I even found a new favorite here. :) Curious about these items? Then keep reading after the jump.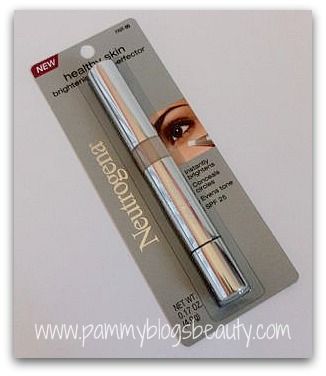 Brighten up your eyes: Neutrogena's Healthy Skin Brightening Eye Perfector:
I am a tough critic on under eye concealers! My dark circles are so super dark. So dark that I have devoted an entire blog series
Cover It! Concealer Review Series
to my search for the best under eye concealers. My first thought was that this concealer might not cut it for me because it is in a tube/pen format (Meaning that it is a liquid and therefore possibly not thick enough. I tend to go more for pot-style concealers as they are thicker). Well, I thought wrong.
Coverage:
For a liquid-type concealer, this one covers quite well. I would describe the coverage as "light-medium (if you build it up)". I got the color 05 Fair which is super light. It works great for my very fair skin. But, if you are not super-duper fair, then this shade will likely be too light for you. Did this concealer completely cover my dark circles? Well, no. But, it did make a vast improvement without looking cakey or obvious. I think this product blends well. Actually, I like that it is not overly thick. I do need to prime my eye area before using this product with a very moisturizing eye cream (I used
Roc's Multi Correxion Lift Anti-Gravity Eye Cream
which I love). If your dark circles are not super-duper dark, then this product will probably cover them completely.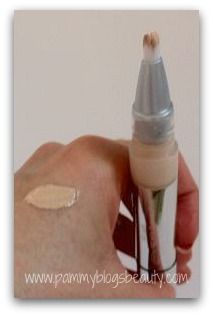 Packaging:
I really like the wand-style packaging. The Wand has a brush tip and you just twist the base and the product comes up through the brush. The brush itself is soft. Then you just dab on and blend out. I tend to blend it out with my fingers (or you could use a concealer brush). The wand looks sleek and high end. The only thing that I don't love about the packaging is that it might be hard to tell when you are running out of product.
Formula:
As I mentioned, the formula is a light-medium (if you build) coverage concealer. The concealer contains "optical diffusers" to help disguise darkness. Also, it contains a broad spectrum SPF 20. For this reason, I will continue to use this as my primary eye concealer all summer!!! I might add a touch of heavier concealer to the very dark spots (if needed). But, for the rest of my eye area, I will use this. I think all eye concealers should include SPF!
Neutrogena claims that this product
brightens, conceals dark circles, and evens tone. Clinically shown to reduce the appearance of under eye puffiness and dark circles.
I must say that I do agree with these claims (with the exception of puffiness as I do not have puffy eyes to begin with).
The Skinny:
4 Shades: Fair, Buff, Light, Medium
Retail Price: $13.99 (keep an eye out for coupons ladies!)
Wow! I love this eyeliner!!! Normally, I am an old-fashioned sharpen able pencil gal. You know, the kind you twist into a sharpener like a real pencil. I just don't seem to use retractable/automatic pencils that much. But, maybe I need to reconsider my stance because this eyeliner is amazing! After using it for a few weeks I realize that these automatic/retractable pencils are much more convenient than a classic pencil. I admit that I never sharpen my pencils enough and then get frustrated with a dull point.
This eyeliner has its sharpener built right in on the opposite side. So, I find that I sharpen it almost every time I use it. That way I get the perfect point and an easy application! I also like that the smudger is build into the brush too. I always smudge my eyeliner. This eyeliner just applies really well! It smoothes on without tugging. It lays down just the right amount of color.
The Wear
:
This eyeliner wears all day on me! I tested on the upper lash line only (I rarely line my waterline below the eyes). No smudging or fading. I am very pleased with the wear! This is my new favorite eyeliner-of-the-moment!
The Skinny:
Comes in 4 shades: Cosmic Black, Brushed Pewter, Spiced Chocolate, and Twilight Black (Twilight!!! oooh, you know I need to try that one just for the name, lol! me=dork).
With Revlon's Lip Butters being all the rage these days, I am surprised that these tinted lip balms by Neutrogena have not been getting attention. These tinted balms are amazing!!! They are actually quite a bit similar to the Revlon Lip Butters. But, I find them to be more moisturizing! I am really falling in love with these. I tested out three shades and loved em all! Healthy Blush, Petal Glow, and Sunny Berry.
The Effect, the wear, and my impression:
These give nice sheer color while hydrating the lips. Your lips are left looking and feeling soft while also looking nicely tinted. There really is no noticeable scent. My lips have been consistently soft while wearing these. You do not need an additional lip balm. These truely give you both moisture and color (and a bit of shine).
The Skinny:
These Neutrogena Revitalizing Lip Balms come in 6 shades: Sheer Shimmer, Healthy Blush, Sunny Berry, Petal Glow, Soft Carmel, and Fresh Plum (pigmentation varies according to shade).
Retail Price $8.99
Contains SPF 20 (a must for your summer lippies!!!)
What great products for Summer 2012 (and beyond!). Not only do I like these products, but I think I might have found some new go-to favorites. These items are all super easy to apply and wear and they give a fresh and natural look! What makeup items are you loving this summer?