It is time for my monthly
Julep Maven box opening
! I have been a Julep Maven subscriber for a few months now and I must say, these boxes are consistently great! Since you are able to choose your box with Maven, I already knew what was coming. So, I am super excited to get this box!!! While I know what is inside, they also send some "extras" which are a surprise.
How Julep Maven Works:
In a nutshell,
Julep Maven
is a monthly beauty box subscription. Unlike other Beauty Box subscriptions, the products included in the Julep Maven boxes are all full sized products. The Julep Maven boxes have a "nail" theme and contain Julep nail polishes and Julep spa products. If you have never tried the Julep brand before, the polishes are fabulous and the spa products are very nice too! Actually, I can honestly say that I love everything that I have ever gotten in my Julep Maven boxes! The subscription costs $20 per month, which is more pricey than many of the $10 per month beauty sample boxes; but, keep in mind that you get more value in this box! These are full sized products not samples! :)
Do you know what else I love? You can pick your box! Julep selects a box for you based on your beauty profile. Every month Julep emails you with photos of your selection. If you do not like or want what is selected for you, you can choose another theme box. This month I selected the "Classic with a Twist" theme box. Also, if you do not feel like forking out the $20 on a particular month or if you do not wish to get a box, you can always opt to "skip the month". Plenty of options!
What was in this month's box? Keep reading to find out!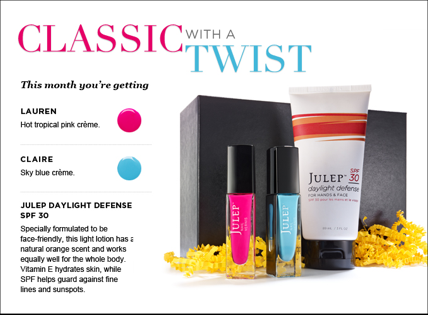 This month's box has a Summer theme!
As always, the box is creatively packaged with fun yellow paper shreds and an orange gift bag and orange ribbon. Very Summer-inspired! They even included 2 Pixi Stix for that added element of "fun". You know, it is such a simple addition to the box...but, it just adds so much to the vibe of the box! Also, you get the standard theme post card with some product tips (see manicure/NOTD below) and another little card with an inspirational quote. Also included, two extra brushes as apparently there were a few batches of wonky brushes (in the polish). I used my polishes already and my polish's brush hairs are non-wonky. So, I didn't even need the extra brushes (but, I appreciate Julep's customer service's proactive problem solving here!).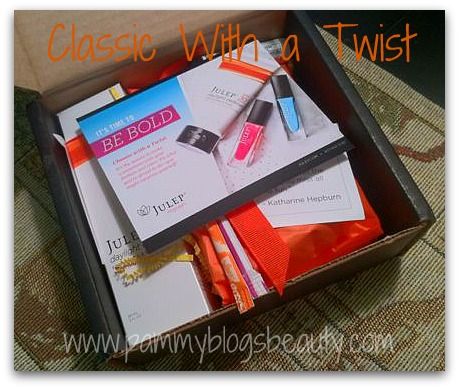 See how cute the box is!!!!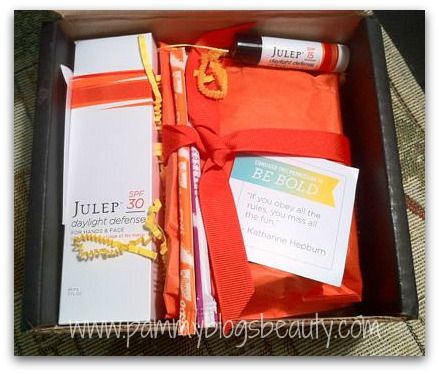 Julep Maven "Classic with a Twist": June 2012
So, I know you guys what to know more about what is inside the box!
Julep Daylight Defense SPF 30 For Hands and Face: (Full Sized, Price $28.00)I am so excited about this SPF!!! This product is such a great example of why I LOVE my Julep Maven subscription. I mean....this is a full-sized 3 fl oz sunscreen! This product alone retails for $28.00 and the Maven Subscription is only $20.00. So, you can see that this product alone is a great deal for the $20.00 fee for the box. I have had such great luck with Julep products! So, I am eger and curious to try this out! Now, it is hard to imagine a product that works well for both the face and hands. So, I will let ya'll know what I think after I have had a chance to test it out awhile . I will likely review this in my Desperately Seeking SPF Sunscreen Review Series.
Julep Polish in Lauren: (Full Sized, Price $14.00) Lauren is a gorgeous hot tropical pink cream. Very on trend. Thrilled to have this color in this box. Actually, this polish is why I choose the "Classic with a Twist" box this month. This color will get a lot of use this summer both on my tips and my toes.
Julep Polish in Claire: (Full Sized, Price $14.00): Claire is a sky blue cream): Great color! This is such a "notice-me" shade for tips. I find that people always ask what polish I am wearing when I go with a blue shade. I am going to love wearing this one!
Julep Daylight Defense Lip Balm in Vanilla Mint: (Full Sized, Price $6.00): This was the "surprise" extra in this month's box. What a nice treat! What girl can't use another lipbalm. I know that no matter how many lipbalms I have, I always am looking for one when I need one. So, I like to try to keep them everywhere: in my purse, in the diaper bag, bedside table, etc! This Julep balm has a super yummy vanilla mint sweet scent. Plus, it has SPF in it. So, it is perfect for summertime! Another great item that will be used and loved!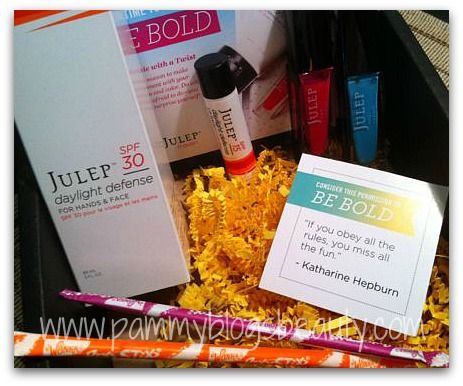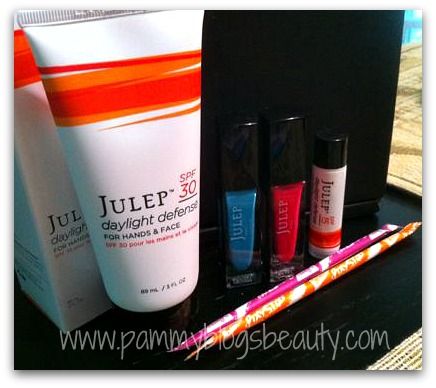 Here is the nail look that I created based on Julep's tips; although, I changed it by using Claire as the base color and Lauren for the dots. I love the way it turned out. Very whimsical and Summer-y! Fun, fun! :) I used a toothpick for making the dots.
As ya'll can tell, I love
June's Julep Maven "Classic with a Twist"
box! It is packed with some really great items: useful basics like SPF for your hands, lips, and face as well as some super trendy yet pretty polish. I am also happy with the presentation of the Julep boxes. This month's was no exception with its cheerful and lighthearted summery packaging and extras.
The value of this
Julep Maven
box is clear: over $60 worth of products for $20! I am excited about all of the items. Another winning box from Julep! My fellow Mavens, how did you like your box this month? What Julep theme did you go for?
Not a Julep Maven Subscriber yet?
Click on my referal link here (or any
link in this post) to sign up!
Subscribe to Julep