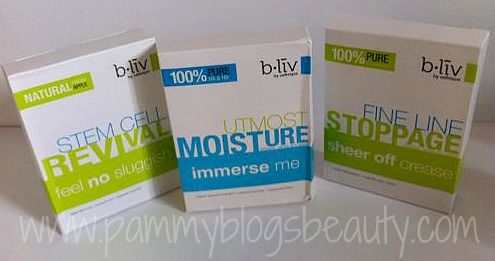 My love of masking continues with these great sheet masks from b.liv by Cellnique Skincare!
Cellnique is a Malaysian skincare line that I have had great results with in the past. If you haven't had a chance, be sure to check out my previous Cellinique skincare review here:
Cellnique Paramedical Skincare
. The Seaweed Cleansing gel continues to be one of my favorite cleansers (especially in the mornings for its minty feel!).
Sheet Masking is so different from applying a clay-type or scrub-type mask! These sheet masks are paper-like sheets that are soaked in gel/liquid type ingredients. You actually lay the mask on top of your skin and let all the skincare goodness absorb! Ya'll know that, in general, I love masks. Well, sheet masks are just "fun" to use! It feels as if your skin is just getting a huge "drink" when you use these.
To find out more, keep reading!
Well, after my initial testing period, I realized that I inadvertently wasn't using the masks entirely as directed. You see, Cellinique recommends using this mask EVERY night in place of your usual moisturizer. The directions are clearly stated on the website; but, are not marked on the box. Oops! My bad!
So, masking every night: Hmm...that is a great idea, in theory. Many of you may have time to do this. But, for me, a mother of a 6 month-old baby, masking every night is an ultimate luxury. No, the mask is not hard to do and it doesn't take much time; but, honestly, sometimes I just don't have much time at all (and am literally falling asleep on the couch: thank God for makeup remover wipes!).
When I do have time, I get very into my evening beauty routine with my beloved products. I mean, I am a product junkie and my evening routine (when I have the time for it) is very relaxing. Sorry for the long tangent here! I just want you to keep in mind (while reading this review) that I didn't test this masks entirely as directed. I ended up using these about 1-2x per week. Which is exactly how I normally use any type of mask be it a sheet mask or another type of mask. With that said, I still got nice results even though I used less frequently!
Here is a graphic showing how the company recommends using it (
Photo from Cellunique site
):
After debating back and forth, I decided to not show ya'll a picture with these masks on my face. LOL, too scary! These masks really do look funny on. I can' almost guarantee that you will surprise your husband and scare your dog when you wear these.
In a Nutshell:
These are moisturizing masks with anti-aging properties. They are meant to be used in place of your evening moisturizer.
These are gentle enough to use every day! While I don't ever seem to have the time to mask that often, it is nice to know that I can with these if I would like to.
Masks I tried from b.liv (there are more available, I think 6 types total): Feel no sluggish – prevents aging signs, Immerse me- moisturizing mask for dry or very dehydrated skin, Sheer of crease- prevents fine lines and brightens the skin.
These masks retail for $15.00 for a box of 7 masks on the Cellnique site.
How I use:
As I noted, these are intended to be used every evening in place of your moisturizer. However, I used them more as a treatment. I use them about 1-2x per week after cleansing.

I apply these masks in the evenings after cleansing my face. I remove them from the package and place them on my face. You just have to line up where the holes are for your eye and mouth and try to center it on your face. The masks feel wet and quite cold (but refreshing!) when you put them on. I leave the sheet mask on for about 20 minutes and then wipe off excess.

At first I literally thought that I would have to lay down to keep the mask from dripping in my eyes and sliding off my face. Well, I was wrong! These masks magically cling to your face just right! The products are almost gel-like so they do not run. Even though I don't have to (because the mask will stay on my face), I do like to lay down when I have these mask on. I just feel like the mask experience is more of a "treat" that way. But, if you do end up masking every night, you can certainly walk around with these on!

You might need to be a bit creative when you fit the mask to your face. I found that the eye holes were a bit too small and some of the slits for the nose/mouth/eyes didn't line up quite right. But, you can adjust by scrunching up mask and widening the holes with your fingers as well as folding the mask along your hairline.

If used exactly as directed, your face will remain very wet after removing the mask. If you decide not to wipe off the excess mask serum that is left on your face, you might want to sleep on a towel as you will remain wet for awhile as the serum continues to sink in. I usually just end up wiping off the excess.
Immerse Me:
This mask is great for boosting your skin's hydration. Sometimes that is exactly what my skin needs the most! The following are listed as the key ingredients: Cationic Hyaluronic Acid (derivitive of HA), Hyaluronic Acid (Hydrates skin and improves water retention), and Cogongrass extract (helps with collagen synthesis skin's moisture absorbsion). This mask is like a "drink of water" for my skin! My skin just soaks up this mask and feels so hydrated after. I really like it!
This moisturizing mask covers your skin with a generous boost of hydration! Immerse me acts like a balm for parched and dry complexion as it gets absorbed in a blink of an eye and makes sure your skin's longing hydration will never turn tail. Its nourishing essences shoo away the dryness and replenish moisture into the deeper layers of your skin. So, why not make it an everyday affair?
For dry to very dehydrated skin (all ages).
Benefits:
• Provides instant hydration
• Helps skin preserve its optimum moisture balance
• Improves skin water retaining ability and provides long lasting hydration
Sheer Off Crease:
This one was actually my least favorite of the group of masks. I found that after about 5 minutes, I have to remove the mask because of a strong tingling sensation on my skin. Now, my skin is very sensitive. So, that might be the issue. So, fellow sensitive girls, be careful when trying this mask. Also, I notice a slight increase in redness after I use this mask. But, that redness is temporary and goes away after a few minutes.

The packaging lists the actives in this mask as following: Actyl Hexapeptide-8, L-ascorbic Acid (I am thinking this is what caused the tingling for me), and Arbutin.
This multi-purpose mask prevents the appearance of fine lines, firms up your skin and gives you a natural glow you can't get enough of! With its Botox-like action Sheer off Crease helps you take over your age and not the other way around. Skin radiates youth from within and looks no less than this!
For all skin types, 20 years old and above.

Benefits:
• Deeply nourishes and hydrates skin
• Prevents premature aging
• Evens the skin tone and lightens dark spots
• Has a brightening effect
Feel No Sluggish:
I love this mask! This mask really makes me feel like I am giving my skin a super-hydrating boost of moisture. After using this mask in the evenings, I wake up the next morning with very hydrated and smooth skin! I seem to notice a "plumping" effect with my skin. Nice!!!

Active Ingredients: Apple Stem Cell, Coenzyme Q10, and Hyaluronic Acid. I am a huge fan of Hyaluronic Acid moisturizers. They work so well by attracting moisture to your skin and plumping up the skin!
This rejuvenating mask drowns your face in antioxidants and cell-revitalizing nutrients that pave the way for a younger and more vibrant looking skin! Feel No Sluggish invigorates your skin with its fruity essences and jazzes up that dull face while leaving you looking oh-so-gorgeous and absolutely radiant once again! Every day is a new day to feel no sluggish!
For all skin types, 20 years old and above.
Benefits:
• Encourage the regeneration of skin tissue to ensure skin looks healthy and young.
• Hydrates and nourishes the skin.
• Delays multiple signs of aging.
• Provides antioxidant protection to prevent skin from free-radical damages and signs of pre-mature aging.
If you are looking into trying sheet masks, there are some good options here with the b.liv line from Cellinique! While the Sheer Off Crease mask did not work well for me, I really liked both the Feel No Sluggish and the Immerse Me Masks. I love being able to use these at night because I know that I will wake up with hydrated, fresh, and plump skin the next day from the masking!