Its time to talk about one of my favorite topics...skincare!
I have recently had the pleasure of trying out some products from
Cellnique Paramedical
a skincare line based out of Malaysia. These products are so nice! The brand is international. So, while they are based out of Malaysia, they can ship it right here to the good ol' USA.
Cellnique offers a variety of products to target different skincare concerns. On their website, you can take a survey about your skincare concerns and the Cellnique site will generate product recommendations based on your concerns. Plus, they also offer free samples too!
I tested out the Seaweed Cleansing Gel and the Contour De-Puffy Jewel (eye gel). To find out how these products worked for me, keep reading!
Cellnique Seaweed Cleansing Gel
:
I am always looking for good cleansers. Those of you who follow my skincare reviews know that, for me, the more simple the better with skincare. When I first smelled the minty fragrance of the Seaweed Cleansing Gel, I thought, "oh no! It is mint scented" (thinking that the mint would irritate my skin). Well, I am happy to say that I thought wrong! This cleanser is just lovely to use. The mint scent is from Peppermint oil and, remarkably enough, it doesn't seem to irritate my sensitive skin. In fact, the peppermint gives the cleanser a very refreshing feel. While I am usually so tired during my nighttime skincare routine, I find myself literally looking forward to using this cleanser.
Besides the amazing scent, the cleanser is also just a nice gel-based cleanser. Key ingredients include: Algae, Pennywort, and Cucumber Extracts. It is a green medium consistency gel. The product is quite concentrated. So, a little goes a long way. The cleanser is a bit on the pricey side at $35.00. But, the cleanser will last you quite a while and the bottle is quite big at 6.7 oz.
How I use
: I cleanse my face in the am and pm with this cleanser. First I wet my face. Then I apply a bit of this cleanser to my fingertips and massage over my entire face. Then I rinse with tepid water and dry with a soft towel. I follow up with my usual moisturizer, SPF, or night treatment.
Results
: This cleanser cleanses my skin without over drying it. My sensitive skin did not experience any redness or irritation while using this cleanser (which makes it a winner in my book). Also, I did not notice any dry patches nor tightness after cleansing.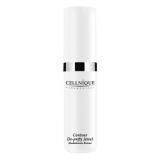 Cellnique Contour De-Puffy Jewel
(Eye Gel):
What do I need in an eye cream
? With my dark circles and normal-dry skin, an eye cream is a must! While I do not have any lines or wrinkles yet, I certainly want to do what I can to prevent them. If my skin gets overly dehydrated a few fine lines might crop up. But, I generally do not have wrinkles (nor puffiness either). Also, I want an eye cream that provides a good base for concealer as cover-up is a must for those dark circles! What else do I need? A product that won't irritate my sensitive eyes. You wouldn't believe how many eye creams sting my eyes.
Contour De-Puffy Jewel promises to reduce puffiness and dark circles, minimize the appearance of fine lines and wrinkles, strengthen and regenerate skin tissues, soothe/soften/and hydrate the eye area, and protect with an SPF of 15. Active Ingredients include: Rhodochrosite Extract, Acetyl Tetrapeptide Gld Dipeptide, and Guaranine. It is packaged in a sleek and sanitary pump dispenser. The pump works great and dispenses just the right amount.
How I use:
I apply morning and night immediately after cleansing. I pump out one full pump of gel and use that for both eyes. I apply gently under eyes and on eyelids.
Texture, Effect, and Results:
This product is a very thick clear gel. It has no added scent either.The gel absorbs very quickly leaving only a slight sheen to the skin. No greasy residue! It feels very soothing to the eye area. I love how this product leaves skin for makeup application. Concealer applies quite well over this eye gel (note: I let the product absorb first). I love how hydrated my skin feels after using this product. Since I do not have puffiness nor wrinkles, I can not evaluate those product claims. My dark circles do look a little better. But, I attribute that to more sleep (I have a baby who is finally sleeping through the night!). Skin is left feeling hydrated and looking smooth (no lines cropped up from dryness). Overall, I am very pleased with this nice eye gel!
I love that this product hydrates well without a greasy feel. Honestly, I usually go for heavier creams for the eye area. But, maybe I don't need to!
Contour De-Puffy Jewel retails for $54.00 for .5 fl oz.
_ _ _
I am really liked both the De-Puffy Jewel eye gel and the Seaweed Cleansing Gel by Cellnique. My skin stayed soft and smooth throughout testing. I did not experience any breakouts nor product irritation. My eye area looks smooth and hydrated! Plus, I discovered that I love peppermint scented cleansers! LOL, after my years of avoiding product fragranges in cleansers (for the most part), this opens up a whole new world as far as cleanser possibilites! :)
Have any of you tried Cellnique Skincare? If so, what products? I certainly think this line is worth checking out. I was quite pleased with the products that I tried!
Thanks so much for reading!