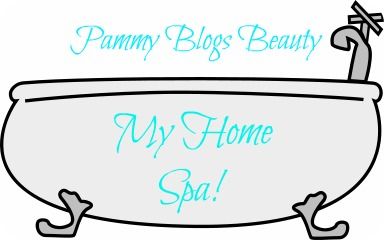 My evening baths are continuing to be a time of tranquility and escape after a busy day of being a Mommy. When I am able to get my baby to sleep on the early side, it leaves time for a relaxing bath for me! Not only do I end up sleeping better after a nice bath, but in the mornings I wake up smelling great and feeling soft from my bath products!
So, what am I using these days in the bath? Well, a little bit of everything! When not indulging in LUSH products, I like to explore other bath lines. The nice folks over at SFRbeauty sent a sampling of products from their Island Essence line.
I like to "match my scents" when I take a bath or shower. LOL, does anyone else do this? I must use the same scent for soap/shower gel, lotion, scrubs (if I am using one), and body sprays. Sometimes I deviate on scrubs; but the rest must coordinate! Also, I rotate my scents per season. I like heavier scents in the winter. In the Spring and Summer, I like florals and tropical scents.
The
Mango & Coconut scent from Island Essence
is just about as tropical as it gets! I guess that is what I would expect from a product line from Hawaii. All of the Island Essence products are made in Maui. To me, the Mango & Coconut scent is heavy on the coconut (which I love!) with a nice spritz of mango. Seriously, the scent is so good that it makes me want to eat the products (lol, I do refrain from that. But, ya'll know what I mean!). I have been using the Mango & Coconut Gentle Body Wash, Body Scrub, Bath Salts, and Body Butter. For some reason, the packaging just doesn't appeal to me. But, once I got past the somewhat cheesy packaging, the product inside is really nice! To hear more about these products, please keep reading!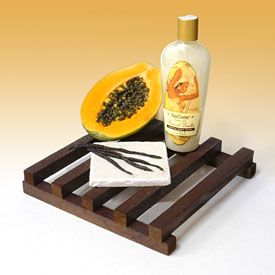 Island Essence Mango & Coconut Gentle Body Wash:
This body wash contains Papaya, Chamomile, and Sea Kelp extracts. You can use this as your soap in the shower or for bubbles in the bath. I like it as a bubble bath. Just a little bit of product creates a ton of bubbles!
Island Essence Mango & Coconut Bath Salts:
I am rather new to bath salts. I discovered using bath salts (good ol' Epsom Salts) during my pregnancy. Bath salts really can do wonders to help alleviate various body aches. Island Essence salts contain salts from the Hawaiian Islands: Hawaiian Sea Salt, Magnesium Sulfate (Epsom salt), Hawaiian Alaea Salt, Sarvar Mineral Salt, Hawaiian Ogo Seaweed, and Botanical fragrances. I add about 2 Tablespoons of this amazingly scented salt to my bath water. I love adding this to my baths! I feel that I can get the healing benefits of bath salt with the added bonus of a lovely scent.
Island Essence Mango & Coconut Body Scrub:
This is a very oily scrub. Scrubs seem to go either way: either they rinse clean or they leave a greasy residue. This one leaves a very oily residue. So, it would not be ideal to use before sunless tanning. This time of year, I am always exfoliating either getting ready to self tan or to maintain my self tan. As you can imagine (since it is an oily scrub), this scrub is ultra moisturizing. I only use it in the evenings before bed because of the greasy feel it leaves behind. However, by the morning, all of the oil absorbs and I am left with super-duper soft skin! The scrub contains Hawaiian Sea Salt, Hawaiian Ala-ea Salt, Safflower Oil, Grapeseed Oil, Macadamia Nut Oil, Kukui Nut Oil, Avacado Oil, Aloe Vera, Vitamin E, and Botanical Fragrance. After mixing the product (the oil tends to float to the top), I scoop out a bit to rub on my elbows and feet. This is a strong scrub. So, I only use it on my super dry parts.
Island Essence Mango & Coconut Body Butter:
I am no stranger to body butter. I frequently use body butters be it after the bath or shower or throughout the day for added moisture. The texture of this body butter is totally different from any other kind that I have used. The texture and feel is totally whipped. Have you ever had whipped cream cheese? This is what the texture reminds me of. When the whipped product hits your skin, it melts in and ends up having a buttery feel. This product does leave you feeling a bit greasy. So, it is best used at night before bed.
These
Mango & Coconut products
make for a lovely bath! My house ends up smelling amazing from my bath time and my body is left feeling relaxed and moisturized. I am already looking forward to my next bath experience! Plus, there is just something that I like about using products from Hawaii. Maybe I can't afford a Hawaiian vacation right now, but at least I can have a mini escape in my bathtub with tropical products!
What do you do to unwind in the evenings after a busy day? I know that I have asked that before. But, I always love to hear!
from
SFRbeauty