It is time for my monthly
Julep Maven Box opening
!
As ya'll know, there are just so many monthly beauty boxes available now! Julep continues to be a stand-out in the beauty-box market.
The Julep Maven boxes are a bit different.
First of all, they are not "sample" boxes: The products are full sized! Also, with Julep Maven boxes being a box of full sized products, you do pay more: $20.00 per month. What else is different? Since Julep is a Nail Polish/Nail Care company, the boxes all contain nail polish, nail care tools, and nails or hands/feet products. If you are a polish lover, there is no question that you would enjoy the Julep Maven Boxes!
Choose the box you want!
You get choice with your Julep Maven subscription. When you sign up, you complete a style quiz/profile. Your box is based on your results. My quiz revealed "Classic with a Twist". The cool thing? Julep posts and emails what is going to be in each themed box every month. If you do not want or need the items in your box theme category for the month, you simply select the box that you do want from another theme(or opt out for the month). So far, I have gotten "Boho Glam" boxes and "American Beauty" boxes. It was so quick and easy to select another box.
Yes, you pay a bit more for the
Julep Maven subscription
at $19.99 monthly; but, what a great value in each box! Their polishes retail for $14.00. So, the value is clear! You get over $40 value of products in each box. Plus, if you want to place an order on their site, you get an automatic 20% off plus free shipping.What else is great? Your polishes are all on-trend and selected for you based on your style-profile (and, like I mentioned, you can always switch your style month-to-month). There is not "getting a bad/dud box" because you know what the box is before it ships out. If you don't like any of the options, skip the month.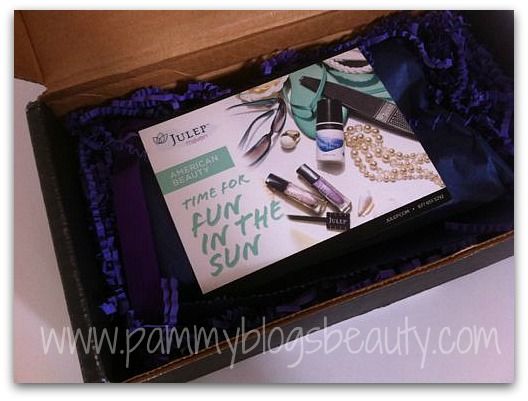 Overall, I have been just thrilled with my Julep Maven boxes. To find out what is in this month's box, keep reading after the page break!
American Beauty
box. The boxes all looked good; but, I just really wanted to get a box with a magnetic polish inside! So far, my only experience with magnetic polishes have been
Layla Magneffects polish
(which I love and adore). So, I am super excited to try Julep's magnetic polish.
The theme for the
American Beauty
box is "Time for Fun in the Sun". I couldn't agree more! Summertime is pretty much my favorite season ever. To me, summer means time off of work, longer days, the hot Georgia sun, drinking lemonade, having a cookout, lounging at the pool, and trips to the beach. All the things that I love!
The hot weather brings one more thing: flip flop season!!! Flip flops are no only cute, but comfortable. But, do you know what isn't cute? Raggy toenails and callouses. So, summertime also means lots of special attention to foot care and pedicures! So, I am thrilled that the products and tools in this box are centered around smoothing out your feet!
The polishes in the box are super cute and on-trend! Just a note: The Julep polish bottles are rather small. Their $15.00 retail price makes them amongst the most expensive polishes in my collection. But, this is not a deal-breaker for me as far as the Julep Maven box. I feel that the Julep Maven box is the best way to purchase Julep polishes as the boxes have either 2-3 polishes for $20 versus paying $15.00 for a single bottle. Not to mention that the Julep boxes have products too!
The Box's Packaging:
As with my previous Julep boxes, the packaging is just great. The Julep Maven boxes are really cute inside. Interesting, they are not "double boxed". So, the outer shipping box is the only box that you get. Inside the products are usually nestled inside laying on shredded paper and inside a bag with breakables wrapped in bubble wrap. The bag, shredded paper, and ribbon this month are purple. The packaging is not over the top; but, it still seems "present-like" when you are opening it.
What is in the box?
Julep polish in Ellie: An opalescent seashell pink with holographic shimmer. This one appears sheer. This would be lovely on the tips for when I want to go "neutral"/natural. That is the look that my Hub seems to prefer on me. But, I can never go totally natural. So, this polish will be great for my quasi-natural nail look! ;)
Julep polish in Kylie: This is the magnetic polish!!! So excited for this! Also, this shade is super pretty. I have been *so into* purple shades lately. Sultry violet magnetic polish. Use the included magnet to create accent stripes.
Polish Magnet: The polish magnet is separate from the bottle (unlike Layla's magnetic polish with the magnet on the lid/brush). This one is just like a small magnetic want thingy. Also, the American Beauty "Time for Fun in the Sun" card has the magnetic polish instructions on the back. It is easy. You apply the first coat and let dry. Then, you apply a generous 2nd coat and hover the magnet above the polish for 10-15 seconds. That's it! Just add a top coat and you are done.
The Best Pedi Prep Ever! What a unique product! This is a foot treatment that comes in a roll-on applicator bottle. I can't wait to use this. My feet need all the help they can get right now. Flip-flop season is now! ;) Super exfoliating AHA's combine with chamomile extract to soften and prepare calluses for foot filing. For best results use with the included Julep Foot File.
Julep Foot File: This is your basic Foot File. It has a rough exfoliating side (similar to sand paper) and a plastic bumpy side as well. I actually needed a new one of these!
Extra: Julep The Best Pedi Creme Ever (foil sample): I am happy to get this little foil sample as I am a huge fan of this product! Actually, I use it almost every night before bed. This little foil size is nice for adding to my bag when going out of town for the weekend (this small size is only one use).
As ya'll can tell, I just loved May's Julep Maven Box! I can't wait to dig in and use all these great items. I think that is exactly why I am so happy with my Julep Maven box subscription: I actually use and love all of the items! I think a huge factor here is that as a subscriber, you can choose your box month-to-month. I can imagine that this greatly increases overall customer satisfaction.
I continue to be a happy Julep Maven Subscriber! My fellow Mavens, what box did you choose this month?
Thanks for reading!
Want to join Julep Maven?
Use my referral links in this post! :)