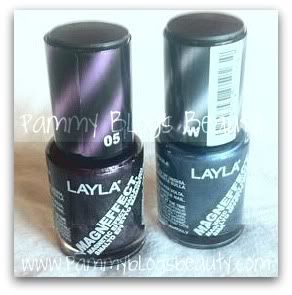 Hey there readers!
As some of you know, I love discovering uniquely inventive products and products that just stand out.
Well, let me just tell you...I am so darn excited about these
Mangeffect Nail Polishes
from Layla Cosmetics!!! Seriously, not since the invention of Shatter polishes have I been this excited about a nail polish innovation! I am having so much fun painting my nail with these polishes from Layla. Yes, I am just about as giddy as a schoolgirl! :)
So, what makes the
Magneffect Nail Polishes
different? The polish contains magnetic particles that separate into wavy designs when you place the magnetic bottle top over the polish. The overall effect is somewhat subtle and also very cool.
Want to hear more? See photos and swatches? Well, just keep reading!
Magneffect Nail Polish:
Ladies, this is just about as easy as nail art gets! Just apply 1-2 coats and then hover the magnetic bottle top over the nail for a few seconds...and that is it! You will have a beautiful shade with a wave or line pattern on top.
Tips from Layla Cosmetics:
How it Works:
1. Apply one full coat of Magneffect nail polish onto the nail. Ad additional coat can be used for added effect.
2. Immediately hold the magnet on top of the nail for at least 5 seconds. The line you see on the cap indicates the direction of the magnetic field. Hold over the nail in the direction that you wish your design to take.
3. See the design appear.
Choose from 12 intense colors to produce magnetic nail art at your fingertips: Gun Metal, Changing Lilac, Purple Galaxy, Golden Nugget, Golden Bronze, Brown Sugar, Blue Grey Flow, Turquoise Wave, Metallic Sky, Velvet Groove, Silver Galaxy and Black Metal.


The Magnet Creates Two Layers of Color:
When you first apply the polish it looks metallic particles mixed with color. Upon application of the magnet, the particles separate. It looks like a metallic layer underneath with a solid shiny color on top. The effect is multidimensional. You can change the angle of the lines/waves by changing the direction of the magnet (there is a line on the top of the bottle to indicate the direction of the magnet). The effect a subtle variation of color and finish. Very lovely!
Not into "nail art"
?
If you are not in the mood for a pattern on your nail. This polish looks great when applied in the traditional manner for a single shade. But, if you do go for the magnet design, the overall appearance of the "nail art" is very subtle. It is one of those effects that you notice more as light hits your nail color.
The Application:
This polish applies totally non-streaky! It gives good coverage in one coat and great coverage in 2 coats. I was very impressed with how well this applied.
I tested these polishes out in the shades Purple Galaxy and Blue Grey Flow. See swatches below!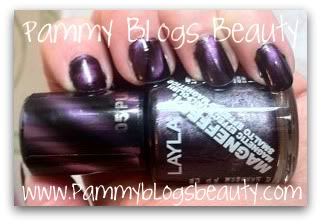 My Tips from product testing:
If you want to do the magnet effect, do not apply more than 2 coats. I found that the pattern was less visible if I tried 3 coats.
Be careful not to hold the magnet too close to the nail! I kept getting too close and smudging my polish.
If you smudge your polish: It is best to apply a full coat on top of smudge. If you try to just fill in your smudge on a multidimensional nail, the polish will not match (as it is a metallic mix from bottle but a separated metallic and non-metallic shade after the magnet). Just start over and apply the magnet again.
I found that I liked using my second bottle of polish for the magnet. If you have only one bottle you have to recap the bottle after each nail in order to invert the magnet over the nail. I just liked using a closed bottle better. So, if you needed an excuse to order more than one shade...there it is! (lol, sorry to be an enabler!).
Besides loving the cool multidimensional effect of the magnet, I adore the pretty and flattering polish shades, the ease of application, the lack of streaks, and the great wear. I am already a huge fan! I am hoping to collect these polishes in more shades! I have a feeling that magnetic nail polishes are really going to take off. What a fun new trend in polish!!!
Where to buy? These are available at
Zappos.com
and they retail for about $15.50 each.