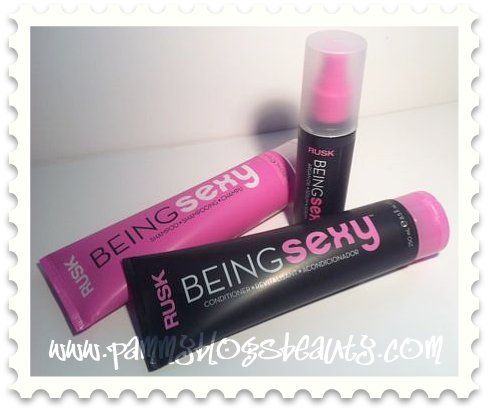 Rusk has a new hair care line! I am talking about
RUSK's being sexy line
. RUSK Being Sexy products are all about creating volume in your hair. So, will these products turn me into a Victoria's Secret model, lol, I think not. But, they are good for adding a bit of oomph in my fine (and often limp) straight hair.
I am a fan of RUSK products in general. So, you can imagine that I am excited to test out this new line. If you missed my review for
RUSK's Deep Shine Oil
, be sure to check that out! Okay, back to Being Sexy (the product line that is, lol!).
Building on the success of Being Sexy Hair Spray, RUSK introduces Being Sexy; a full-range of hair care and styling products...
It's not just about big teased hair; a
ll formulas feature a unique blend of ingredients designed to deliver voluptuous volume, tousled texture and seductive shine for "uninhibited hair."
As ya'll can see, the packaging is totally CUTE! Not sure if I have ever mentioned it, but pink is hands-down my favorite color (with pink/black being my fav color combo). So, this packaging just totally appeals to me! ;) Hey, the cute factor always plays into the products that I use, lol!
All of the Being Sexy products that I tested have a light and fresh natural floral scent. It reminds me of cut grass and dandelions. Very Spring-y!
RUSK Being Sexy Argan Oil:
This is an alcohol-free silicone based shine serum that smoothes and moisturizes hair and leaves it looking and feeling super shiny. I smooth about 2 pumps of this into my hair before blow drying and it makes a huge difference in the finished result as far as smoothness. I focus my application more on the ends of my hair (ears and below). Some serums weight hair down, not this one. It smooths without weighing hair down. If you are in the market for a shine serum, this one is a great option! I could imagine that this would work with a variety of hair types. A 3 oz bottle retails for about $15.00.
RUSK Being Sexy Shampoo and Conditioner:
The shampoo is sulfate-free. It gently cleanses and rinses clean. While I like this shampoo for occasional use, it is not as moisturizing as I would like. My hair is extremely dry from highlighting. So, if you have normal hair, this shampoo might just be perfect for you. Shampoo and Conditioner both retail for $14.00 8.5 oz).
The Conditioner is creamy and lightly moisturizing. It is designed to hydrate, seal, and protect. It conditions without weighing hair down and does not leave a greasy feel. Like the shampoo, I could use just a tad more moisture (but, again, my hair is uber-dry).
Results?
My hair certainly does have more volume when using these Being Sexy products by RUSK. For everyday, my hair needs a bit more moisture. But, when I know that I want to style my hair with lots of bounce (think Victoria's Secret sexy long waves), then I reach for these Being Sexy products!
This line just launched this month! You can find RUSK products including the Being Sexy line at Ulta, stylesource.com, and other salons and retailers (even my local Kroger carries RUSK!).