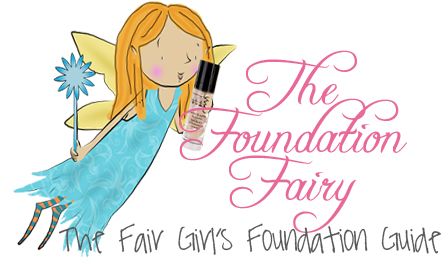 New Blog Series coming soon!
My fellow "Fairies", this ongoing The Foundation Fairy: The Fair Girl's Foundation Guide blog series is for you! I am going to be chronicling my search for great foundations for Fair Girls like me.
Typically, I wear the lightest foundation in any given brand. Often even the very lightest shade is too dark for me. I find it especially hard to find shades in drugstore ranges. For reference: My skin is on the cool side of neutral with pink undertones. Actually, I am so fair that I almost look "purple" (does this even make sense?).
My go to powder foundation is
MAC's Studio Fix
which I wear in NC 15. Yes, I know that NC is for warm undertones, but somehow the NC15 seems to cancel out the redness in my skin. When I go with a liquid MAC foundation, I wear a NW.
I fully admit, foundations have never been my "thing" when it comes to makeup. I generally go for a very natural look and like my foundations to just look like "good skin". But, I want to learn! I want to find those great foundations that just make my skin look flawless and effortless. Also, I want to hear what my fellow Fairies are wearing! What brands have those super-duper light shades?
So, keep checking back! I am going to be testing out a lot of new (to me) foundations for this The Foundation Fairy: The Fair Girl's Foundation Guide Series. I am looking for all sorts of foundations: liquid, powder, stick, and even BB Creams.