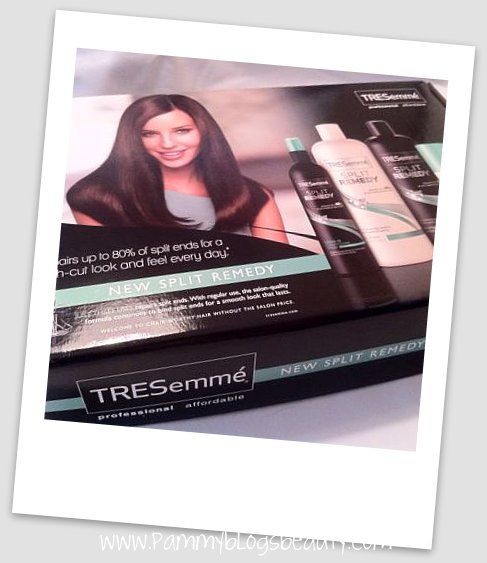 My poor "tortured" hair! I do so much to abuse it: highlights, blow drying, heat styling, etc. Products that combat this abuse are a *must* for me! I try to be good. I air-dry when I can, Give it breaks from heat styling, and keep up with trims. But, even at that, the simple fact that it is highlighted and long make it more prone to breakage and split ends. So, I rely heavily on good products to combat all this abuse.
Enter TRESemme's newly launced Split Remedy System...My first thought was "you can't fix Split Ends with hair products". While this is true, this system does seem to help with taming them! How?
Formulated with a Reconstruction Complex of positively and negtively charged polymers, this collection allows for negatively charged hair to stick to one another, thus binding split ends back together. The result? Split ends are repaired, making hair smoother, shinier, and more manageable.
The system actually boasts an
80% reduction in split ends after three uses
. Now, I must state while my hair is damaged and I am prone to split ends, I honestly don't have that many (yay me!). But, I must prevent them! While I can't really evaluate the claims here of "mending" split ends, I can tell you how my dry and highlight-damaged hair responded to the system.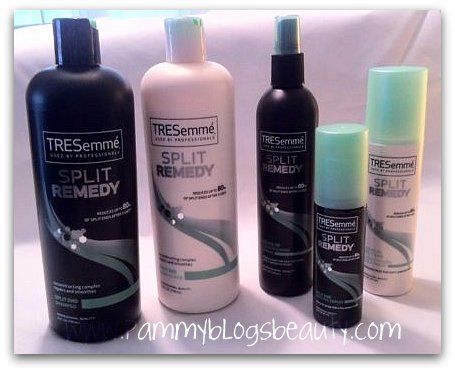 My Hair:
Just a quick background: My hair is very dry, long, heavily highlighted, fine but also thick. Typically the hair products that work for my hair are ultra rich. Rarely does a product weigh my hair down. But, rich products do leave it kinda limp sometimes.
How did it work?
Keep reading after the page break...
Let me start off by saying that this system, as a whole, smells just amazing! Such a fresh scent! The scent is light and clean. The scent is certainly fruity and has notes of apple. It really is a divine scent for a shampoo! Seriously, as I write this review I am sniffing the products like crazy. YUM! The scent isn't strong, but it does linger in the hair for a bit. I always get the "your hair smells good honey" comments from my husband when I use this.
The System:
I tested out the following products from the TRESemme Split Remedy Line:
Split Remedy Shampoo and Conditioner
Split Remedy Leave-In Conditioning Spray
Split Remedy Leave-In Conditioning Treatment
Split Remedy Split End Sealing Treatment
This shampoo is ultra thick and rich. It feels luxurious and lathers like crazy. I know, I know...lather is supposedly bad for your hair. But, I *heart* some good lather! While this shampoo is super rich and moisturizing, I am amazed at how it does not weigh my hair down. Granted, my hair is thick and hard to weigh down. Yet, I realize after using this that my other products must have been weighing it down and I just didn't realize it. My hair is incredibly bouncy from this shampoo and this system!
I am a tough critic when it comes to shampoos. Most leave my hair feeling "stripped". This one does not leave it feeling this way. It rinses clean, but leaves hair soft and feeling slightly conditioned.
This light, moisturizing formula gently cleanses and strengthens to keep hair healthy and managable while reducing split ends by up to 80% after just 3 uses.
Split Remedy Conditioner:
Like my shampoos, I prefer my conditioners to be ultra thick and rich. This conditioner is very thick and creamy and moisturizing without having a greasy feel. I really enjoy using this conditioner! After washing my hair with the Split Remedy Shampoo, I generously apply this conditioner from roots to tips, comb through with a shower comb, and leave on a few minute while I shave my legs, etc. Then I rinse out. Hair feels silky soft after rinsing and is totally detangled.
Conditions and moisturizes each hair strand while binding up to 80% of split ends for healthy-looking, smooth, and polished styles.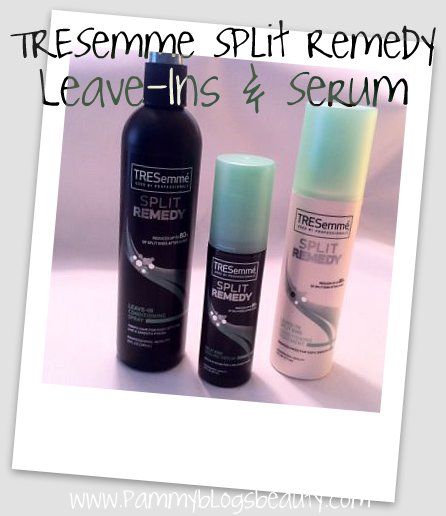 Split Remedy Leave-In Conditioning Spray:
This is a lightweight conditioning spray that helps to detangle hair and preps hair for styling by leaving a smooth finish. It is a creamy and milky spray (not watery like a lot of other spray leave ins).
This is the first product that I put into my damp hair after towel-drying. I spray this generously (about 8-10 pumps). Now that might be more than most of you need (remember that my hair is very long and very dry). After spraying I comb out my hair and proceed with my hair process.
This Leave-In has the same lovely scent as the rest of the line. If your hair has minimal damage or is not color-treated, this might be the only leave-in product that you need. But, with my damage and dry hair, I need the other products in this system as well to add shine, etc. Also, if you heat-style your hair, you may need more protection than the spray. I think of it primarily as a de-tangler.
Split Remedy Leave-In Split End Conditioning Treatment:
This leave in is much creamier and more thicker than the leave-in spray. This product is specifically formulated to target the hair ends. It adds moisture and protects your hair from heat styling. I find that it acts as a styling cream as well.

Protect your hair from the damaging effects of styling-including breakage, frizz, and dryness-with this lightweight formula. It restores moisture, leaving hair looking smoother, shinier, and salon-fresh.


After detangling and coming out my clean hair, I apply this cream. I dispense 2 pumps and work through my hair ends and comb through. The product is nice and creamy and, of course, smells yummy! I find that this really smooths out my hair for styling. Hair is left with incredible bounce!

Split Remedy Split End Sealing Serum:
I am a serum-junkie. It is always the last step in my hair care/treatment routine before styling. This serum is great for adding shine and polish!

Achieve the perfect combination of style maintenence and humidity control throughout your day with this revolutionary serum. It helps reduce frizz and seals in shine for a polished look.


This is my last step! After using and applying all the products mentioned above, I add one pump of this to my hair starting at my roots and distributing upwards (avoiding root area completely). This leaves hair feeling slick and smooth. My brush and comb just glides through my hair after this product. It is the perfect prep for adding shine! Love this! This bottle is huge considering that I only use one pump at a time. So, you are really getting an amazing value with this one.


Results:
Use of this system, as a whole, has left my hair looking incredibly shiny, bouncy, and smooth! The finishing/styling products, when used combined, are all I need to style my hair and leave it smooth and frizz-free! I love how my hair looks when I use these products. It just looks healthy with no visible signs of damage. Plus, I feel that the use of these products over time will reduce future damage to my hair.
Bouncy Hair!
Honestly, I didn't realize that some other products that I have been previously using were weighing down my hair until I tried this system! Usually I think that rich products will weigh hair down a little bit...and that is just the price you have to pay for nourished hair. I thought wrong! This system is rich and moisturizing. Yet, it does not sacrifice bounce! It does not leave hair weighed down. Actually, my hair was super bouncy and easy to style.
The shine:
Wow! Great shine from this system too! My hair is so shiny that it almost makes my hair look like it had fresh highlights. Really nice shine!
Repair of Split Ends:
As I mentioned previously, I really do not have bad split ends. I am good about trims and take good care of my hair to prevent them. But, I am sure that I have a few. So, while I can't evaluate the split end claim, I continue to not notice any in my hair. The Split Remedy system claims to "bind" split ends together. What I think is that the richness of these products smooths out and "fills in" the damaged areas. The result for me: My hair is smoothed down, easy to detangle, and easy to style. Smooth hair tangles less and is more resistant to split ends as it is not getting all tangled and pulled when you style it.
I really love this whole system! I will certainly return to these products in-between my other hair product testing!!! I am very pleased. These products give great results and are of incredible value. You can't beat the price!
Have any of you tried these new Split Remedy products from TRESemme? I am curious to know how these products worked for you...especially if you have serious split ends.