Hello beauties! Today I am bringing you "part 2" of my
Napoleon Perdis "Love Unleashed" collection
review. This romantic Spring collection was inspired by
Romeo and Juliet
and created for the Australian Ballet. If you missed my first review of this collection, you can check that out here:
Love Unleashed Creme de la Creme Shadows
.
The more I wear the makeup from this collection, the more I love it! Funny, my husband, who rarely comments about my makeup, always seems to compliment me when I wear the Contour Palette and Lip Gloss from this collection! Just today he said, "You look beautiful honey. Your makeup looks very natural and like you just got some sun." Hey, you gotta love a comment like that! At first glance, I thought the colors of this collection would be too dark for my fair skin. Well, I was wrong about that! These darker shades, when applied with a lighter hand, have really brought some much needed color onto my face! So, if you normally steer towards lighter shades like I do, you may feel the same way about this collection.
This collection includes:
Creme de la Creme Eye Shadow
($25), The
Ultimate Contour Palette
($39), the
Nude Rose Lipgloss
($25), the
Love Unleashed Lashes
($9), the
Eye Will Survive Primer
($24), and the
Love Unleashed Lip Gloss Ring
(GWP, value $50). All these items are available at Napoleon Perdis concept stores and at Dillard's.
This review is for the
Ultimate Contour Palette
, The
Nude Rose Lipgloss
, and the
Love Unleashed Lip Gloss Ring
. Keep reading after the page break for more photos, swatches, and my impressions.
One of the things that I just love about this collection is that these shades are such a departure from my normal day-to-day colors. I will fully admit that I reach most often for peachy-pink blush and pale lipglosses...So, at first glance, I really thought these shades in the "Love Unleashed" Collection might be too dark or too bold on me. Well, I thought wrong. These shades are exactly what I should be wearing! My skin is so fair that wearing richer color is just what I need for a perk-up!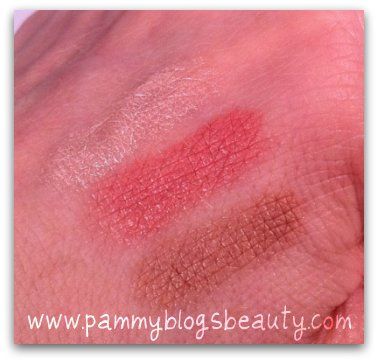 The Ultimate Contour Palette:
Are y'all like me...Do you usually skip contouring? While I love the look of contouring, I must admit that it is a step that I usually skip. Highlighters I use a bit more frequently than contour. But, most days, I only use blush. That is exactly why I like this palette: Highlighter, Blush, and Contour/Bronzer all in one place! Whenever I grab this palette, I use all three!
This contour palette features marine extracts for moisture and Irish moss which is packed with vitamins to soften skin and protect against skin against free radicals.
The highlighter, blush, and bronzer powders in this palette are all extremely pigmented and soft. Only the slightest touch of your brush is needed to pull up the soft and deep pigments.
The highlighter is darker than most of the highlighters in my collection. It is a beige-champagne shade with some very subtle shimmer.
The blush is a medium matte pinkish coral shade. This is also darker than I usually go with my blush. But, wow, maybe I should go darker all the time because it wears beautifully.
The bronzer is a medium matte neutral toned brown. What a nice shade for bronzer! Many bronzers are either too dark or too muddy on me. Not this one!
Nude Rose Lipgloss:
As you can see from the photos, this lipgloss is neither nude nor rose. Huh? While I think this lipcolor was miss-named, it is still beautiful nonetheless!
The shade is actually a rich burgundy. The consistency and opaqueness is much more like a "liquid lipstick" than a gloss. This gloss carries a yummy vanilla scent. It is not overly sticky either. I can see why this lip shade was chosen for this romantic "Romeo and Juliet" collection. Shades like this are romantic. Don't you think?
I found this gloss to be pretty long wearing (for a liquid product). Apparently it can last up to six hours (according to the website). While it didn't last that long on me, I found that as the gloss rubs off a beautiful stain is left behind. This super-pigmented gloss is just lovely with fair skin!
Nude Rose Lipgloss contains Argan Oil (for nourishment and moisture) and Cherry Extract (antioxidant).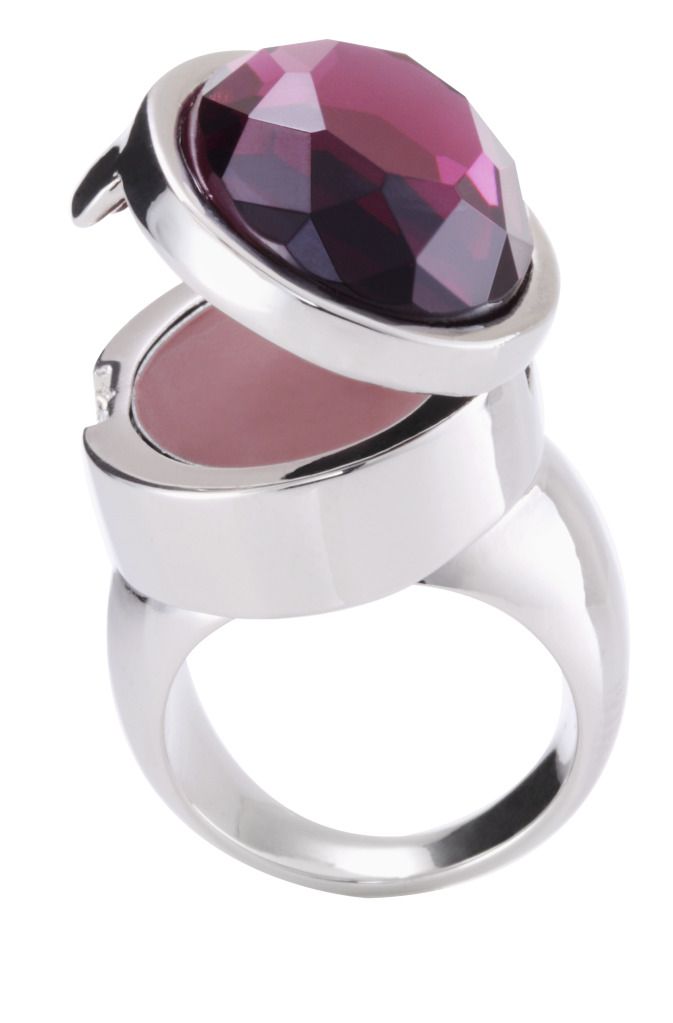 Limited Edition Cocktail Lipgloss Ring:
This is so adorable!!! I love that Napoleon Perdis included this Bonus Gift with this collection. Anyone who orders 2 items from this collection gets the ring! This type of thing just brings out the "little girl" in me. I mean, who doesn't love a lipgloss ring? What is nice about this one? It doesn't look little-girlie! It really is a sophisticated ring.
It comes beautifully boxed in a clear acrylic flip-top container. The ring is silver with a purple stone. The ring opens on the side to reveal a very small pot of gloss. Adorable! It just makes me feel like a princess! :)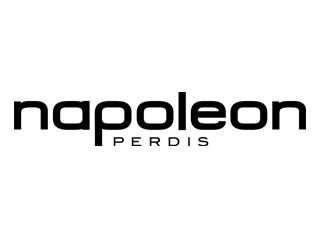 Such a pretty collection overall! I know that I will continue to reach for these products. Especially the contour palette which has become a new fave! :)
Thanks so much for reading! :)