Hello girls!
Wet n' Wild continues to expand their impressive nail polish selection. For just $1.99 per polish, Wet n' Wild really can't be beat. I am excited about these new Megalast Nail Colors (which are available at Walgreen's). Megalast Nail Polish is not new to Wet n' Wild. It is a makeover of the previous incarnation. There are new bottles and a cool new brush shape (more on that below).
Also, I couldn't resist picking up the lippie in
#967 Dollhouse Pink
as it is an apparent
dupe for MAC's Viva Glam Gaga
. (edited: per
Turtle Beauty
, Dollhouse pink is NOT a dupe for Viva Glam Gaga...oh well! Still a very pretty color). The lippies are on the same end-cap type display as the polish. The lip color is great: a vibrant bright cool toned barbie pink. Love! Its super-duper pigmented and long-wearing. But, it is a bit drying.
Here are the nail color shades that I picked up (it was so hard to choose!): #218A "I Need a Refresh-Mint", #208B "Through the Grapevine", and #213C "On a Trip".
Wide Brush! and other Upgrades :
The biggest news with these polishes is WnW's inclusion of a wide brush applicator!!! The curved and flat brush shape reminds me of Rimmel's Polish brush design. I really like the curved shape. It just makes more sense given a curved cuticle area. A great improvement for WnW polishes! I find that this new brush shape does aid in application. Also, it appears that the bottles are a bit bigger too. Sweet! More nail color for only $1.99. I also find these bottle shapes are easier to hold than the previous little bottles with the shorter handles. Great improvements overall!
Here are some swatches:
"I Need A Refresh-Mint" 218A: What a fun shade to wear. This polish reminds me of one thing: Tiffany's boxes!!! Although I would say that this WnW shade is a tad more green than a Tiffany's box. Either way, you nail art ladies need this if doing a "Tiffany Box" inspired nail art look! Super cute color for pedicures too!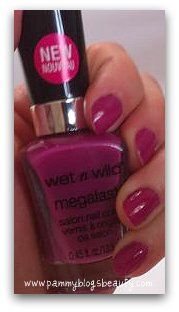 "Through the Grapevine" 208B: This shade gives me my "pink fix" during winter! If you can't tell by my girlie blog design, I am obsessed with the color pink. But, I pick nail colors seasonally. So, I tend to gravitate towards darks, greys, reds, etc during this time of year. But, this only puts me in massive pink withdrawal. This pinkish-purple hot magenta shade gives me the "pinkness" that I need in a more winter color.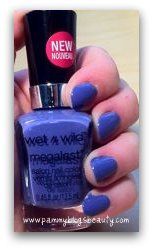 "On a Trip" 213C: This is a rich periwinkle-purple cream shade. I have totally been in a purple nails phase lately. This polish meets that need!
The Wear:
I am generally pretty pleased with the wear of the Wet n Wild polishes for the price. I get about 2 days wear without chipping (using my usual sandwich method of base coat, sticky coat, polish, and topcoat).
Application:
Requires at least 2 coats. One coat will leave you streaky.
There are still quite a few shades I would like to pick up from this collection for Spring! Has anyone else tried these? How do you like the new brush?
Thanks so much for reading!
Stay beautiful dolls!