Hey there my readers! Many of ya'll know that I have a penchant for blush. It is the the makeup item that I just can't resist. A great blush always perks me! I tend to gravitate towards peaches and pinks so this blush is just right up my alley.
This review is for
Bella Pierre Cosmetics's Compact Mineral Blush in Desert Rose
.
Bella Pierre
is a mineral foundation line from
SFRbeauty.com
that I have been exploring lately.
As much as I do enjoy using mineral makeup. I must admit that loose powder pigments are not my favorite. I much prefer a pressed powder. So, I was thrilled to discover this mineral blush in a pressed pan compact form! You get the benefits of a mineral powder without the mess. This product at-a-glance really reminds me of Pur Minerals. The mineral scent of the product and the texture of the powder are very Pur Minerals-esque. If you like Pur Minerals, then you might want to check out the
Bella Pierre
brand too.
The Packaging:
The compact is sleek and sophisticated. It is a shiny black sturdy plastic with silver lettering and detail. The bottom opens up to reveal a powder puff underneath. The top opens to reveal the product pan and a full sized mirror.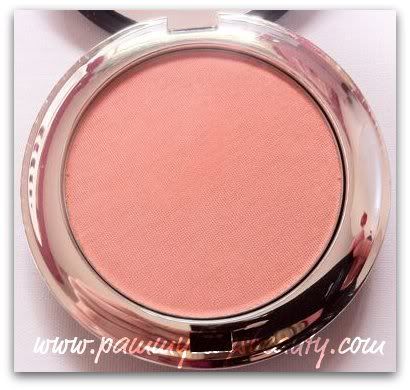 The Skinny:
Texture: The blush itself is very soft in texture. You only need to lightly tap your powder brush onto the pan to get color.
Pigmentation: This blush is highly pigmented.
Shade: This is interesting. While the shade is called Desert Rose, the shade is actually not a rose color at all. It is a soft peach with a light goldish-pinkish-peach shimmer. While the shimmer is noticeable in the pan an when you swatch, on the skin it appears almost matte (yet it gives the skin a very "lit from within" glow). I really like this shade on my super-pale skin. But, if you have medium to dark skin, this might not show up on you. On me it is the perfect light peach.
Wear: I do not notice any fading throughout the day.
Bella Pierre Compact Mineral Blushes come in 4 shades and retail for $54.99 (but are currently listed for $39.99 on sale).
The Bella Pierre Mineral Blushes are free of bismuth oxychlorid.
I love this blush for a soft natural look. This is also a nice blush to use when you are doing a more dramatic eye and don't want to go too bold with your blush. For me, this is just the perfect light peach blush for my fair skin. I am going to continue to reach for this when I want to go for a very soft effect with my blush.