Hello dolls!
I haven't done a NOTD (Nail of the day) in forever. But, with this cute combo, I just couldn't resist posting!
As ya'll may remember, I am a bit bananas about nail polish. I change my polish, on average, 2-3 times per week. Not because I have to, but because I just love playing around with color! While I am mostly a neutrals/natural girl for my makeup, I like getting very experimental with nail color. It is just so fun!
So, for this look we have Zoya's Pandora on the tips and POP Beauty's Nail Glam in Seventeen Turquoise on the toes. I adore both of these polishes! For mini reviews and more photos, please keep reading after the jump!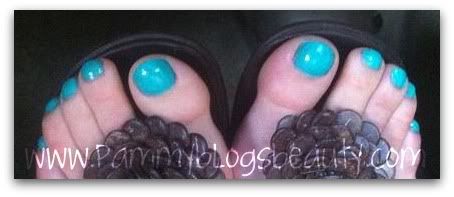 Toes:
POP Beauty Nail Glam Nail Polish in Seventeen Turquoise
Gorgeous! Gorgeous! Gorgeous! I love the totally 60's MOD look of this true turquoise color. In addition to the Mod appeal, turquoise in general appeals to me (both the stone and the color). Plus, I think it looks great on blonds. This is such a fun color to wear on my toes!
Now, I must make a note about my photography here. The photo at the top of the post looks less "green" than the color presents in real life. The photo of the shade on my toes was taken in natural outdoor light (in the car) and I was able to capture the true shade better here). This color is a real "true" turquoise. Hey, I do the best I can with my equipment. I use my iPhone4 for all blog photos as the quality is actually better than I can accomplish with my old digital camera. Okay, sorry, I digress!
This POP Nail Glam applied evenly and without streaking. Two coats did the trick and it is still wearing strong after 5 days. I think this might be my new "fun" go-to color for my toes!
Tips:
Zoya Professional Lacquer in Pandora:
I got this cute little Zoya polish sample in my July
Birchbox
. I have fallen in love with Zoya polishes from Birchbox and this pretty nude polish is no exception!
While it is fun rocking the bold colors on my toes, I am back to work (in a somewhat conservative environment). So, I wanted to balance the bright toes with a more sophisticated nail look. This polish gives a lovely professional look to your nails. I think it is a nice balance with my bright POP Beauty Turquoise toes. Yet, the nude still has a Mod appeal with a modern vibe.
I love both of these polishes separately, but also I love these combined for a tip and toes look that is fun and fresh with a bit of a retro twist with a modern edge.
What polish shades are ya'll loving lately? I am not ready to dive into all the new Fall shades yet. So, I am still rocking summer colors!
Stay beautiful!
XOXO!

I purchased my Birchbox subscription