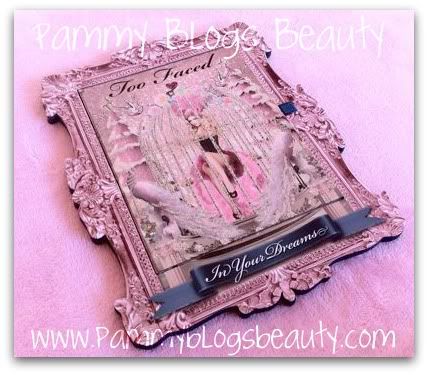 Ahh, the season of
Holiday Palettes
continues with this gorgeous Burlesque-inspired artsy palette from
Too Faced
: The "In Your Dreams" Palette.
In Your Dreams Palette
*and* the
Sephora Exclusive Sweet Dreams Makeup Collection
(see photo below,
photo source
).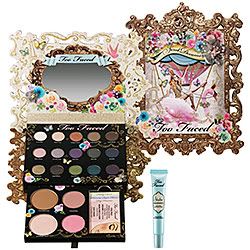 When I got my Sephora order in the mail, I realized that as much as I totally loved the
Sweet Dreams Makeup Collection
, that it was way to similar to the collection that Too Faced had last year for the Holidays, the
Enchanted Glamourland Collection
(which I already own). So, after a little bit of debate, I decided to return the Sweet Dreams Makeup Collection. I mean, I just didn't "need" both. But, I kept the "
In Your Dreams
" palette!
So, how do I like it? Keep reading to find out!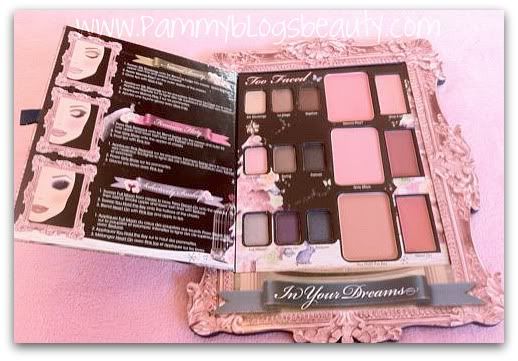 Too Faced has become one of my go-to brands when I am looking to make a "major" makeup purchase. Overall, this brand has fabulous quality and a pretty good price (considering that it is "high end" makeup). Plus, their limited edition collections are adorably packaged and they always have a nice selection of palettes and gift sets available. Also, their eye shadows are phenomenal! Great pigmentation and texture. Seriously, some of the nicest shadows available!
Too Faced: In Your Dreams Palette:
Honestly, even though I love "playing with makeup", it is nice to have a well laid out palette to streamline the "getting ready" process. Having your coordinating lip, eye, and cheek colors all in one place is just great! That is exactly the biggest strength of this palette! There are "tips" for application right inside the cover of the palette. Honestly, I don't always use those "tips" that come with these palettes. But, in this case, I am applying just as suggested!
Another big plus of the palette? I literally use every single product included in this palette!!! This is *so rare* when it comes to palettes! I have very fair neutral-cool skin. All of these shades work beautifully with my coloring! Yipee!
This palette contains 3 complete looks: Natural Beauty, Feminine Flirty, and Seductively Smoky. So, you have a natural look, a "fun" look, and bold look. Both the Feminine Flirty and the Natural Beauty looks are totally daytime appropriate. I have been switching back and forth with them ever since I got the palette. The Seductively Smoky is perfect for a going-out or night time look!
The Shadows: As I mentioned, Too Faced shadows totally rock my world. I love the pigmentation and the texture of these shadows. These blend very easily and apply well. They wear all day on me without fading.
I am thrilled with both the color assortment and the quality. The shadows are all satin/shimmer shades. Some have noticeable glitter. I always wear these with a primer. Some of my fav shades from this palette include: Silk Stockings, Swing, Dream On, and Seduce.
The Blushes: The Blushes coordinate beautifully with the eyeshadow shades. Well done Too Faced!!! The blushes are very silky and pigmented. They have a soft and almost "creamy" feel (much like the shadows). The blushes all have a soft (and almost metallic) shimmer to them. They look nice and glowy on the skin without being overtly shimmery. The blushes really work to perk up your complexion to leave you looking glowy, pretty, and healthy. Honestly, I would purchase all of these blushes individually!
The Lipcolor: The lipcolor applies like well-pigmented lipgloss. The glosses have a bit of a metallic finish. I can't quite detect a scent to this lipgloss (but, I do have a bit of a cold, so I could be wrong!). As with the blushes, they coordinate beautifully with the "complete look". My only complaint is that they are in pan form. We all know that lip color needs to be reapplied throughout the day. Well, this palette is just way to large to carry with you for touch ups! Too Faced needs to put mini individual glosses instead that you can take out and take with you. So, typically, I start my day out with the lipcolor that coordinates with each look. But, I reapply with whatever is in my purse.
The Packaging: I am having a love-hate relationship with the packaging. I am just about the girliest-girl you will ever meet. So, the design and aesthetic is so appealing to me. I love sparkle, burlesque, and PINK. So, I think that the overall look is adorable, whimsical, and pretty. But, with that said, the size of it is overly bulky. There is just too much cardboard! This palette could have been so travel friendly if they cut back on some of the excess cardboard. I do like that is is thin though. My vanity is getting crowded and this palette can just barely squeeze inside because it is so thin. While the palette itself is "thin", the pans are not overly thin. Eyeshadow (.03 oz), Blush (.15 oz), and Lipcolor (.02).
While it is not travel-friendly in general, I am pleased that it just barely fits into my
Hold Me Bag
(thank goodness!). So, I am planning on taking this with me when I go out of town (and am not flying). So, I am thrilled about that. This can be the only color cosmetic item that I need to travel with...all I will need to add to my bag is concealer, mascara, and powder!
Note: In photos below the blushes are presenting "pinker"
than they are in real life. I apologize! Poor day for lighting.
The photos look a little "foggy" as I had to edit to adjust the pan colors.
The swatches are more representative of the true color.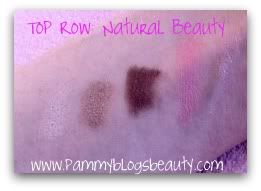 Natural Beauty: This is the look that I have worn the most from this palette. So light and natural for every day! The blush is pretty and perky! The lipcolor is a tad frosty, but I still love it!
Eyes: Silk Stockings (ivory beige), La Cage (bronze shimmer), and Rapture (dark warm brown).
Cheeks: Wanna Play? (Peachy Pink Shimmer)
Lips: Give it Up (pale pink)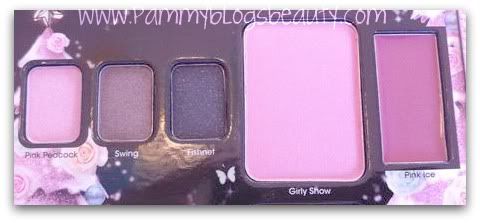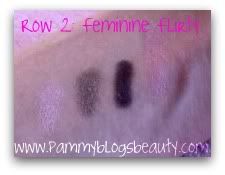 Feminine Flirty: This is another extrememely wearable look! Pink Peacock and Swing look very natural on their own *or* you can "kick it up" with a bold layer of Fishnet. I am wearing this combo today actually!
Shadows: Pink Peacock (pale pink shimmer), Swing (silvery taupe shimmer...love it!), Fishnet (charcoal grey, with sparkle)
Blush: Girly Show (petal pink)
Lipcolor: Pink Ice (dusty rose)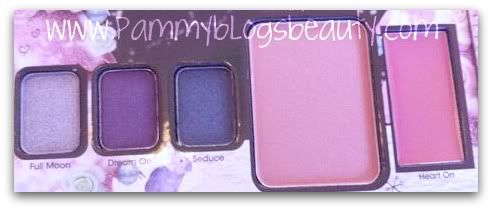 Seductively Smoky: This is a great set for a colorful and bold smoky eye!
Shadows: Full Moon (silver shimmer), Dream On (dark violet), and Seduce (midnight blue)
Blush: You Hold the Key (pink beige)
Lipcolor: Heart On (rosy nude)
Ya'll, I am so extremely happy with this purchase! This palette was everything I was hoping it to be. It is adorably packaged and "collectable". It is very well organized into 3 complete and cohesive looks. What wonderful quality too!
This is a great palette for every day use! You can get day looks or night looks. This palette can be useful for travel if you have plenty of space in your travel bag (you probably wouldn't want to fly with this though). My only critiques of an otherwise perfect palette is that I wish the packaging was less bulky and I wish that the lip glosses were separate.
I adore this palette! Did anyone else pick this one up? I highly recommend it for yourself or as a gift!