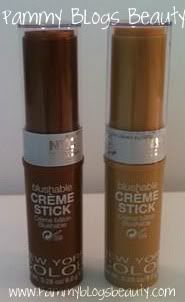 Wow, time flies! I have been meaning to review these Limited Edition Blushable Creme Sticks from NYC (New Your Color) for quite some time now! I am a huge fan of Blushable Creme Sticks. Actually, I reviewed the
Blushable Creme Sticks in Plaza Pink and Big Apple Bl
ush when I first started blogging (and I still love these)!
This summer, NYC released 2 new Blushable Creme Sticks: Gold Radiance (Highlighter) and Bronze Radiance (Bronzer). I actually had to search around for quite awhile to find these. I finally came across a display at Rite Aid.
For my review, please keep reading!
Since I am such a huge fan of NYC's Blushable Creme Sticks in general, I just had to try these out! I don't have a gold cream highlighter and honestly have never even tried a cream/stick bronzer. So, I was pumped about these!
The Skinny
:
These retail for only $3.99 each (for .28 oz of product). What a real bargain!!!
Hard to Find: Sorry ladies, but these are extremely hard to find. I had trouble finding them when they were released over the summer. And, they are even harder to find now. My sincere hope is that New York Color will continue to expand their Blushable Creme stick range and offer more colors (for both limited edition collections and the permanent line).
Great Packaging: I love the sleek and uncomplicated packaging. I find these blush sticks to just be so easy to use. You just twist up and apply with your fingers. The packaging holds up well and is a nice and compact size to toss into your purse.
Texture: These are cream products in stick form. They apply creamy and feel smooth upon application. The application is generally very smooth as the product is soft enough so it does not tug at your skin. The highlighter, Gold Radiance, applies with a tiny bit more "grit" as you can slightly feel the glitter particles. Overall, these seem a bit "drier" than the other NYC Blush Sticks that I own. Perhaps the metallic finish of these impacts the texture.
The Highlighter: Gold Radiance:
This is a light gold highlighter with noticeable gold glitter. The gold applies pale-champagne gold with a warm gold sparkle and a metallic finish. The glitter is quite noticeable. So, if you are not a huge fan of glitter, then you might want to pass on this item.
I was honestly hoping that the glitter wouldn't be as noticeable on the face. But, it is quite apparent. So, I reserve using this product for going out/evening wear. For that purpose, this product is great for adding some shimmer, metallic shine, and sparkle! Plus, for the price? It is worth checking out!
I like applying the tiniest touch of this product on top of my cheekbones.
The Bronzer: Bronze Radiance:
Application:
Okay, I must say, applying bronze in a cream form is totally new for me. I am used to just swiping a powder brush and dusting on a sheer layer of bronzer powder. So, application of this product proved to be tricky for me. Not because of the product, but for my lack of skill at applying a cream product as a bronzer. At first I tried with my fingers. But, I felt that the product went on way to heavy that way. So, then I decided to switch to a brush. I found that my trusty Sigma , which is my go-to brush for powder bronzers, is perfect for applying this product. I just dab the tip of the brush very lightly to the tip of the product. I then apply to my face just as I would a powder bronzer and then I blend, blend, blend. I am much more pleased with the results with the brush (over using your fingers).
Now on to the product itself:
This is a rich and creamy metallic coppery-bronze color. The product has a nice metallic sheen but no noticeable sparkle. The color itself was just slightly too warm for my super pale neutral-cool skin tone. But, if I apply very lightly and blend well, I can get it to work for me. Will I give up my powder bronzers for this product, probably not. But, it is nice to have a cream option.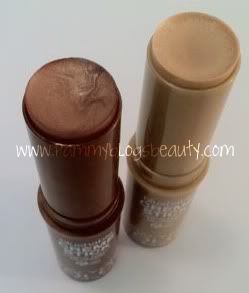 Overall, I am pretty pleased with the Limited Edition Bronzer and Highlighter Blushable Creme Sticks from New York Color. Honestly, I like NYC's Blushable Creme sticks so much, that I will likely try any product in this range. Hey, they are worth a shot for $4! Here is to hoping that NYC continues to expand this line and offer more colors!
Did any of you get a chance to try these out? What did you think?