My brush collection is such a mixture of brands and styles. I have brushes that I love from both high-end as well as drugstore/value brush lines. For me, the questions are, what do I want this brush to do? And does it apply makeup effectively?
Generally, I like a good mixture of stiffness and softness in my brushes (again, depending on what the function is of that particular brush). I am a firm believer that great brushes can make all the difference in your makeup application. But, I am also a huge believer that you can find a great brush at a value price. It just all depends on each particular brush.
As you can imagine what a wide range I have within my own brush collection. I am always eager and excited to test out all kinds of makeup brushes and beauty tools. So, with that said, I was so excited to try out these
professional quality brushes by Kim
!
For my reviews of Kim's
F231
,
L311
, and
E131
brushes, please keep reading after the page break.
My best friend is an artist and she has told me before that a brush (for painting) is like an extension of your hand. You want the best quality tool possible for the best result. The same principal applies well for makeup brushes. You want tools that just feel good in your hands and are easy to manipulate.
Kim sent me a nice little assortment of brushes and a cute little pink zipper pouch to test out. Now the pouch is actually not large enough to hold the brushes. But, it is cute none-the-less. I can always find a use for little zippered pouches.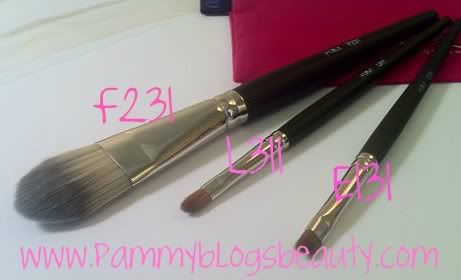 The Brushes:
The Basics:
You can tell immediately that these brushes are of very good quality. The brush design is sleek and professional with a black handle, white lettering, and a silver ferule. The construction is sturdy. You can tell the metal ferule is securely attached and the handle has a little bit of weight and balances well in your hands.
The hairs are securely attached in all of these brushes. I did not experience any shedding with any of the brushes during washing with soap and water.
Taklon / Oval F231
($22.00)
An oval shaped brush for even and smooth application. The Taklon blend makes this a great all-round brush that can be used for concealer and general make-up.
Head Width: 20.3 mm
Head Length: 30 mm
Brush Length: 20.5 cm
While this is an "all around brush", I think this brush is best suited for foundation application. I found it to be too large for concealer. Typically, I use a flat top Kabuki (
the Sigma F80
) for liquid foundation application. But, I found that this was a nice alternative to the kabuki! The hairs are incredibly soft on this brush so the application feels very comfortable and smooth. The hairs are quite densely packed for a brush of this type. So, I found the quality of this brush to be better than my other foundation brushes like this in my collection made by other brands. When my Sigma F80 is dirty, I now reach for this. I like them pretty much equally.
Small Angle E131
($10)
A flat angular brush, perfect for precise lines and detailed work. Emphasizing lining and shaping of the eyes and the eyebrows.
Head Width: 6 mm
Head Length: 7 mm
Brush Length: 18 cm
Oh, this is such a nice brush!!! While it is designed for detail work, eye lining, and brows. I find that I like it best for brows! Actually, I really didn't have a brush that I "loved" for brows before trying this one. I am thrilled!!! Brow grooming can make such a difference in your whole look. Ladies, if you are not filling in your brows, you are missing out! Granted, I don't fill my brows every day. But, when I am really going for a full makeup look, brow fill-ins are essential. I just use my handy-dandy brow kit from Milani. I dab this Kim brush into the Milani brow powder and apply to my brows. This brush picks up just the right amount of powder. The angle allows for easy and precise application. Love it!
This brush does work well for shadow lining the eye as well. But, for gel lining, I prefer a thinner brush. I highly recommend this brush if you do not have a good brush yet for brow powder.

L 311 Narrow Lip
($9):
A flat, tipped brush, for precise lining of the lip contour and for perfect application of lip cream and gloss.
Head Width: 5 mm
Head Length: 9 mm
Brush Length: 11 cm
Okay, I must admit, I rarely use lip brushes! I know, I know, lipstick application can be so much better with a brush! But, I just find the lipstick applied right out of the tube is just so quick and easy (and really, I am more of a gloss-girl). So, I don't really have a wide range of lip brushes in my current collection. With that said, this is easily the nicest one that I now own! It is a stiffer brush. But, it is still incredibly soft. The width is just right for precise application.
Overall, these brushes from Kim are all winners in my book! I will continue to use and love these brushes. The Small Angle E131 has already become my go-to brush for my eyebrows! This is definitely a brush line worth checking out!
As always, thanks so much for taking the time to read!
XOXO!