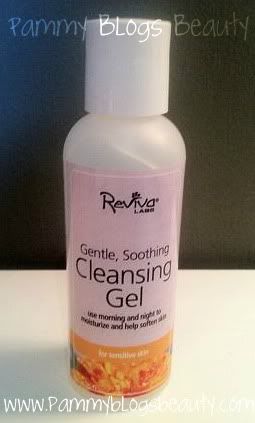 Hello fellow skincare lovers!
Ya'll know that I love a good gentle cleanser, right? Well, this cleanser by Reviva Labs is no exception! As I was finishing up the very last bit of this cleanser this past week, I realized that I must review this!
Background on my skin:
My skin is super-sensitive. My skin is normal-to-dry. But, pregnancy has brought out my skin's "oily side" (especially in the t-zone area). I am not very prone to breakouts. But, pregnancy has increased my skin's tendency to break out.
To find out how I liked Reviva Lab's Gentle Skin Cleanser, Please keep reading after the jump!
The Search for a Great Cleanser:
It is hard for me to find a cleanser that does not leave a residue and is non-irritating! Many cleansers that I try are just way to irritating. They seem to either leave me very dry or very red. So, I like to stick to gentle cleansers. Over time, I have learned that the key to reducing redness in my sensitive skin is to stick to the most basic and gentle cleansers that I can find. Gentle is "key" for me with cleansers! It doesn't seem like it would be so hard to find something so basic. But, it is! Most cleansers on the market seem to over fragranced and may contain too many harsh ingredients (like foaming agents) for those of us with sensitive skin.
So basic, So Good!
This cleanser is just so basic! From the no-frills Reviva Labs packaging to its basic "soap smell", this product is all about he basics. It delivers just what you need: basic cleansing. What else is nice? It is from an eco-friendly skincare line and has a great $8.00 price!
The Skinny:
Non-foaming gentle gel-like cleanser.
This product has a thin consistency. But, it is very concentrated. It only takes a small amount to cleanse your face.
Fresh "soapy" smell. No heavy perfumes.
Available online: Reviva Labs and at health foods stores.
How I use:
I just wet my face with water and then apply a small amount with my hands and massage in. Rinse. That's it!
My Results:
My skin has felt so soft and smooth while using this. After cleansing, I experience no tightness or irritation. My skin just feels lovely and soft! I experienced no breakouts while testing this product.
No need to get all foamy!
Funny, after I put this cleanser in our shower, my husband commented to me, "That new cleanser is strange, it doesn't foam". I, of course (like a good beauty blogger), took the opportunity to talk to him about how a cleanser doesn't *have* to foam to work. I know, I know...many of us just love the "feel" of a cleanser getting all foamy. It just "seems" to work better right? Well, you foam lovers, if you just give it some time, you might get used to the feel of a non-foaming gel and really like it! After his initial reaction, my husband did end up liking this cleanser too!
Thanks for reading!
XOXO!