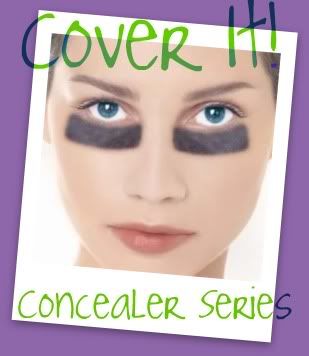 Hi there readers!
It is time for the next installment in my
Cover It! Concealer Review Ser
ies. For those of you following this blog series, you know that I have a strong and serious interest in concealers! I am searching high-end and drugstore options for the best products.
What do I look for in a concealer? Well, typically, I am looking for a heavy coverage concealer if I am looking for something for the under-eye area. I have terrible dark circles (I blame heredity, allergies, general lack of sleep, and yes even my current pregnancy!). So, I need very good coverage in the under-eye area. But I don't want it to be so heavy that it gets cakey. Many of my previous reviews have revolved around concealers specifically for the under eye area.
But, lets not neglect the rest of the face! I do wear concealer elsewhere. On the rest of my face, I generally use concealer to hide some slight redness on my my and around my nose. But, typically, I only need a light coverage concealer for the rest of my face.
As I was applying my current staple light-medium coverage concealer:
Maybelline Mineral Power Natural Perfecting Concealer
to my nose-area this morning I thought, "This is a great little concealer. I need to review this for my concealer review series!!!".
To find out how I like this concealer, please keep reading!
How I wear this concealer:
I have been using this concealer in the shade Fair (which is a pretty good color match) to cover the slight redness around my nose and on my chin. Typically, I wear a few dabs of this concealer in those areas and then finish my face off with a light dusting of powder. When I wear liquid foundation, I don't use this concealer as the foundation I wear provides enough coverage. But, I am a powder girl (it is just so quick and easy!). So, most days I wear this concealer plus powder. This combo gives me a nice flawless face. But, I do use different concealer underneath my eyes as my eyes need a concealer that has a creamier texture and more coverage than the Maybelline Mineral Power provides.
The Coverage:
I would describe the coverage to be light-medium coverage. I think the pigmentation is pretty good considering that it is a liquid concealer. I use only the slightest dabs to cover my chin and nose redness (one small dab of the wand in each area and then blend). I think the coverage looks natural.
The Texture and Finish:
The consistency of the product is pretty thin. But, it is pigmented and opaque. The product feels somewhat "dry" which is exactly the texture that I am looking for for a concealer for the face (for the eye area I require a creamier concealer). The finish is primarily matte but there is a bit of a luminosity about it.
The Style/Packaging:
This is packaged in the typical drugstore wand-style concealer tube. I like that the tube is super short as it is easily portable and it fits well into my little concealer drawer in my vanity.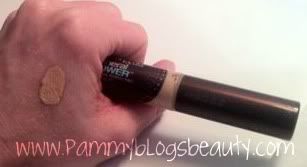 The Wear:
This product wears all day on my skin with no need for further touch ups. I should note that while my skin is generally dry, I do get a bit more oil in the t-zone (and that is where I place this concealer).
My Skin's Reaction:
Finding a t-zone area concealer can be tricky. Well, it is tricky for me because that is exactly where I am prone to breaking out. So, I always want a concealer that provides good coverage there without being too heavy and without breaking me out. Well, this concealer is a winner. I have experienced no breakouts in the t-zone area since using this concealer (and I have been using it for months). Granted, I rarely break out, but this concealer certainly does not break my skin out.
In summary, this is a great little concealer. It does the trick! It conceals my nose/chin redness without breaking me out. It wears all day with no need for a touch up. I love that this was very inexpensive (around $6.00). I am pleased with this product!
What concealers do you like for your t-zone area? I am always looking for good recommendations!