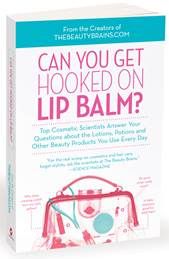 Can You Get Hooked on Lipbalm? Top Cosmetic Scientists Answer Your Questions about the Lotions, Potions, and Other Beauty Products that You Use Every Day
Hello there my lovely readers!
I am here with a "book report" today! I am so happy that I was given the opportunity to review the new book from the creators of
TheBeautyBrains.com
,
Can You Get Hooked on Lipbalm?
by Perry Romanowski and The Beauty Brains.com.
Who are the "Beauty Brains"? Well, The "Beauty Brains" launched a website in 2006 to help everyday ladies to understand the science behind beauty. So, you beauty-truth seekers, this is a great website for you! They explain cosmetic science in a fun and user friendly way on both their website and in their new book.
This informative book attempts to address some of the misleading or confusing claims that we are bombarded with from the beauty industry. This book tries to tease out facts from misinformation by providing solid and scientific answers to the many questions that we all have.
I mean, have you ever wondered:
Why does wearing nail polish turn my nails yellow?
Are salon products in the drugstore the same as the ones sold in the salons?
Are more expensive cosmetics worth the cost?
Whats the right way to wear sunscreen?
Why does silicone build up on hair?
These are just some examples of the myriad of questions addressed in this book!
So, how is the book? Keep reading for my review and for an upcoming giveaway announcement!
Well, my dears, this book is right up my alley! For starters, as you can tell because of the scope of my blog, I LOVE reading about beauty!!! I always have something "fun" to read on my bedside table, and this book has been my constant companion there ever since I got it in the mail!
One of the reasons I started blogging was to seek out answers for my skincare, makeup, and hair care dilemmas! I have an ever-growing library of books on beauty topics and this copy is going to get a spot on that shelf. I mean, lets face it, we all want to get to the bottom of these beauty questions?
You could either read this book straight through, or use this book as resource material for specific questions. The content is nicely organized, so you will be able to find your topics/questions with ease. This book provides great definitions and explanations of product ingredients (and breaks down chemical names, etc). It is the "science of beauty" for the average girl!
When I got this book, I immediately started flipping through the pages looking for scientific debunking of beauty myths! The Beauty Brains.com team collected some of their readers very best questions and compiled them all in this volume. The team responds to the questions with scientific examples combined with a peppering of humor to make this a very enjoyable read. The information is presented in a very understandable and unbiased format.
As a lover of brain science (I am a Speech-Language Pathologist, and I really geek-out on neuro anatomy), I just adore the brain-based humor in the book. I mean, one of the "experts" is "Sarah Bellum" (lol, you know, cerebellum!). I would go more into it here, but I am not how many of my readers share my brain-fascination?
So, what are some topics covered in this book? You are going to get sections for Hair, Skin, Makeup, and The Beauty Industry. Topics are indexed for ease of finding answers.
I found some great answers in this book! I loved reading about tips about how to look at a product beyond the marketing hype. Ingredients are discussed, myths are debunked, and specific brands are mentioned! I loved the straightforward approach and the witticism. The writers give you a "bottom line" for each question and even provide useful tips for common beauty concerns.
So, would you readers like to know some "fun facts" that surprised me from this book? I will give you a few nuggets:
I learned that as you grow older, you hair actually does change. It can become less dense and more prone to breakage.
Coconut oil penetrates the hair and makes it stronger. Olive oils and avocado oils absorb well too. Now I am armed with some good ingredients to look for when conditioner shopping!
Um, pore strips really do work! (I can't believe I have never tried these!)
All-in-all, I loved this book and will continue to enjoy thumbing through it and finding answers! There are many little pearls of wisdom to be found here! I have to tell ya, I had some true LOL moment while reading this witty, fun, and factual book! Its not just a fun read, but a reference tool that you will find yourself referring back to. A total keeper!
So, I know you are wondering...Can you get hooked on lipbalm? Well, I am not gonna tell ya! You are going to just have to read the book to find out! :)
Special Giveaway Announcement!!!
Stay tuned for an upcoming post!!! I will be hosting a giveaway, sponsored by the publisher of
Can You Get Hooked on Lipbalm?
, for 3 free copies of the book!!! Thats right, 3 readers will be selected to receive a free copy! So, stay tuned for that post!!! Its coming soon! ;)
Check out Beauty Brains online:

If you can't wait for my giveaway
I am going to go ahead and provide
my Affiliate Link if you want to order now!
(sometimes its hard to wait!)