Hello my lovelies! OMG, I am so excited to be writing about these polishes! :)
This post is to introduce you to the China Glaze Crackle Glaze polish collection. I will be doing a series of posts with NOTD (Nail of the Day) photos with the various Crackle Polishes.
What are Crackle Glaze polishes? Well, like OPI's popular "Black Shatter" polish, China Glaze Crackle Polishes are finishing polishes that separate and "crackle" as they dry to give the most unique look! I mean, seriously, the first time I saw it happen I was amazed (and am totally planning on doing a video demonstration for ya'll).
If you love the look of "nail art", but don't have the skill to do it on your own, then you will love these. It is like nail-art for the every-day girl!
For my how-to and NOTD, keep reading after the jump!
The Collection: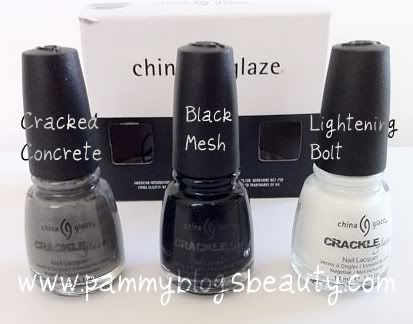 Black Mesh (black)
Cracked Concrete (matte medium grey)
Lightening Bolt (matte white)
Broken Hearted (matte hot pink: cant wait to try this one!!!)
Crushed Candy (matte light blue/green: will be so pretty for spring!)
Fault Line (a VERY deep purple, gorgeous!)
The How To: Its so super easy!!!
Apply a regular polish of your choice and let it dry completely.
Apply a coat of China Glaze Crackle polish directly on top (cover nail completely).
Let dry 3-5 minutes. You will see it starting to separate and crackle almost immediately.
Top with a clear top coat.
Thats it!!! Easy-peasy!!! Your base color will peek out below the Crackled polish! Very cool effect. It looks like nail art that took hours to create, but in reality...it just took minutes!
My NOTD:
I applied Nicole by OPI's "Justin Beiber" Give me the First Dance polish (which by-the-way is sooooo pretty! It looks like total liquid silver on your nails!). Here is how it looked before the Crackle.
I then applied China Glaze's Crackle in Black Mesh. Here is the final look! I love it!!!
What a fun and unique look! I really can't wait to play around with these more and post the various looks that I can create with these cool polishes!
I know these are sold out just about everywhere. I lucked out and found the entire collection online through an Amazon seller. But, keep checking back (a.k.a. stalking) your local Sally's for this great collection of polishes.
Have any of you tried these? If so, please suggest some color combinations below. I would love to experiment with different base colors!
Thanks for reading!!!