Hello there my dear readers!!! Can you believe it is almost Valentines day??? Testing and reviewing this adorable product has totally gotten me in the V-day spirit! So, do you want a little "mood boosting" Valentine pick-me-up? Well, then treat yourself to an item from this cute
Physician's Formula Happy Booster Collection
!
The Collection:
The
Happy Booster collection
contains a Blush, Bronzer, and a Face Powder. The display at my Ulta (only a few days after the release) was already almost completely out of product! After looking through the options, I decided upon a blush.

The Science of Smiling? Can the act of smiling make you happy?
Did you know that it is speculated scientifically that when you smile, you actually become, at least physiologically, more happy? I remember reading this in magazines a few times; so, I did a quick google search to read more about this scientific theory (for an example articles, click
here
and
here
).
Yes, smiling, regardless of how you feel at first, can in fact make you feel happy! Smiling causes physiological changes in your brain which in turn cause people to feel more happy (additonal reading: click
here
) Some studies show that smiling, even "fake" smiling, can have a positive impact mood. Go ahead and smile...you will feel better!!! :)
So, what is the scientific implication for this mood boosting blush? Well, think about it, when you apply blush, do you smile? I do? Smiling while applying is the best way to get precise application right on the apples of your cheeks and up through your cheekbones. So, smile and apply some blush...and be happy! :)
Okay, I digress (Ya'll know I like to geek geeky with the science stuff, it fascinates me!)...back to talking about Physician's Formula Happy Booster Blush! :)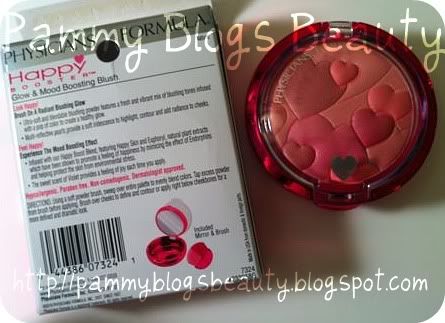 For the review (and swatch) of the this adorable Physician's Formula Happy Booster Glow & Mood Boosting Blush, please keep reading after the jump:
Physician's Formula Glow & Mood Boosting Blush (natural):
This blush is sooooo up-my-alley!!! Not only is blush one of my favorite makeup items, but the *HEARTS*, to-die-for cute!!! I am just bananas about Hearts! I love heart shapes for decor, jewelry design, etc. So, of course I love them embossed into a blush pan!!! Not to mention this product's timely release right before the quintessential "heart" day: Valentines Day!!! Super great marketing on Physician's Formula's part.
The Blush:
This is a shimmery blush with multi-colored hearts in an array of hues: roses, pinks, peaches, and more brown-based pinks.
Swirl them all together (how I apply) and you get a lovely peachy pink color.
The blush is highly pigmented. On my fair skin, I apply with a pretty light hand.
What a flattering blush! This is one of those every-day wearable shades for me!
While this product contains shimmer, it does not look glittery on the skin. It just gives you a lovely peachy-pink glow. Beautiful!!!
Scent/Ingredients
(according to the packaging):
I just wanted to make a note here on the scent and ingredients. This product is "infused with the Happy Boost Blend" (apparently plant extracts which promote a "feeling of happiness").
The scent: The blush is lightly scented with violet, which "provides a feeling of joy when you apply" (lol, according to the package). While some perfume-y scents bother me, this one does not. I think it smells pretty. But, if you don't like floral notes, you might not enjoy the scent. The addition of scent did not seem to bother my sensitive skin.
The Packaging:
The compact is adorable!!! It is a hot purplish-pink metallic compact with a clear lid.
Packaging is sturdy and not too bulky.
The pan lifts up to reveal a small blush brush underneath. I never use these little brushes that are included (they are too small), but I did want to let you know there was one under the pan.
The embossed hearts in the product itself really make the product standout!!!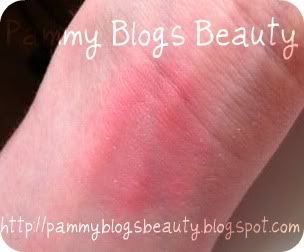 So, does it really "boost your glow and mood"? LOL! Well, Science aside, yes this blush makes me happy, lol! But, that is just because I adore blush in general and enjoy applying my makeup! :) As you can tell, I totally <3 this blush!!! :) This product is just *so fun* because it is a pleasure to apply, it smells lovely, and it has an adorable design and packaging! :) For me, its just totally appealing!!! I love it! I might have to give the bronzer and complexion powder a try too! :)
The great news here? I hear that the Happy Boosting Collection is going to be part of Physician's Formula Permanent Line! Yay!!! So, if you are having a hard time finding this in stock, be patient! :) You will find it soon!
Smiles (and *hearts*) to you! :)