Hello there my dear readers!
Yes, I do seem to have a theme these days...products for dry skin!!! Winter has my dry skin *so dry* that I need super moisturizing products to give my dry skin some relief.
In my occupation as a Speech-Language Pathologist (working with preschool aged special needs children), I need to wash my hands very frequently and use antibacterial gels as well. This wreaks havoc on my hands and cuticles. I need products to combat significant dryness, ragged cuticles, and flaky skin on my hands.
SpaResource products are found at Walmart and also online at
SpaResource.ca
. The prices are extremely good! The travel sized Hand Lotions and Body Butters retail for only $2! At that price, you can surely stock up and try a variety of scents! I love buying bath and body products for gifts and at these prices you could get a good assortment to divide up into gift bags for a super cute present. If you are a fan of Bath and Body Works Scents or The Body Shop products, then you will probably like any of these products, too!
Here is a listing of the scents available: Amber Sunset, Amber Vanilla, Avocado, Bird of Paradise, Butterfly Flower, Cherry Blossom, Cocoa, Coconut, Coconut Lime, Cool Wave, Fragipani, Honeysuckle, Honey and Almond, Island Paradise, Juicy Peach, Mango, Melon, Nut, Orange Blossom, Pineapple, Pink Grapefruit, Pomegranate, Sweet Tangerine, Tahitian Monoi, Unscented, Vanilla Grapefruit, Vanilla Sugar, and Very Berry.
SpaResource products are cruelty-free, which is always a plus for an animal lover like me. :)
For reviews, keep reading after the jump! :)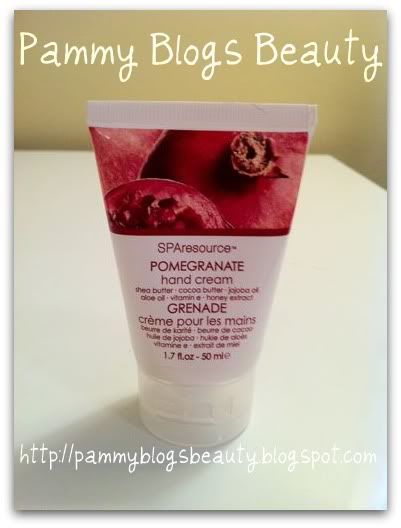 SpaResource Hand Cream
(in Pomegranate):
This is a very rich and moisturizing hand cream! It contains super moisturizing ingredients like Shea Butter, cocoa butter, jojoba oil, aloe, vitamin e, and honey.
The Scent: OMG, Yum!!! This lotion is highly fragaranced with a sweet smelling pomegranate berry scent. I really like it and, lol, I always smell my hands after applying it! Now, this scent is strong enough that it may "compete" with whatever fragarance that you are wearing. That is not an issue for me as I usually wear Bath and Body Works body splashes during the week, and this scent has been complimentary to the body splashes that I wear.
The Texture: The lotion is very thick and non-greasy. Which really is the ideal texture for a hand lotion. It absorbs quickly. The texture and feel of the product on my hands reminds me somewhat of Neturogena's Norwegian Formula. When you rub your skin, you feel the "drag" of the lotion as it is coating your skin. I massage this lotion all over my hand and add some extra to my cuticles as well.
The Protection: This hand lotion did a good job keeping my hands moisturized and protected throughout the day. I keep it either in my purse or on my desk at work for frequent application and application after hand washing or antibacterial hand gel use. I like that this lotion is rich, yet non-greasy. Also, I like that it can double as your cuticle cream. My only wish is that this could contain SPF! :)
And, lol, those of you that read my blog frequently know I love something that comes in a portable travel size! This little tube is *ideal* for your purse or for travel.
Spa Resource Body Butter
: (Vanilla Grapefruit)
I am such a big lover of body butters in general. I always have a tub in my master bathroom and another top right on my bedside table. I have a nightly ritual of applying various lotions, body butters, cuticle creams, etc right when I climb in bed at night. It is just one of those soothing rituals that relax me and get me ready for bed.
The Scoop on the Body Butter in Vanilla Grapefruit:
OMG!!! I *love* this scent!!! Seriously, so fresh and yummy! I always smell this product repeatedly when applying...lol...it is just that good! This would be an especially nice scent for summer with the fruity notes. But, the vanilla makes it wearable in the winter too. Love!
As mentioned above, this body butter really reminds me of body butters from the Body Shop and Bath and Body Works.
The 1.7 fl oz container is great for travel!
The texture: Very silky buttery feel. It melts right into your skin and leaves the skin shiny and smooth. It is completely non-greasy and absorbs very quickly.
I would really love a body splash and a shower gel in this same scent!
I am really enjoying using this hand cream and body butter! I would like to try more scents and stock up on some of these for use as gifts and for continued use at home and work! For the $2 price, you just can't beat that!!! There are also some really cute
gift sets
online with a ton of products included for only $10. The
SpaResource webite
offers 5 free samples with your order. In addition to the products I reviewed above, I was able to sample a few packets of various products including the Moisturize (Peppermint) Foot cream that I really loved! Can't wait to try more from this line!
Thanks so much for reading!!!