Affiliate Link
Press Sample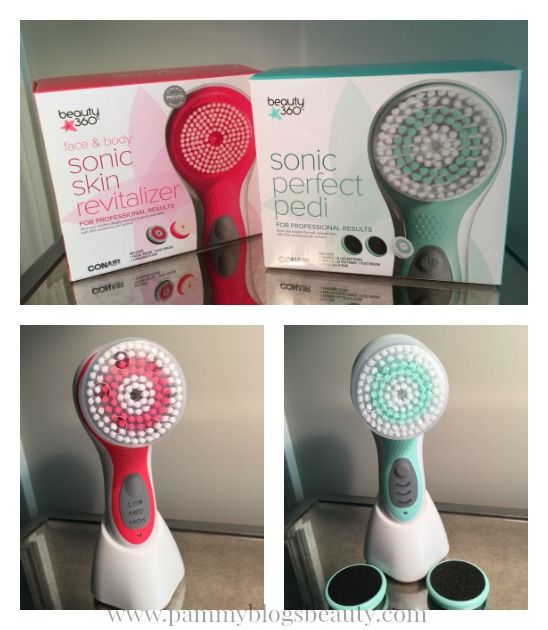 I could sure use a spa vacation! Who couldn't right? However, that is just not in the budget right now. So, I am all about having spa nights right in my own bathroom! You can easily transform your bathroom into a tranquil spa environment with some candles, ethereal music, and great beauty tools and gadgets.
Life can get stressful as a busy Mom of two preschoolers. Taking care of myself can sometimes be an afterthought. So, I really try to make a point of doing a spa-night at home at least once a week. Sometimes it is a long soak in the tub and sometimes it is just an evening shower with some luxury products, or great facial or body exfoliation with sonic devices, or a evening mani/pedi.
Beauty 360 (available at CVS/pharmacy) has some fantastic and affordable beauty tools. These tools are just what you might need to inspire a spa-night at home! I recently had the chance to try out the
Beauty 360 Face & Body Sonic Skin Revitalizer
and the
Sonic Perfect Pedi
. I am really loving these tools and they have been a great addition to my spa-night routine.
I frequently rotate sonic devices into my facial skincare routine. They can really make a dramatic impact in the texture and clarity of your skin. Right now, I am loving this device from Beauty 360 as my shower body exfoliator! Plus, at $49.99, it is a very affordable option for a sonic brush. I like having a specific device that I devote to the body as I can just keep the body brush head on the device and store this device right in my shower for ease of use. I love the results that I get from this device! My skin is so soft and smooth!
Dermatologist-tested cleansing device that unclogs pores and washes away embedded dirt and oil that can cause breakouts

Makes cleansers two times more effective, and after just one use, pores and redness are 30% less visible

Features low, medium and high settings with an automatic even-cleanse timer that prompts users to move the brush to another area of the face every 10 seconds for thorough cleansing
My feet need all the help they can get! I am somewhat prone to callouses and rough/dry skin on my feet. I need major exfoliation and mega moisturizing products to keep my skin soft and callous-free. Using this device has made a dramatic impact on my feet. It has softened and diminished my callouses. Love the results! Retails for $49.99.
Rotating sonic brush head for feet that exfoliates cracked skin

Includes a coarse callus softener to buff dry areas and a fine callus softener to polish and soften skin

Features low, medium and high settings with an automatic even-cleanse timer that prompts users to switch feet after 90 seconds
If you are looking to add some affordable and effective beauty devices to your spa-night routines, be sure to check out Beauty 360 next time you are at CVS/pharmacy!
Affiliate Link