Affiliate Link
Press Sample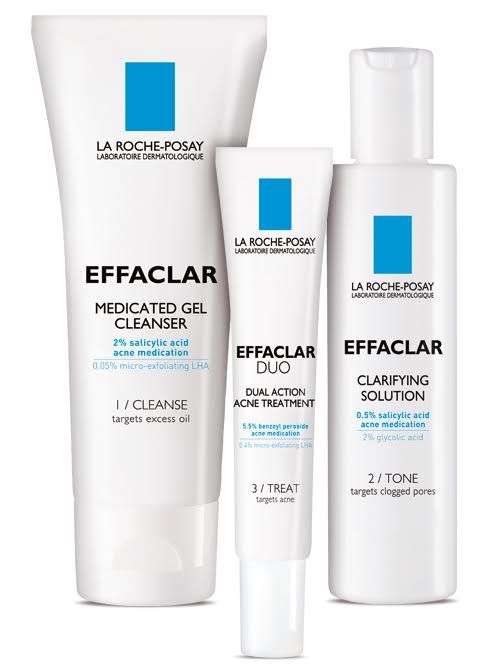 My hormones and skin have been all over the map lately. When my hormones are wacky, I break out. I always thought that my issues with breakouts would be long behind me at my age. However, yes, women like myself in their 40s do still get breakouts.
According to La Roche-Posay,
a staggering 2 in 5 Americans with acne report that their current acne treatments failed to meet their expectations? Well, La Roche-Posay's
Effaclar Dermatological Acne System i
s clinically proven to reduce the number of inflammatory and non-inflammatory lesions,
comparable to the leading prescription treatment. So, it is great to know that there are effective acne treatments available at the drugstore. I just had to try it out!
La Roche-Posay has formulated the Effaclar Dermatological Acne System (retails for $29.99, at Drugstores) to help people of all ages clear up their dreaded acne. This new system consists of three products: the Medicated Gel Cleanser, the Dual Action Acne Treatment, and the Clarifying Solution. These products are all non-comedogenic, oil-free, fragrance-free and paraben-free.
My Skin:
I have classic combination skin. It varies widely depending on the season and the state of my hormones. Currently, I am leaning towards normal-to-oily with a lot of oil through my t-zone. I also classify myself as having sensitive skin. So, I need to be careful of ingredients. In addition, since I am in my 40s, I am very interested in effective anti-aging skincare. While this Effaclar System is not marketed as an anti-aging system. It is a system that "plays nicely" with my anti-aging skincare treatments, serums, and creams. So, it helps to keep my skin clear while also being gentle enough on my skin that I can still continue to use my anti-aging treatment products and serums in conjunction with this system.
Recently, my hormonal breakouts were driving me so batty that I finally gave in and went to see the dermatologist. I tend to check in with a dermatologist anually anyways for full body skin cancer screenings (skin cancer runs in my family). Guess what? The Dermatologist recommended La Roche-Posay products!!! I even got a few samples from my Dr. of the items in the Dermatoligical Acne System. I was thrilled that the doctor recommended products that I could easily get at the drugstore. I must also mention that I have changed my birth control pill as well and that seems to have helped to regulate my hormones better and has probably contributed to my skin clearing up as well. Either way, the combination of the new pill and the inclusion of the Effaclar products has really helped my skin!
To find out more details about the
Effaclar Dermatological Acne System
and how I liked the products, please click "read more" below!
Salicylic Acid: This hydrophilic keratolytic agent treats acne by helping to keep pores clear of cellular debris. By reducing the number of pore blockages, it helps reduce breakouts on the skin.
Glycolic Acid: Known for its excellent ability to penetrate the skin, Glycolic Acid weakens the bonds that hold dead skin cells together, effectively exfoliating the stratum corneum.

Lipo-Hydroxy Acid (LHA)

: La Roche-Posay's signature proprietary ingredient, LHA is a lipophilic agent that is 6X more effective than salicylic acid. It delivers precise, cell-by-cell exfoliation to effectively eliminate dark cells from skin's surface, while at the same time smoothing and refining skin.
Micronized Benzoyl Peroxide: This potent acne medication penetrates pores deeply to diminish the appearance of blemishes, eliminate acne triggers deep in the pores and unclog pores, all while being gentle, even on sensitive skin.
Each product in the
Effaclar Dermatological Acne System
features clinically effective ingredients developed to eliminate the triggers that can cause acne, unclog pores and exfoliate and refine the skin all while being gentle on even sensitive skin. Finally, an effective—and affordable—option that immediately treats existing acne and helps prevent new blemishes from appearing.
I have been testing out these products in the
Effaclar Dermatological Acne System
for a few weeks and I am extremely pleased with the results! My skin is certainly more clear! In addition, my skin is not in the least bit irritated or pink/red from using these products. I think that my favorite product from the system is the Medicated Gel Cleanser. I have always been a fan of using cleansers with an acid as an active ingredient. It is a great first step in my skincare system and it is the product from the Effaclar system that I use most frequently. Now that my skin has cleared up quite a bit, I only spot-treat as needed with the Dual Action Acne Treatment. However, I am happy to have it on hand to whip out when I do need it. The Clarifying Solution is a nice product, too! I rotate it with my other exfoliants and I have great results. I tend to add this extra exfoliation step about 2-3x a week because of my sensitive skin.
If you are looking for affordable, effective, and gentle products to help clear up your skin, you should certainly check out the
La Roche-Posay Effaclar Dermatological Acne System
! I am a huge fan of the products and will continute to use them in my daily skincare routine. I have had such great results with the La Roche-Posay products that I would really like to explore the rest of the line. Are you a La Roche-Posay fan? I would love to hear your recommendations for what I should try next from this line!
As always, thanks so much for reading! I love being able to share about the products that I love with you guys!!! xoxo
Affiliate Link