Affiliate Link
Blogger Ambassador/Press Sample
The Beauty Spotlight Team
members are taking part of a bi-weekly ongoing feature where each Beauty Spotlight Team blogger is sharing their Top 5 Favorites from one of their favorite brands. This week is my turn and I choose to feature one of my all-time favorite brands: Kiehl's!
I do have a quite a few skincare lines that I really love and enjoy: from drugstore to high end. However, when I think of my top favorites when it comes to skincare products, so many of those items are from Kiehl's. So, it made my choice easy! Kiehl's skincare really stands out and I am, quite frankly, obcessed with some of these products that I am going to talk about today.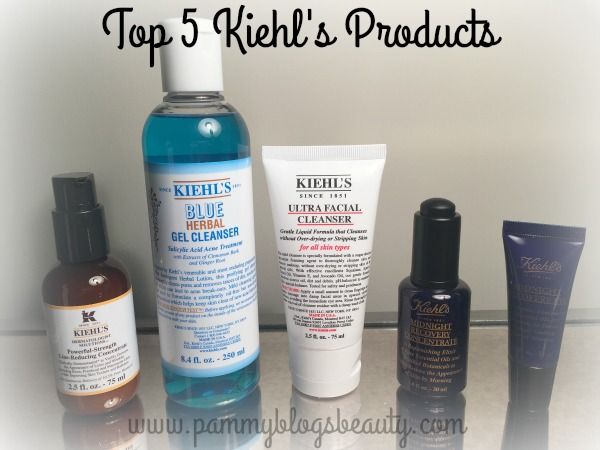 So, let's dive in ya'll! To find out more about my
Top 5 Skincare Favorites from Kiehl's
:
Kiehl's Midnight Recovery Concentrate
,
Kiehl's Midnight Recovery Eye
,
Kiehl's Powerful Strength Line Reducing Concentrate
,
Kiehl's Ultra Facial Cleanser
, and
Kiehl's Blue Herbal Gel Cleanser
, please click "read more" below.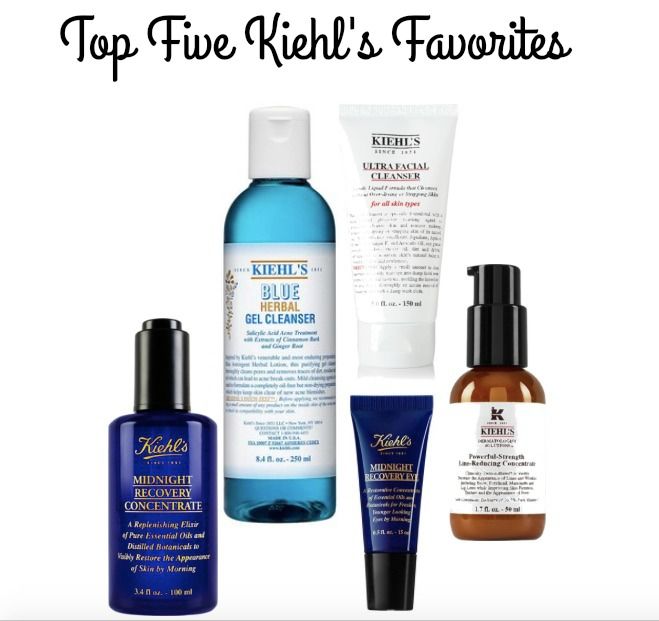 Honestly, it was really hard to pick just
5 Top Favorites from Kiehl's
. I honestly had 8 top favorite items from Kiehl's. So, I thought long and hard and narrowed down my list to just these 5 items for the purpose of this blog series. Just know that there are many more awesome items from this line. These are just my 5 very top favorites! :)
My Top Five Favorites from Kiehl's:
Kiehl's Midnight Recovery Concentrate: Have you jumped on the beauty oil bandwagon? I sure have! I have been using and loving facial oils for a couple years now and I haven't looked back. After spending most of my life avoiding oils in products. I now actually apply oil to my face and am totally loving the results. Kiehl's Midnight Recovery Concentrate was one of the very first facial oils that I tried and it remains one of my favorites today. There is just something so special about Kiehl's Midnight Recovery Concentrate. The scent is completely intoxication and totally soothing. I love applying it! I literally apply a couple drops at night and then wake up with plumper and more refreshed skin in the morning. I love how this product was designed to work while you are sleeping. This product gives my skin a gorgeous glow, plumps fine lines, hydrates, smoothes, and just leaves my skin looking fantastic! Key Ingredients include Evening Primrose Oil (for skin barrier repair and radiance), Lavender Essential Oil (soothes irritation and improves skin tone), and Squalane (an easily absorbed botanical lipid. Restores moisture balance in skin). I totally get why this is a cult-favorite product for so many. I adore using this and it is, no question, one of my top favorite beauty oils. Plus, one bottle lasts forever since I only use 1-2 drops at a time.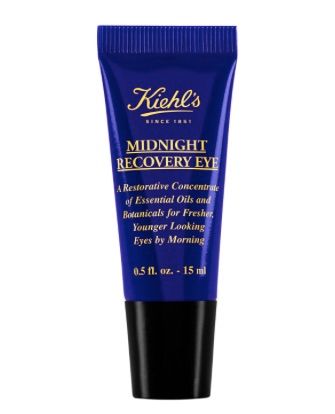 Kiehl's Midnight Recovery Eye: This item is actually a new favorite of mine from Kiehl's! I am a long-time fan and user of Kiehl's Creamy Eye Treatment with Avacado. I still love and adore that eye cream (and honestly, it almost made my top 5). However, I love the Kiehl's Midnight Recovery Eye even more. If you are a fan and lover of Kiehl's Midnight Recovery Concentrate (which is a top 5 item of mine), then you really need to try this eye cream! It has the same amazing herbal scent as the Midnight Recovery Concentrate. So, it immediately gives you that almost aromatherapy-like soothing and sense-awakening benefit upon application. The eye cream is infused with some of the same natural ingredients as Kiehl's Midnight Recovery Concentrate. The Midnight Recovery Eye is very concentrated. You only need a small amount under the eye to replenish and hydrate your eye area. I feel like this product gives you amazing immediate results as well as noticable overnight results and also long-tern results. When I use this, I certainly do wake up the next day with a smoother and more plump eye area. This eye cream does so much for my eye area: it diminishes fine lines, it combats that crepey skin on my eyelids, it helps with dark circles, it reduces puffiness, it plumps up the eye area, and it does wonders for hydration. I am absolutely thrilled with my results with this eye cream and am adding it to my list of Holy Grail Eye Creams. I use this eye cream every night and I use RoC's Retinol Correxion Eye Cream in the morning (because I gotta have my Retinol!).
Kiehl's Ultra Facial Cleanser: This is such a fantastic cleanser! I have used this off and on for years and it is honestly a staple in our shower (both me and the Hubs love it). It is a super mild and somewhat thick gel cleanser. This cleanser has some lovely moisturizing ingredients like Apricot Kernal Oil, Avacado Oil, and Squalane. It is super gentle; yet, it is still able to effectively remove dirt and debris. It is a perfect everyday cleanser for my sensitive combo skin. This cleanser leaves your skin feeling clean and fresh without feeling at all dry nor tight. It is leaves your skin at its perfect balance. Plus, there is nothing about this cleanser that could irritate your skin. I honestly can't say enough good things about this cleanser. It will continue to be a Top 5 Holy Grail cleanser for me for years to come! Plus, it will always be a shower staple in my household. Love, love, love it!
Kiehl's Blue Herbal Gel Cleanser: While Kiehl's Ultra Facial Cleanser is my go-to for everyday and my standard morning shower facial cleanser, I do like to occasionally use something for "deeper" cleansing. With my classic combo skin, I vary from oily to normal to normal-dry depending on the season. Plus, I do occasionally experience breakouts. When my skin starts acting up and is on the oilier side, Kiehl's Blue Herbal Cleanser comes to the rescue! I especially love using this cleanser at night because of the refreshing minty feel. The cleanser is oil-free and is a blue thin gel texture. I like to really massage it into my skin to get a lather going and to let the product sit on my face a few minutes for a deeper cleanse. The cleanser contains salicylic acid to clear up and prevent blemishes and to provide nice deep cleansing and exfoliation. This cleanser really is perfect for when my skin is on the oily side of normal and if I need to clear up some blemishes. My skin always feels super clean after using!
Kiehl's Powerful Strength Line Reducing Concentrate: This is my newest Kiehl's addition in my skincare arsenal. I previously felt that Vit C was missing from my skincare routine. So, I was happy to add this product! It has a high concentration of Vit C (10.5%). So, I feel like you get great results from the Vit C! I like that this product provides antioxidant prevention while also smoothing fine lines and providing exfoliation. I feel that it has also worked to refine my skin's tone and texture. The Vit C in the formula gives your skin a bit of a warming feel when you apply it (I feel like I can "feel" the product working!). I really enjoy the serum-like slippery feel of this product. I feel like it has the type of texture that doubles for a makeup primer. I like using this product in the morning before applying makeup (and after my skincare routine).
Shop my Kiehl's Favorites:

So, that is it! Those are my current Top 5 Favorites from Kiehl's. It was somewhat hard to choose my top 5 Kiehl's products because I do love so many things from the line. Other standout products that I really love from Kiehl's are Tumeric & Cranberry Seed Energizing Radiance Mask, the Ultra Facial Cream, the Creamy Eye Treatment with Avacado, and the Daily Reviving Concentrate.


Affiliate Link