Press Sample
Affiliate Link
Blogger Ambassador
#RoCAmbassador
#gotasample

Ready for another update in my My Skin Loves blog series? This series is devoted to sharing about my very favorites new discoveries in skincare.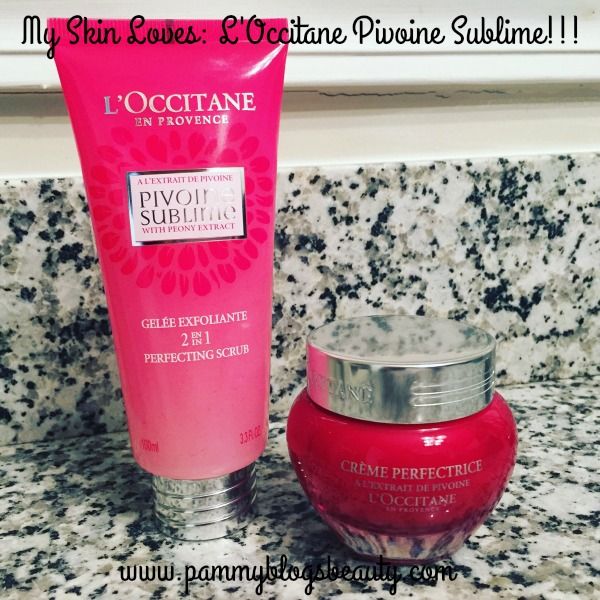 My Skin:
Before diving into my review for L'Occitane's Pivoine Sublime Perfecting Scrub and
Cream
, lets talk a bit about my skin. I have classic combination skin. It varies from normal-oily, to normal, to normal-dry depending on the season and my hormones. This time of year I am in the normal or normal-oily category. I also describe my skin as being sensitive. I am somewhat prone to redness and product irritation. Also, I get occasional breakouts in my t-zone area. So, I just need to be very careful with my skincare selections. I want effective products that work without causing redness nor irritation. In addition, I am in my early 40s. So, I am super interested in anti-aging products and products that help me to look younger.
L'Occitane Pivoine Sublime:
Oh how I adore this collection! The Pivoine Sublime line is based upon the Peony flower. If you are familiar with the gorgeous scent of the Peony flower, them you are going to love these decadently scented products. From the lovely scent to the pretty packaging, there is just something so special about this collection. Besides the pretty packaging and nice scent, the products themselves are fantastic formula-wise and results-wise! I have only tried out a couple items from this line, but I am already obcessed and know that I am going to want to explore the full line.
I have been in the market for a new moisturizing cream and this one is the winner! As we start to transition into colder weather, adding a good moisturizing cream to my daily skincare routine was a must. Previously, I was using a cleanser and a retinol serum in the evenings (and sometimes an additional serum and/or a facial oil). However, in the Summer months and early Fall, I tend to skip a moisturizer. Now that the weather is starting to get cooler, it is time to rotate a moisturizer back in! I can't express how much good this cream has done for my skin! It is an absolute pleasure to use. I love how this cream sinks in. I feel like my skin literally drinks it up! From the silky gel-cream texture to the gorgeous scent, it is a nightly treat to use this product. I can't get over the improvements in my skin. The texture is so soft and velvet-like, my pores are diminished, my fine lines are blurred, and my skin has an overall better appearance as far as hydration and plumpness. Results were immediate and very noticable even the very next morning after adding this product to my routine. I am completely hooked on this cream! Plus, it has not caused any breakouts nor irritation reactions. So, I am super pleased! This is potentially the best moisturizer that I have ever used! If you want amazing and noticable results, you must try this cream!
The Skinny:
Key ingredients include: Peony Extract (Pivoine Sublime Complex: Visibly corrects complexion and texture imperfections)
Retails for $42.00
This scrub is such a perfect compliment to the Perfecting Cream! Good exfoliation is the key to helping your products to penetrate better. Plus, exfoliation tends to keep my skin super clear and soft. With my somewhat sensitive skin, I need to be careful about not over-exfoliating. So, I tend to use this scrub only about 2-3 (max) times a week. This unique exfoliator is a gel/oil hybrid! It applies like a gel and transforms to an oil on your skin. I apply it to my dry skin and start to smooth it in light pressure circular motions then I add in some water and I continue to massage. Then I can either leave it on as a mask for a few minutes or rinse off. I like to follow up with a gentle milky cleanser and then the rest of my skincare routine. This scrub is highly effective at purging my skin's impurities and making great improvements in my skin's texture. Plus, the scent? Divine!!!
The Skinny:
Enriched with a skin-perfecting extract plus a micro exfoliating agent and scrubbing particles
Retails for $28.00
Affiliate Link