Sponsored Post
Affiliate Link
I am always looking for beauty and style tips! In my downtime, I love reading magazines. So, I was super excited to hear about AARP's NEW Beauty & Style Digital Edition!
AARP The Magazine recently launched a brand new
Beauty & Style Digital Edition
. I have had a chance to browse through The Beauty & Style Digital Edition, and let me tell ya'll, there is some great beauty and style content there! The magazine includes excellent Beauty & Style features aimed at women 40 + including tips, tricks, advice and trade secrets. The Beauty & Style Digital Edition which can be viewed on the AARP website or downloaded as an amazing interactive iPad app. Digital magazines are so fun as you can read, watch, and listen to the interactive digital content, articles, and videos available!
The
AARP's NEW Beauty and Style Digital Edition
is packed with awesome beauty content: from Beauty Basics (skincare, hair, and makeup), to Special Features (this issue highlights Bobbi Brown makeovers and Christie Brinkley's beauty secrets), and Style (trends, slimming secrets, jeans, and accessories), this Beauty and Style Digital Edition was a delightful experience from start-to-finish! I 100% enjoyed my time while acquainting myself with this digital magazine!
I absolutely love the key message of the
AARP Beauty & Style Digital Edition Magazine
: "Age is No Barrier to Beauty and Style"! As a woman in her early 40's, I am starting to feel my age a bit and see myself as "older" amongst the beauty community...which honestly is ridiculous as I am only 42 (not to mention that I am a total kid-at-heart)! I have many, many more beautiful years ahead. However, most of the media out there focuses on the beauty of youth. Just open any fashion or beauty magazine and you will be bombarded with women in their late teens and 20s. This world needs more images real women, beautiful women...of every age! I know that I need these images and inspiration for embracing my beauty as I age. I mean, seriously, how gorgeous can Christie Brinkley be? If I am even a fraction of the beauty that she is now when I get to be her age. Wow! What an inspiration! So, this AARP Digital Magazine has been a delightful find! I mean, seeing those gorgeous photos of women in their 50s, 60s, and 70s is inspiring to me as a woman in my 40s. I want to look forward to those years and know that I can rock it like those women in the article.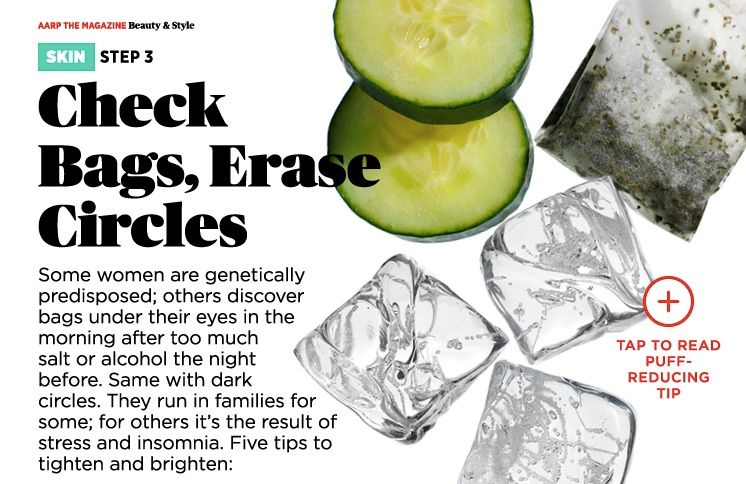 Beauty Basics: Silky Skin
I particularly enjoyed the Beauty Basics Silky Skin article. As a beauty blogger, one of my key areas of interest has always been skincare. Finding and using great skincare is what motivated me to become a beauty blogger and skincare enthusiast! So, I always love learning more in this area. The Silky Skin feature gave some great tips (in a fun and interactive way) to banish brown spots, smooth wrinkles, and diminish or banish dark circles and eye bags. I like that the article suggested ways to treat each skincare concern with both skincare items as well as possible ideas for injectables/fillers from the dermatologist. That is not something I am currently considering. However, I am keeping an open mind for the future when these issues are more apparent and I want to up my game in fighting these issues. Also, I like that there were even some makeup suggestions to disguise skincare concerns. I found both tips that I can use right now (from home remedies to product suggestions) and some that I can catalog for later!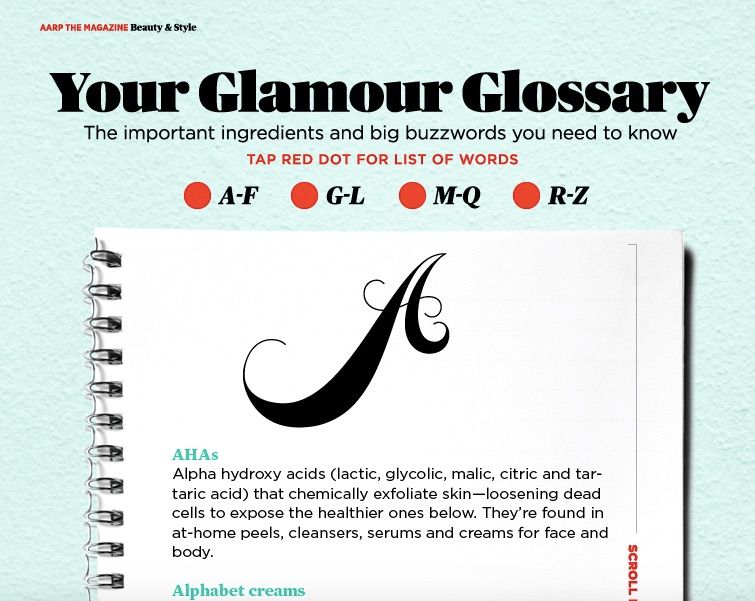 Glamour Glossary:
Last, but not least, I loved the Glamour Glossary! This is a section with straightforward definitions for beauty product ingredients! This is amazing!!! There are so many buzzwords in the beauty industry. Plus, there are so many active ingredients with complicated names. It is nice to have a concise reference for all of these terms!
I found so many great tips overall from the
AARP Beauty & Style Digital Edition
! From letting go of old beauty habits to embracing new techniques and products to accentuate my beauty as I age...I love it! Tips abound from de-aging your hands to selecting a new hairstyle to dressing for your body type. We are talking head-to-toe beauty and fashion!
Affiliate Link