Press Sample
Affiliate Link
Blogger Ambassador

It is time for an update in my My Skin Loves blog series! This series is where I share my very favorite new skincare products. These are the stand-out products that work very well for my skin.
What an amazing product! This is absolutely the most unique delivery system that I have ever tried for a Retinol product. The spray-on style of delivery makes this product fabulous for layering with your other products in your current skincare routine. It is so easy to give your skin a boost of Retinol with this amazing product!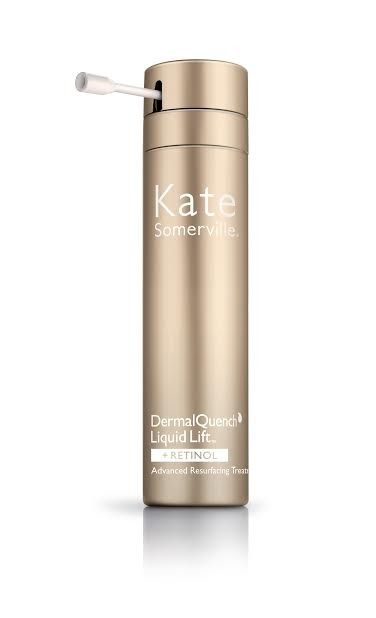 Kate Somerville's DermalQuench Liquid Lift™ + Retinol Advanced Resurfacing Treatment:
This product is an anti-aging breakthrough product that combines the power of Oxygen with the firming benefits of Retinol to refine your skin's texture and create a beautifully smooth and supple glow! Plus, it increases your skin's hydration to leave you looking and feeling smooth and glowing.
To find out more about this product and to hear about my fabulous results, please click "read more" below! :)
Kate Somerville's DermalQuench Liquid Lift™ + Retinol Advanced Resurfacing Treatment
Key Ingredients:
In addition to a Retinol active ingredient, this product also contains natural BioRetinols and Kate Somerville's Advanced HydraFill Complex which firms skin by promoting collagen production, increasing skin's elasticity, reducing the appearance of pigmentation, and increasing cell turnover. The HydraFill Complex includes PFC-Oxygen carriers, fast penetrating Hyaluronic Acid, and rare botanical extracts. These combine to give you a smoother complexion that is both hydrated and healthy.
How I Use:
I use
Dermal Quench LiquidLift + Retinol
a few times a week (about every/other day). My skin is sensitive. So, this is about as frequently as I can use it at this point without causing irritation. With that said, I think that this product is extremely gentle for a Retinol product. I have fewer Retinol side effects than I typically have from a Retinol regimen. I use this product immediately after cleansing in the evenings every other night. To use, I just spray a small amount onto my fingertips and then I pat it onto my skin. I follow up with my usual serum and/or facial oil and moisturizer. It is so easy to add this step to your routine and it gives your skin such a treatment boost!
My Results:
This stuff really works!!! After using this product for about a month, I have noticed some really great results. Dermal Quench LiquidLift + Retinol gives you all of the great benefits of the orgional formula of Dermal Quench LiquidLift plus a boost of Retinol's anti-aging benefits. Overall, my skin looks brighter and clearer. My pores appear smaller and and my overall skin texture is smoother. Plus, I feel that my fine lines look diminished, too. I have always been a fan and user of retinol products. However, I really think that this Dermal Quench LiquidLift + Retinol from Kate Somerville really stands out!
If you are looking for an easy way to add a Retinol product to your skincare routine, you should certainly check out
Kate Somerville's DermalQuench Liquid Lift™ + Retinol Advanced Resurfacing Treatment
!
Where to find? This product is available at Sephora, Neiman Marcus, Nordstrom, and KateSomerville.com. It retails for $98 for a 2.5 fl oz can.
My Favorites from Kate Somerville:
Are you already a Kate Somerville fan? Let me know what your favorite products are from this line! It is certainly one of my favorite skincare lines and I want to explore the line further (and would love your recommendations). :)
Affiliate Link